Mineral Museum Fennefoss near Evje, Norway
Author: Zbyněk Buřival
Published: 16.05.2021 08:41
Last updated: 16.05.2021 08:41
The Geomuseum in Fennefoss near Evje is a small hidden gem. Its not famous but it hosts a very interesting collection of minerals, mostly from local Evje-Iveland pegmatite field.
The small geomuseum in Fennefoss near Evje was founded in 1975. All local museums were gathered under Setesdal Museum in 2005 (13 regional museums), later in 2015 all museums in Aust-Agder region were brought under one supervision.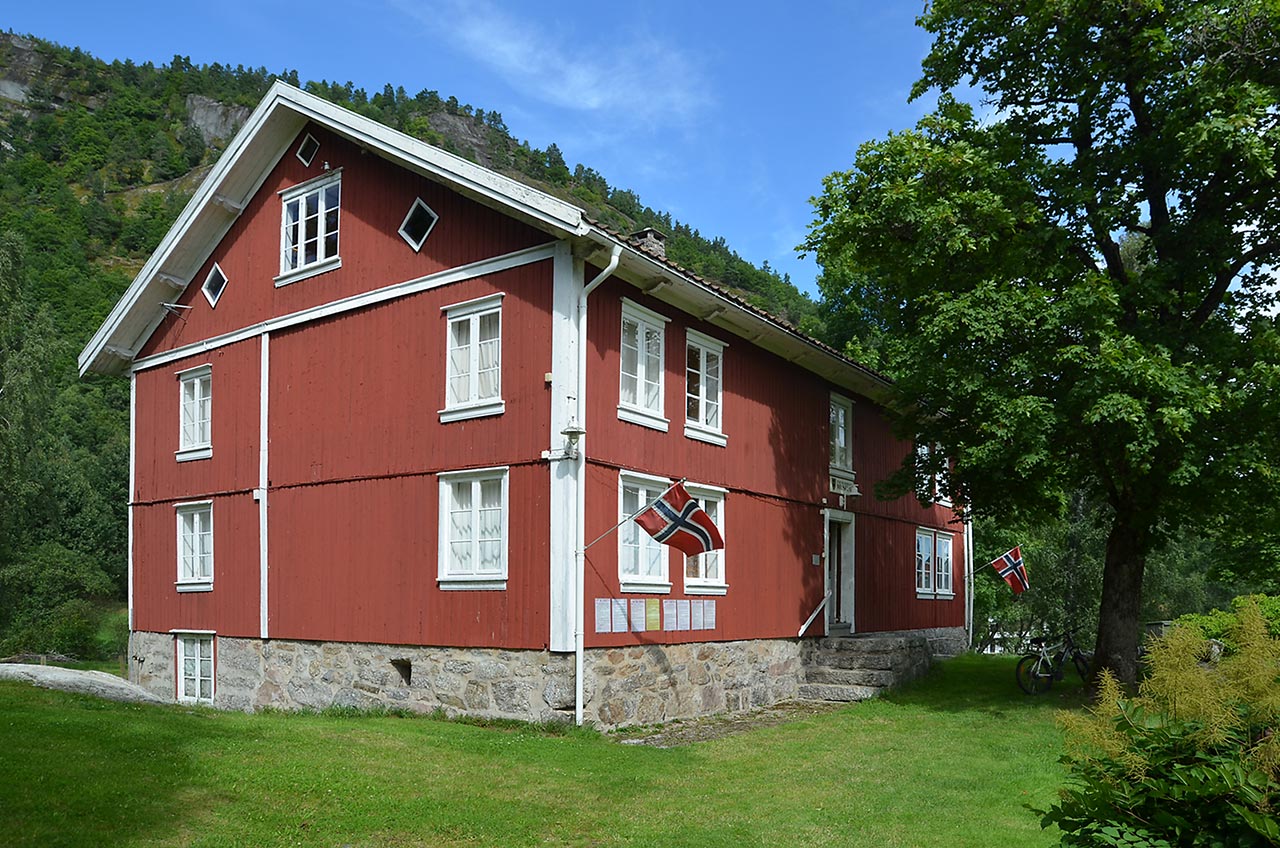 The main Fennefoss museum building with typical red color.
Fennefoss museum consists of main museum house and several farm objects and outdoor exhibition. The main house holds vintage pharmacy, vintage school class and exposition of local handicrafts. The most interesting part are the mineral collections though.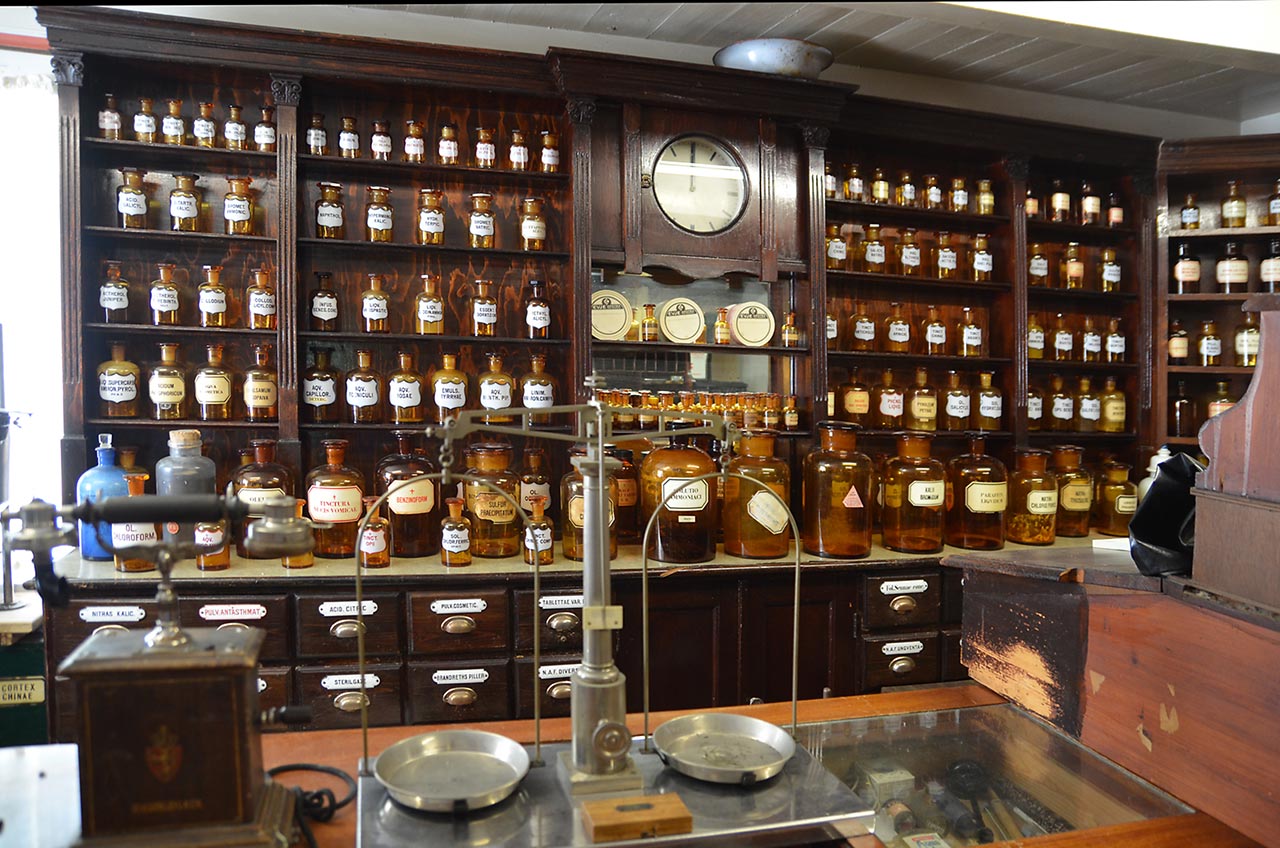 Complete historic pharmacy is a part of the local heritage.
Beware that the museum is open only during the short season, usually from June till August! Check out the museum website for the opening times and admission fees.
Mineral Collections of the Fennefoss Museum
The exhibition is separated into several sub-collections, the vast majority is specialized on local minerals and pegmatites of Evje-Iveland area. The smaller collections display other Norwegian minerals and specimens from other countries. Over 1500 mineral specimens are displayed, as well as historic instruments and other tools and samples related to local geology, mineralogy and mining.
The Fennefoss museum is quite small and has no fancy modern displays with bright LED stripes. But its well worth a visit, especially if you are interested in pegmatites and local specimens. Many of the displayed specimens are of a superb quality. And most of the rare local minerals are hardly displayed anywhere outside the Norway.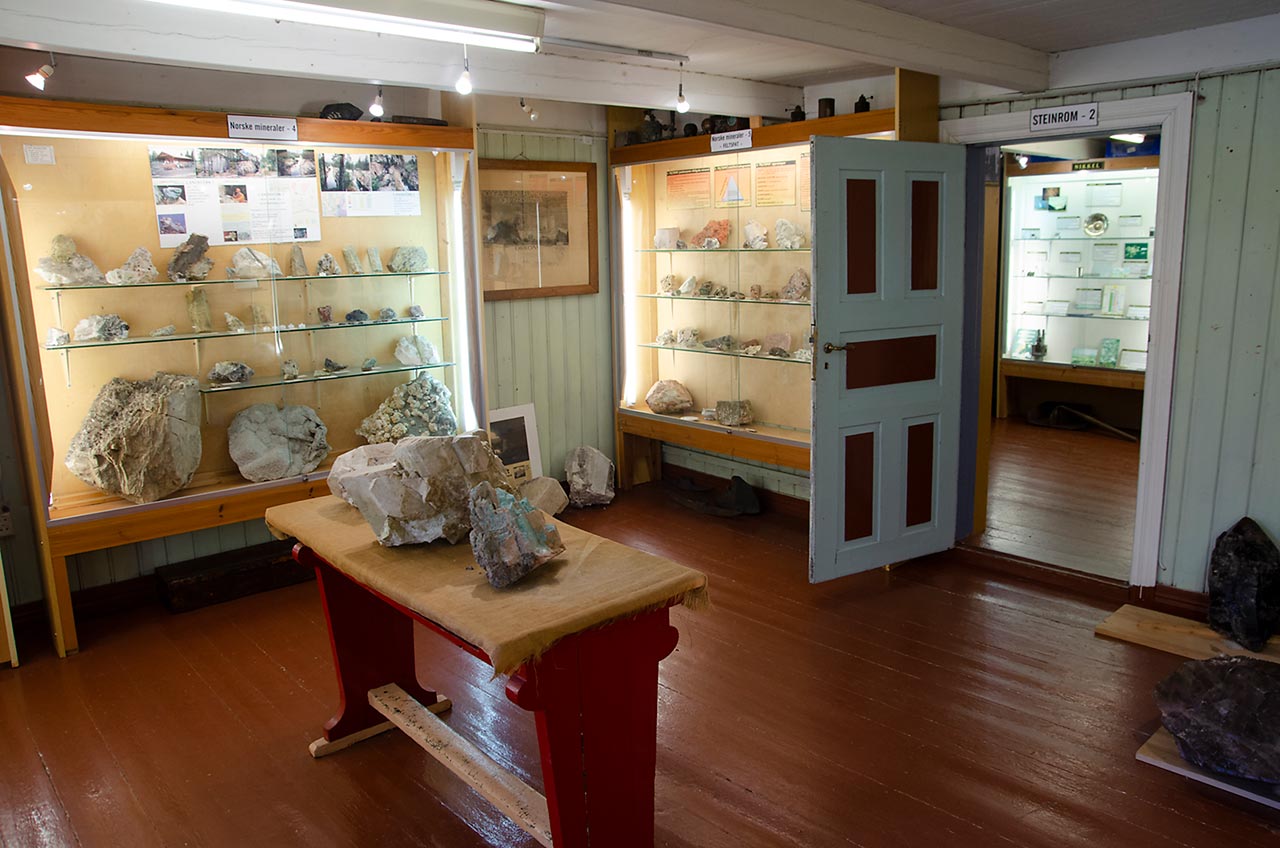 Norwegian mineral display with huge feldspars and beryls.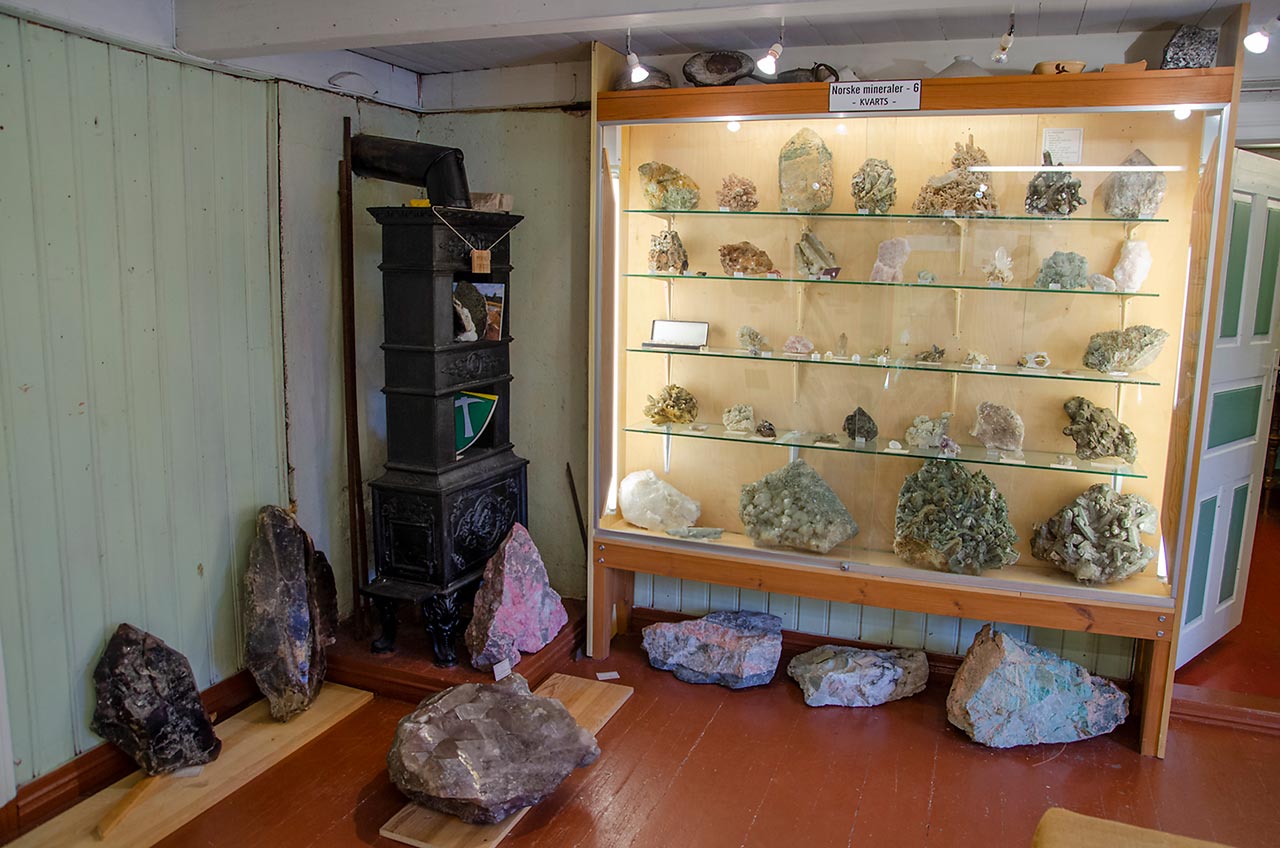 Norwegian mineral display with quartz, smoky quartz, huge thulite and amazonite.
Obviously, the minerals of Evje-Iveland pegmatite field are the best represented part. You can not miss the huge beryl crystals, as well as huge smoky quartz and K-feldspars. But more experienced collectors would be probably shocked by the size and abundance of the REE minerals. There are quite large and often very nicely crystallized specimens of monazite-(Ce), gadolinite-(Y), yttrian titanite, allanite-(Ce), ancyllite, polycrase, euxenite and many others.
Various common beryl crystals from Ljosland, Åseral, Norway.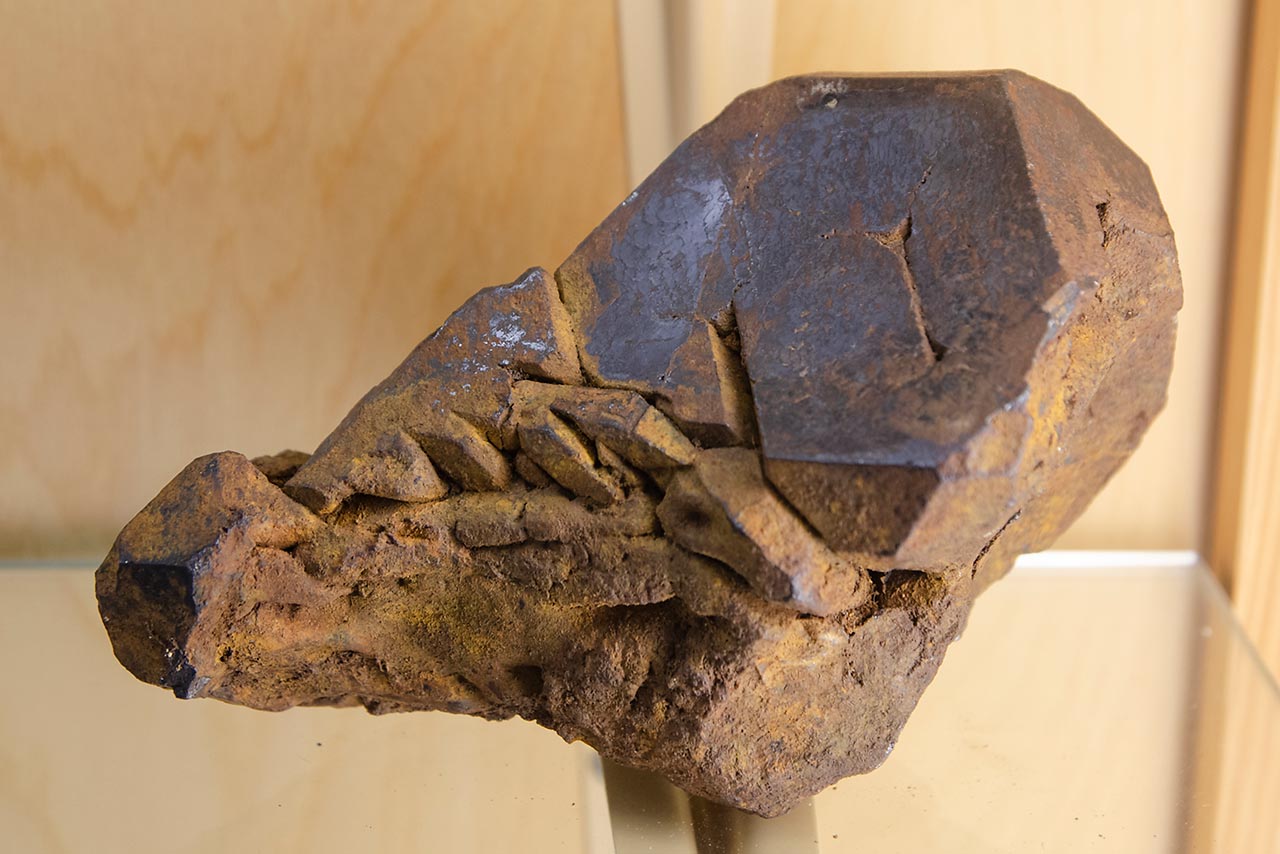 Classic huge ilmenite with rusty coating from Åmdal (Omdal), Froland, Norway.
Clean ilmenite crystal from Åmdal (Omdal), Froland, Norway.
The other expositions have typical minerals from the nearby localities, especially nice rubies from the vicinity of Froland and insane ilmenites from Åmdal (also spelled Omdal), Froland. The yttrian titanite (yttrotitanite) was originally described from Buø, Tromøysund, Arendal in 1844. It was described in the same year also as keilhauite.
Of course many other Norwegian classics are displayed too: nice emeralds (rough and cut) from Minnesund, killer anatase specimens from Hardangervidda, zircons from Seiland, huge forsterites from Åheim, huge rough thulites, great kyanites, almandines and many other specimens.
Big quartz cluster covered by anatase crystals from Hardangervidda, Norway. Arrow points to the anatase twin.
Quartz crystals with anatase from Hardangervidda, Norway.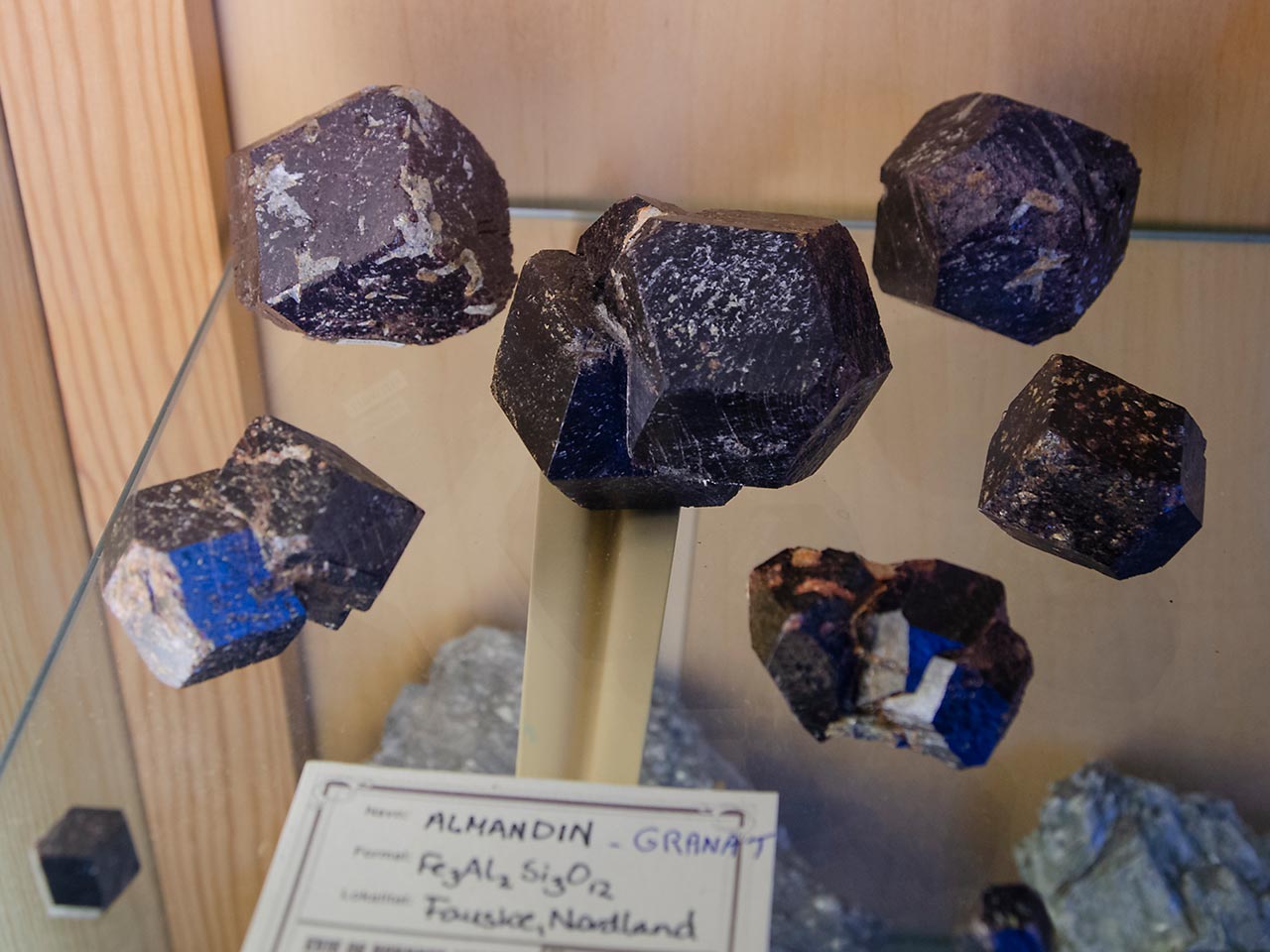 Big almandine crystals from Fauske, Norway.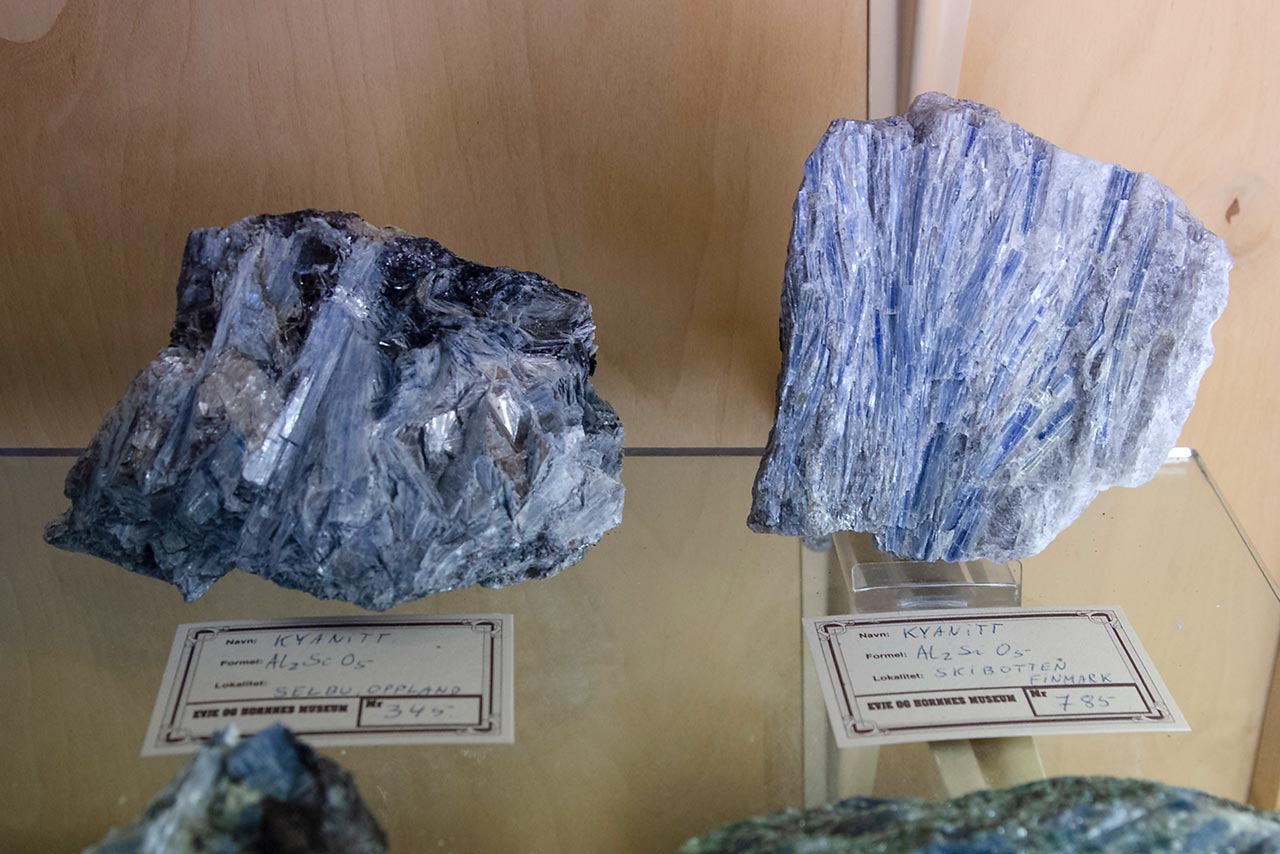 Nice kyanite specimens from Selbu and Skibotten, Norway.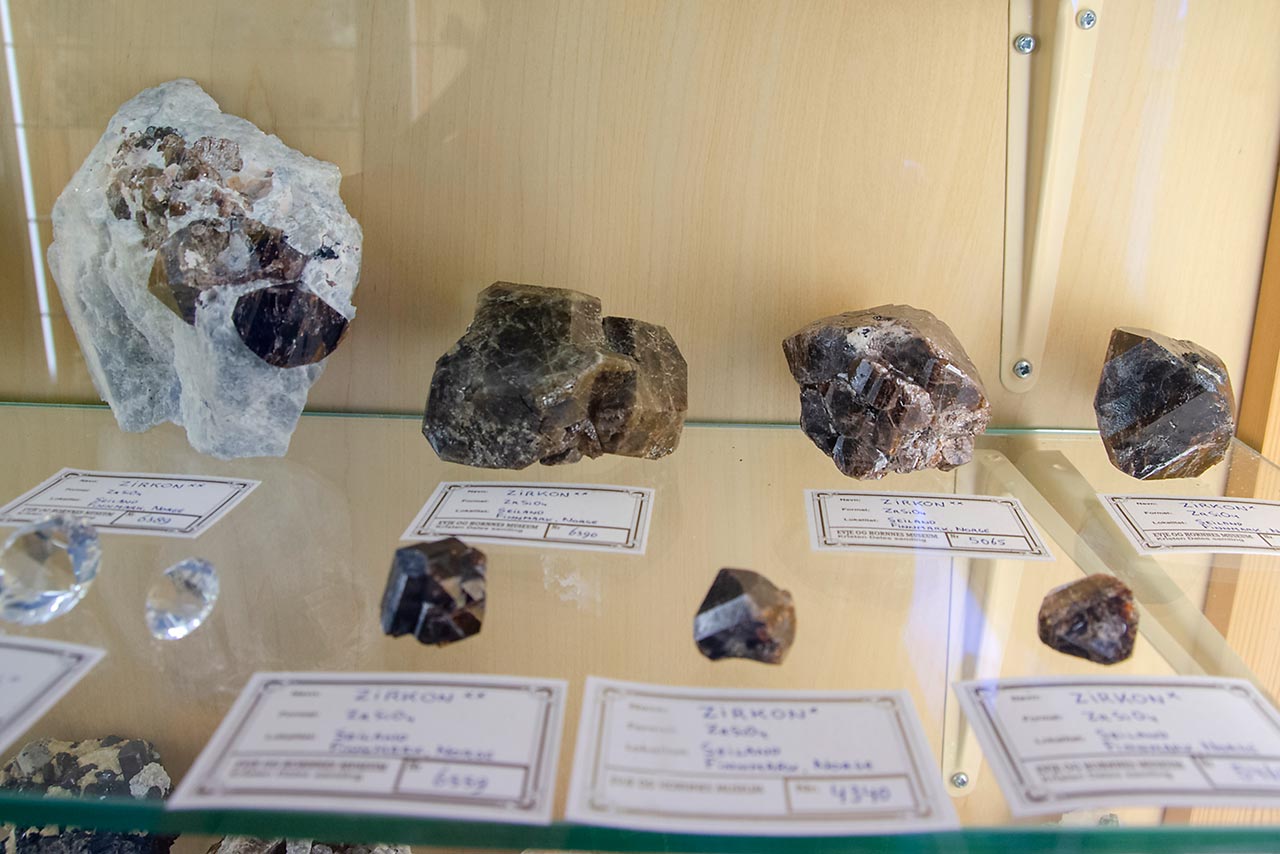 Classic huge zircon crystals from Seiland, Norway.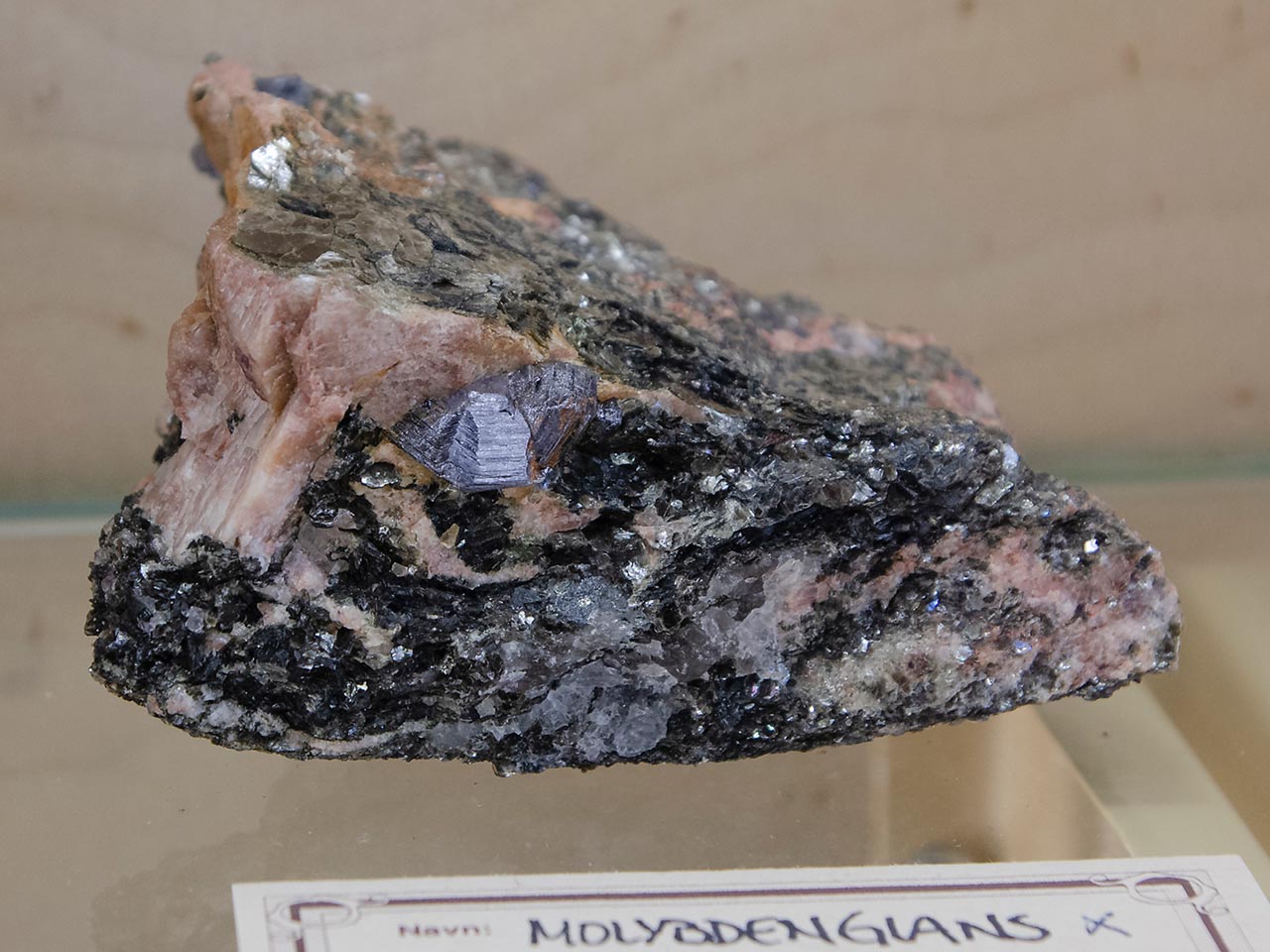 Classic well shaped molybdenite crystal in matrix from Bandaksli, Norway.
Large ruby crystals from Froland, Norway.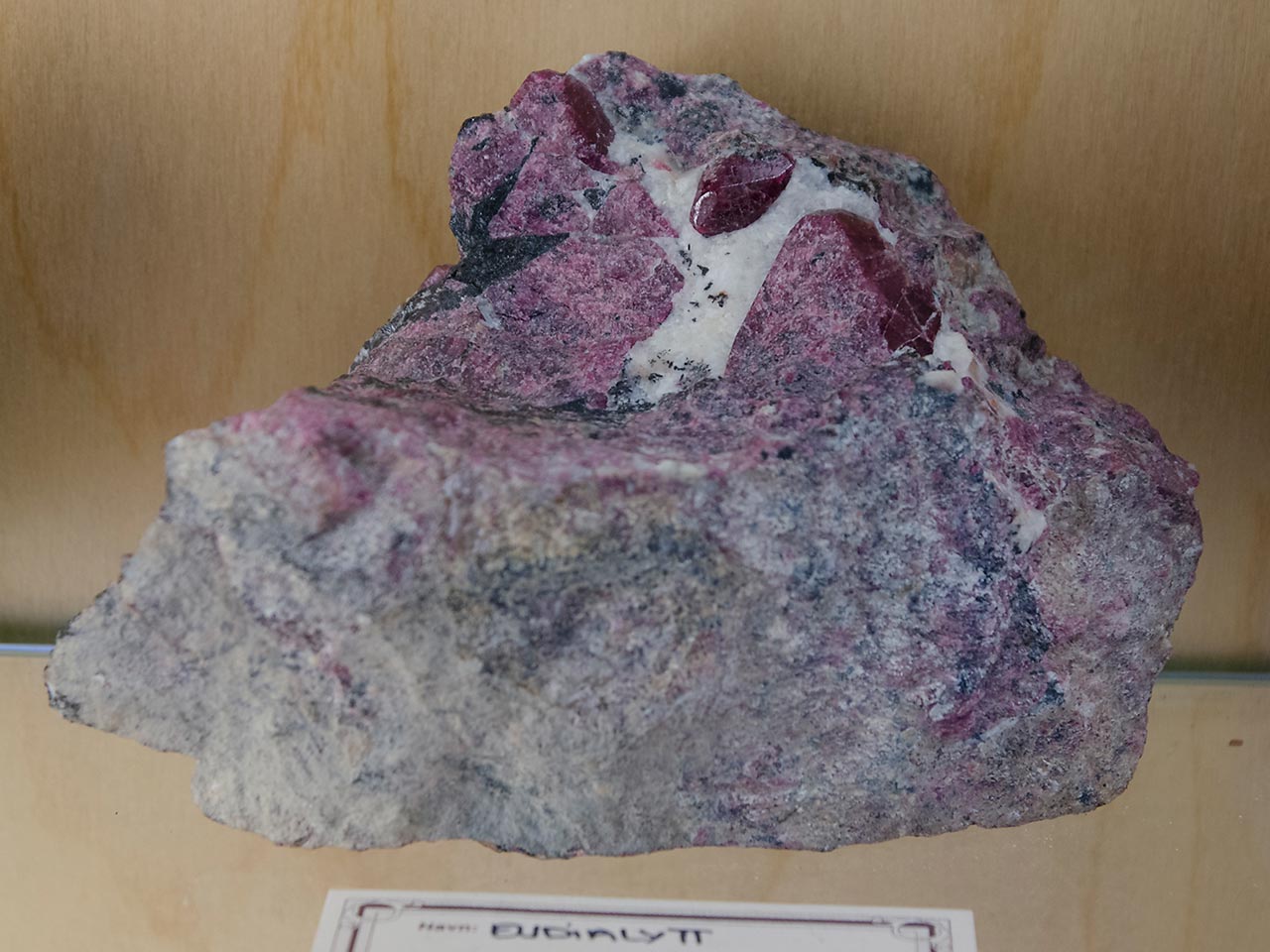 Rare eudialyte crystals from Norway.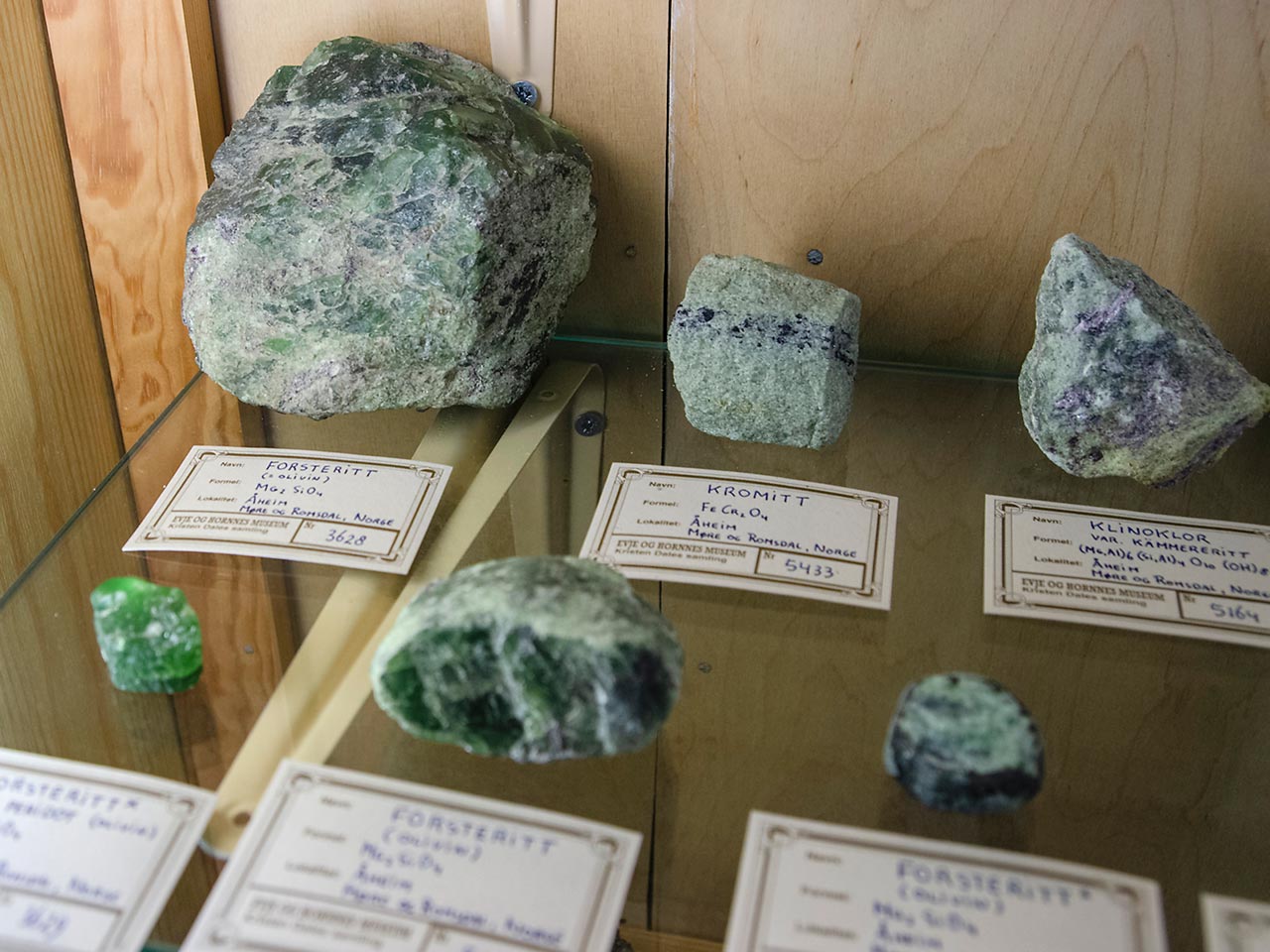 Huge forsterite (olivine) with chromite from Åheim, Norway.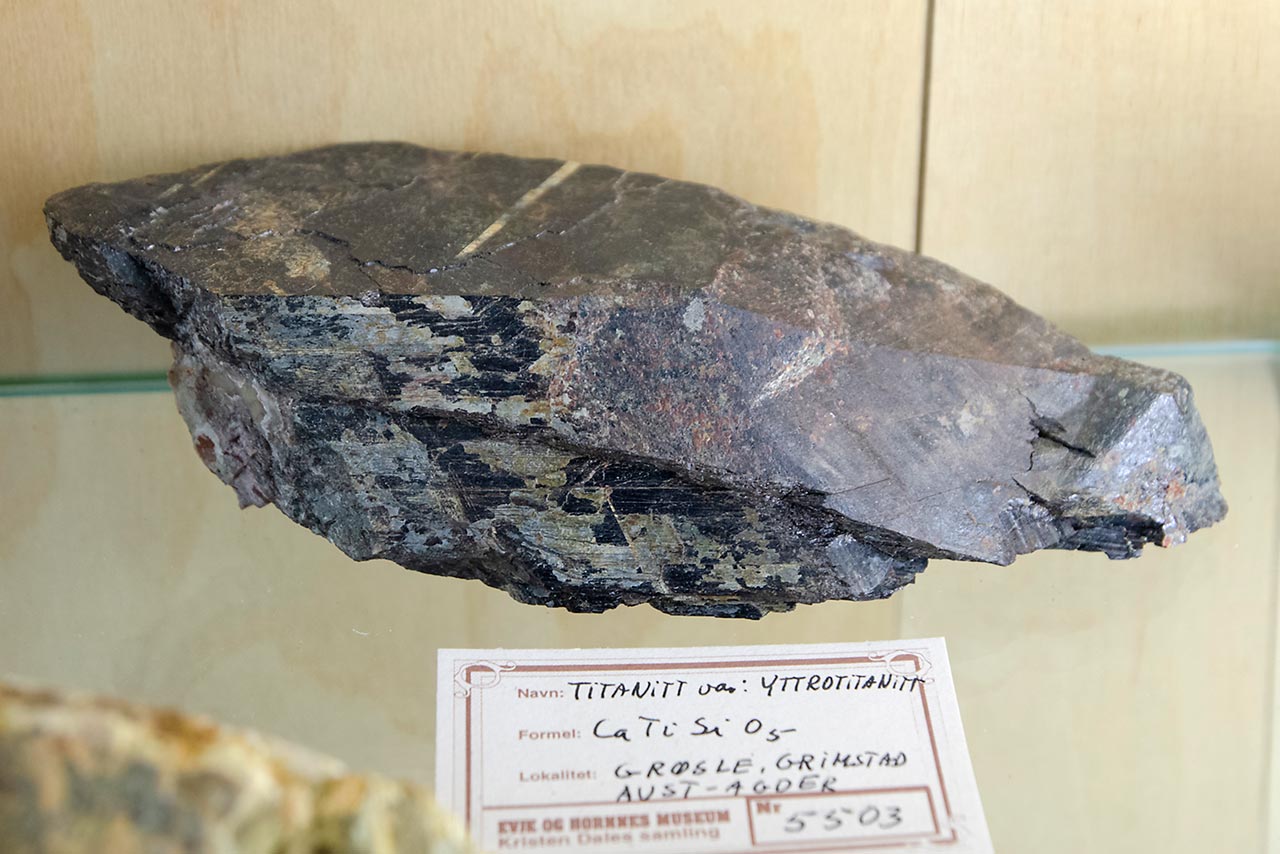 Titanite (variety yttrian titanite) from Grimstad, Agder, Norway.
Pegmatites of the Evje-Iveland
The Evje-Iveland pegmatite field is located in Setesdalen, South Norway. The pegmatite field trends N-S, it is about 30 km long and 10 km wide. The estimated number of large pegmatites over 1000 m3 is about 400, with numerous smaller veins. The Fennefoss museum is located close to Evje and well know Landsverk quarries, which belong to the classic localities in this area.
The interest in local geology started briefly after first pegmatite mine opened in 1884. Up to 50 pegmatites were mined in the most profitable years around 1920, when this area exported feldspar for ceramics industry. Currently, only 2 small quarries are operated for recovery of high quality feldspar for artificial teeth ceramics.
The Evje-Iveland pegmatites are classified as NYF pegmatites of rare element class. They are about 900-910 million years old and probably of anatectic origin. This means that they have no parental granite and were probably formed by partial melting of host rocks, which are mainly amphibole gneisses, gabbroic amphiboles and metadiorites. The pegmatites are not highly developed, mostly consist of quartz, feldspar and micas. About 120 accessory minerals were identified.
The interesting part of the pegmatite mineralogy is very high scandium (Sc) content. First scandium mineral thorveitite (Sc2Si2O7) was described from this area in 1911. The high content of beryllium (Be) and REE resulted in formation of quite large crystals of beryl, columbite-tantalite, monazite-(Ce), gadolinite-(Y) and other rare minerals. Many of these minerals are well represented in Fennefoss mineral collections.
If you are interested in local geology, you can visit the nearby Landsverk 1 quarry. It is open to public during summer season and you can collect for a small fee. You can also visit the short mineralogy trail around Landsverk quarries. Its free, starting from the parking lot at Landsverk 1, and it goes by the Landsverk 3, the co-type locality of thorveitite.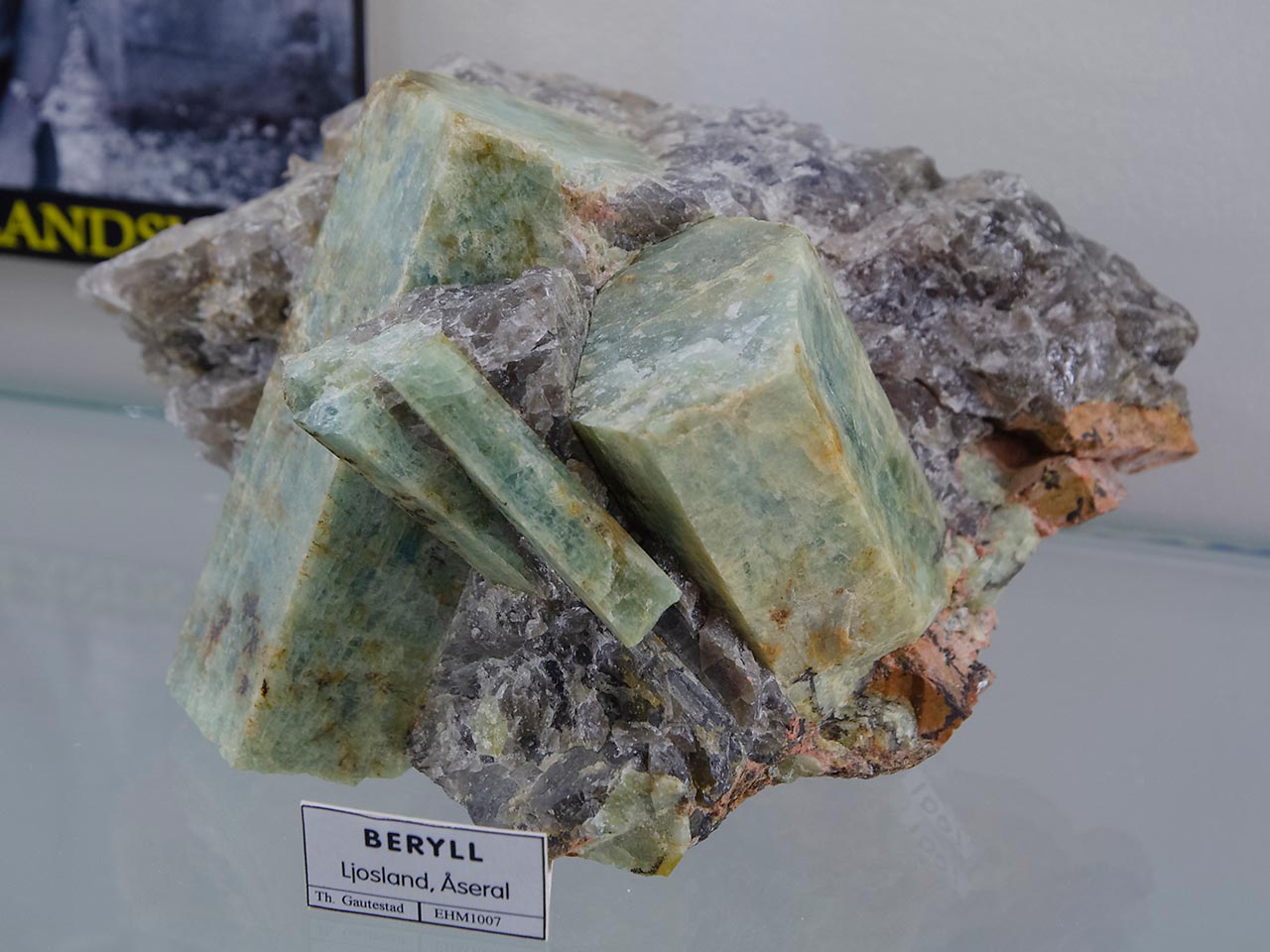 Common beryl in quartz from Ljosland, Åseral, Norway.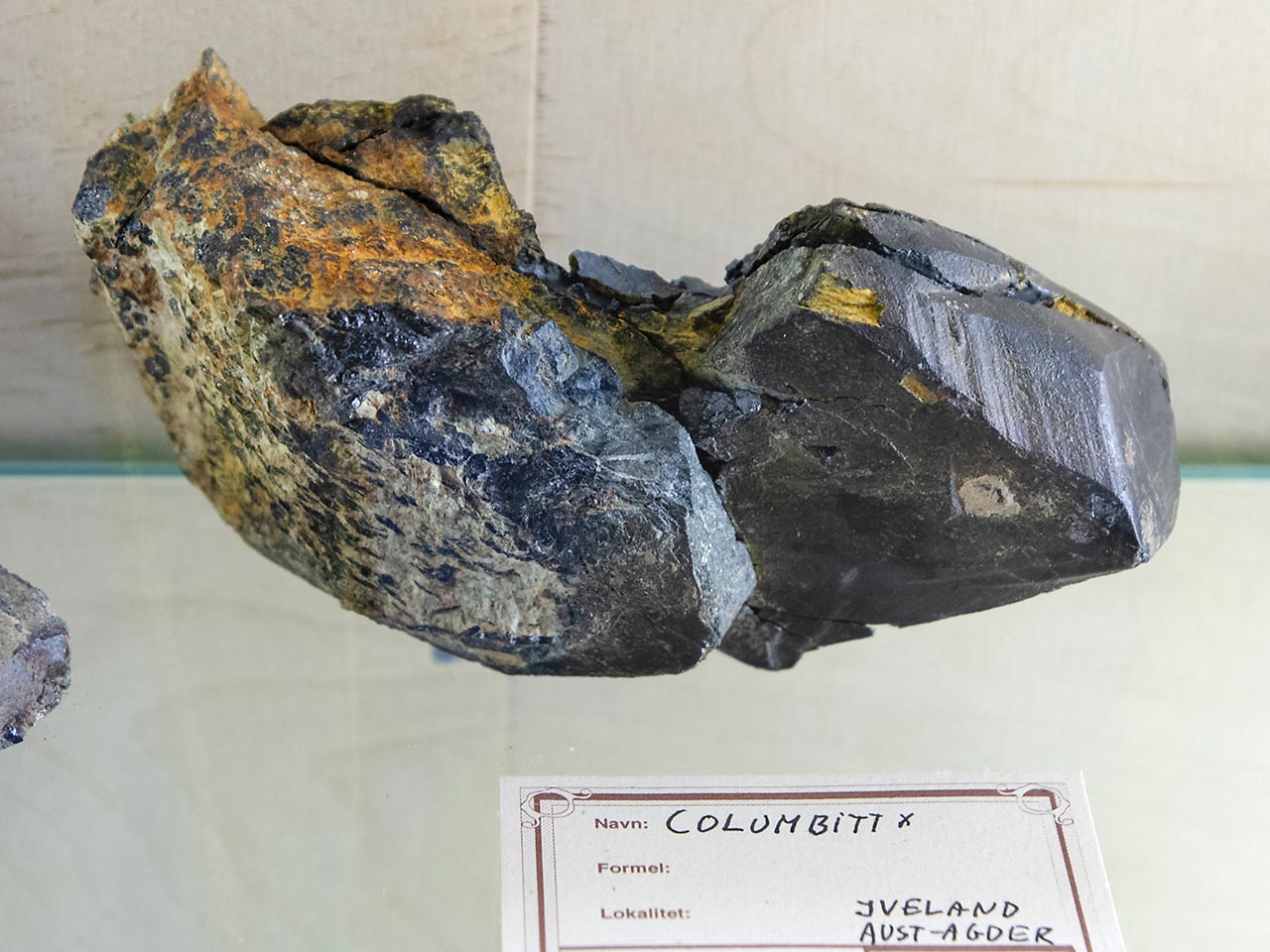 Big columbite crystal from Iveland, Norway.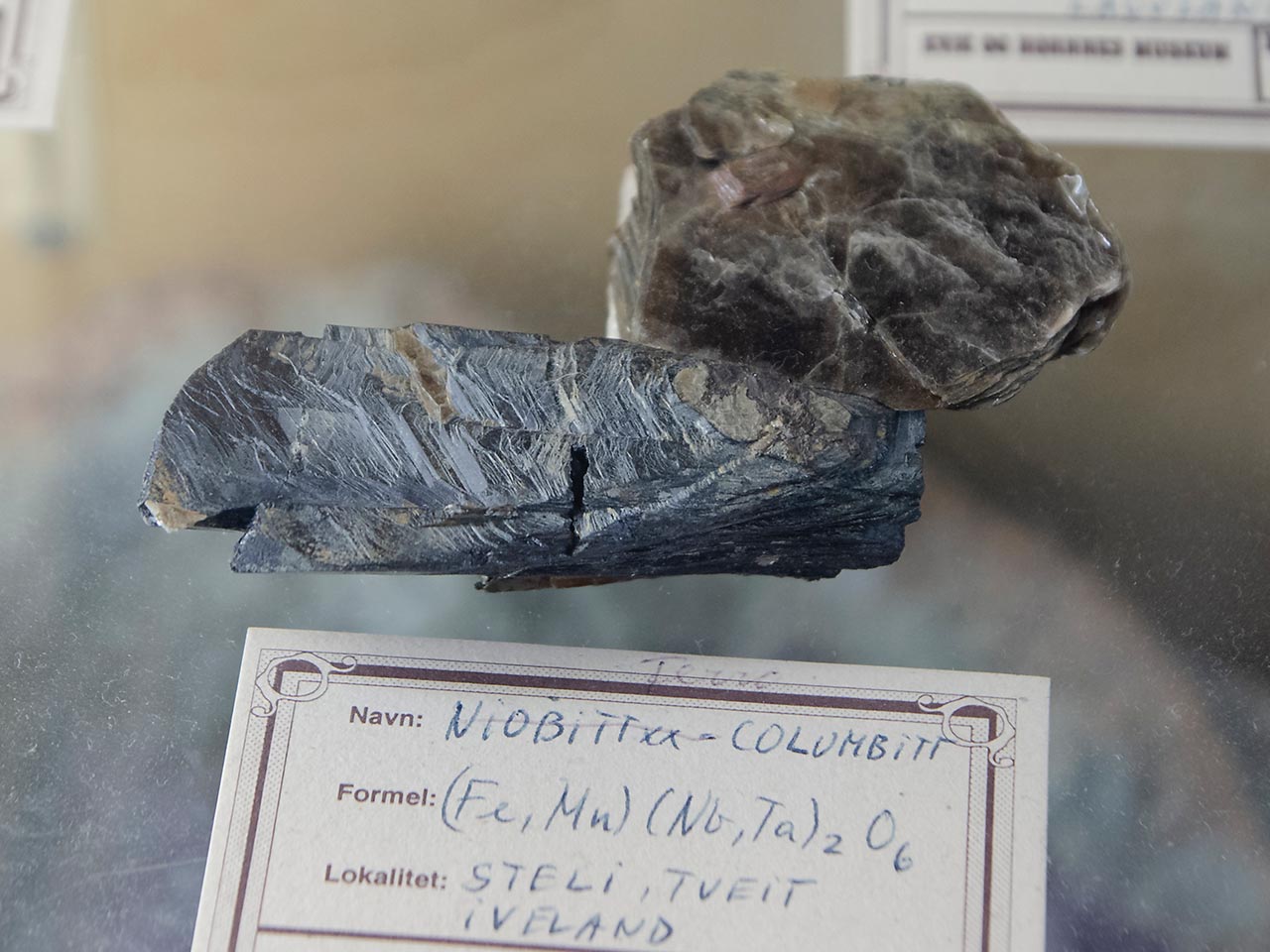 Columbite crystal with mica from Tveit, Iveland, Norway.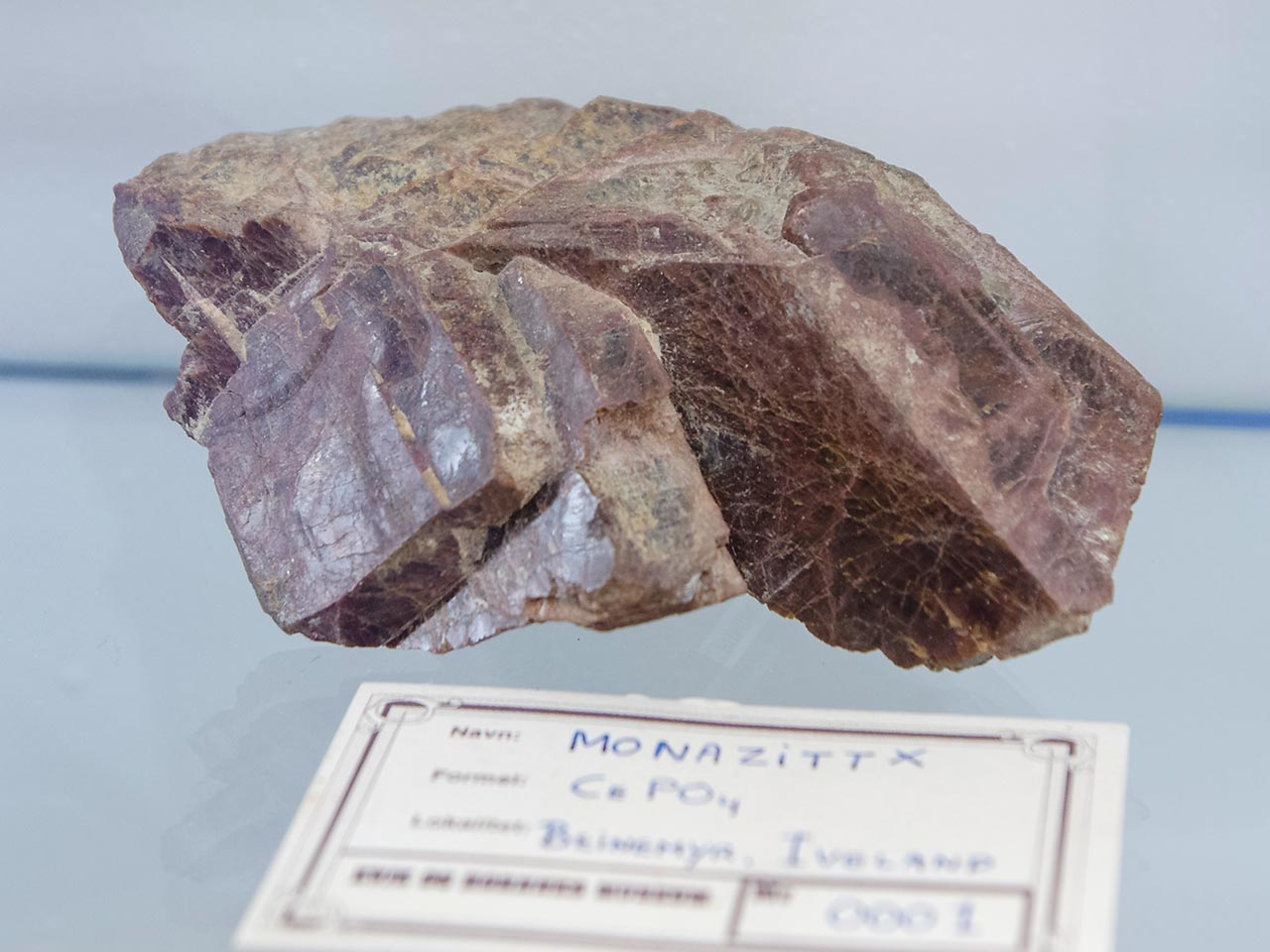 Large monazite-(Ce) crystal from Iveland, Norway.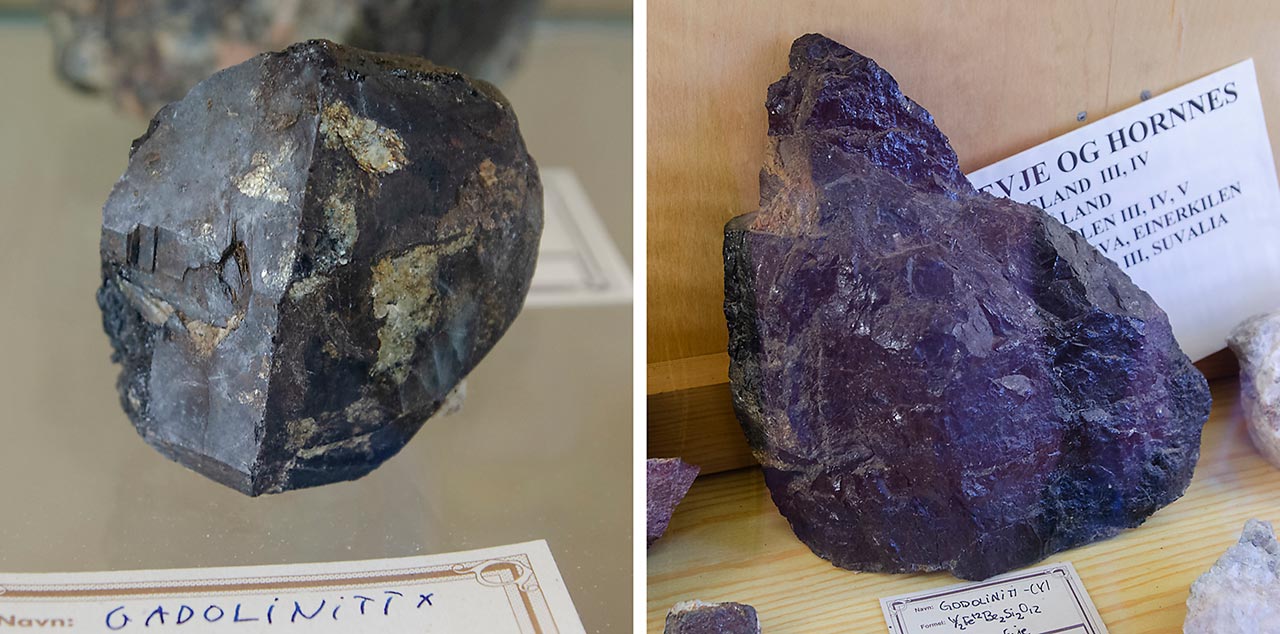 Left: Well shaped gadolinite-(Y) crystal from Slobrekka, Iveland, Norway. Right: Large gadolinite-(Y) from Evje, Norway.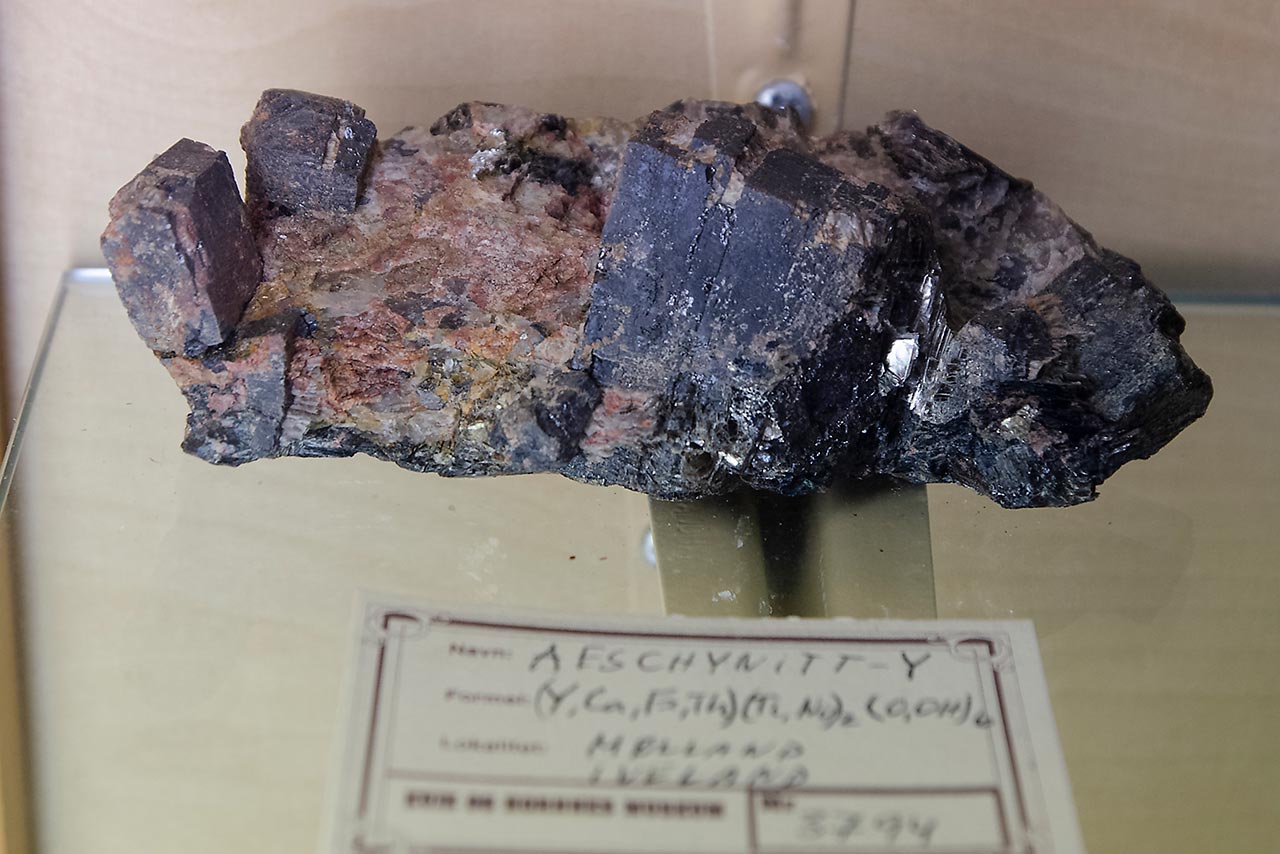 Aeschynite crystals from Iveland, Norway.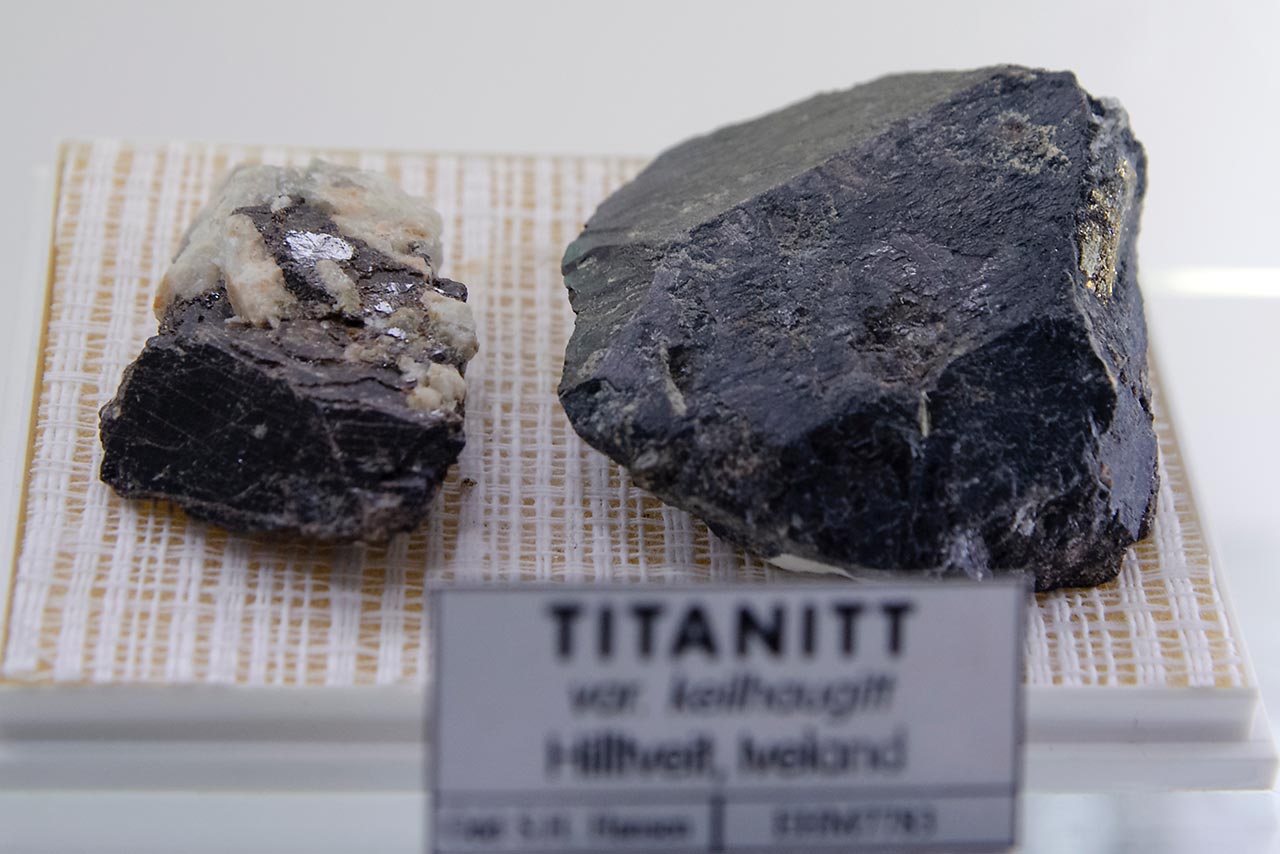 Dark titanite crystals from Iveland, Norway.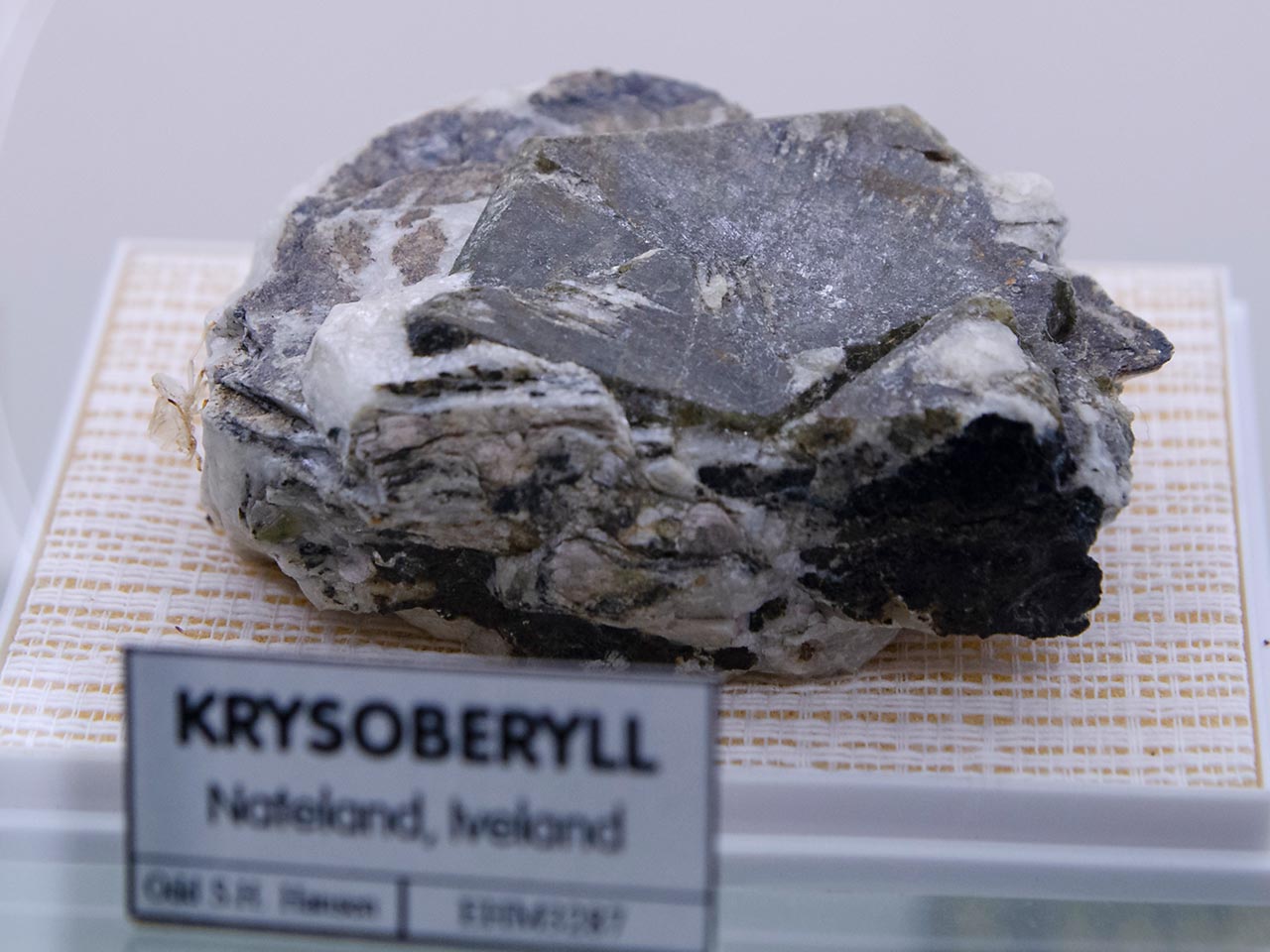 Flat and dark chrysoberyl crystal in matrix from Iveland, Norway.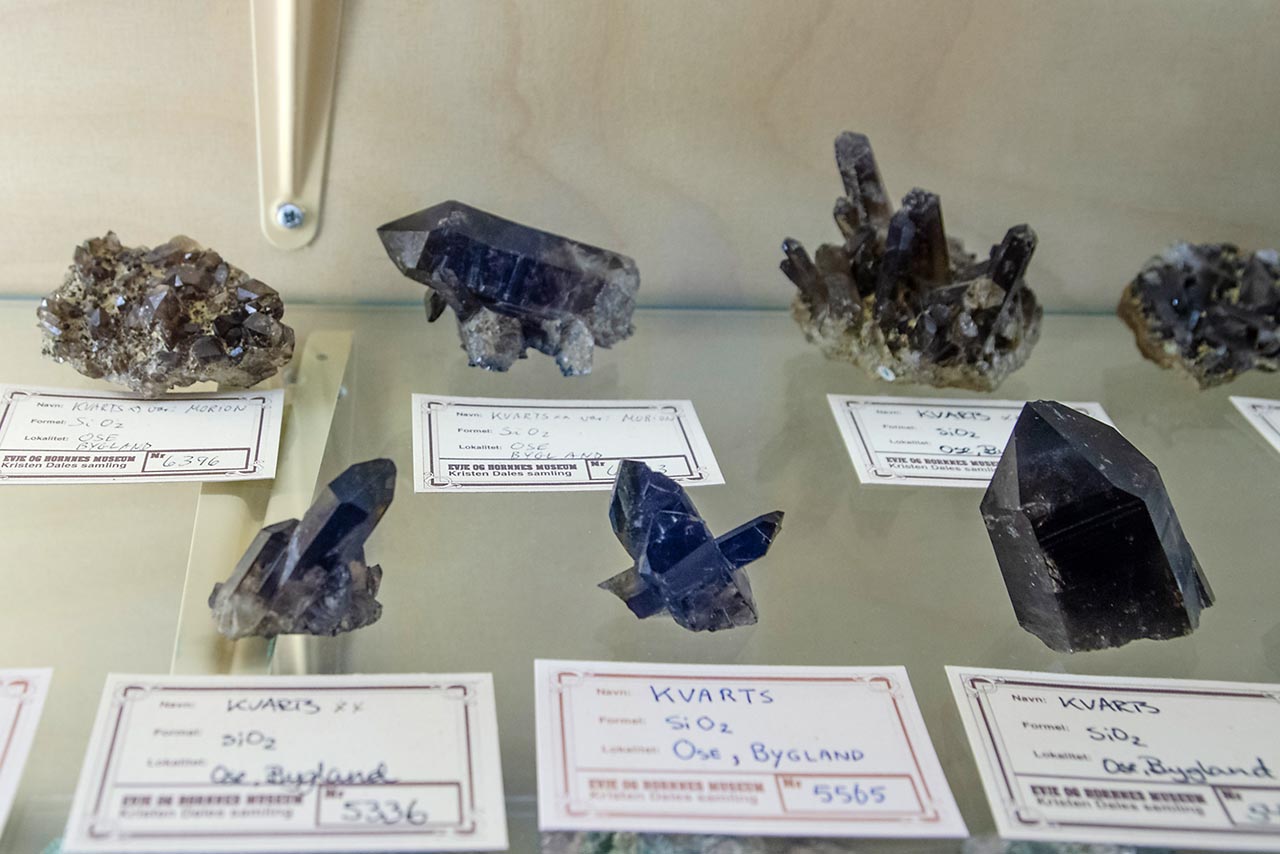 Nice dark smoky quartz crystals from Ose, Bygland, Norway.