Report from Munich Mineral Show 2015
Author: Zbyněk Buřival
Published: 08.11.2018 10:44
Last updated: 19.04.2021 09:53
Munich show is the largest show in the Europe and visited by many international dealers. Many nice worldwide specimens were available as well as many minerals from European collectors. It is also a nice place to meet friends from all over the world.
My main goal when I arrived for my short visit to the Munich 2015 event was to meet some old friends and make some contacts regarding further development of this website. I had a short chat with Jolyon Ralph from Mindat.org - hopefully we will use the minID soon. I had a most interesting chat was with the guys from Alfaloc Media about their 3D photo-shooting technology and software. This might be the future for high-end online dealers: 3D photo models are already used by many other types of e-shops. Mineral cataloguing software colido.de was also interesting for me but surprisingly I did not see anyone from the similar project Mineraldesk.com. I talked a while with Lyudmila Cheschko from Mineralogical Almanac and Stefan Weiss from Lapis.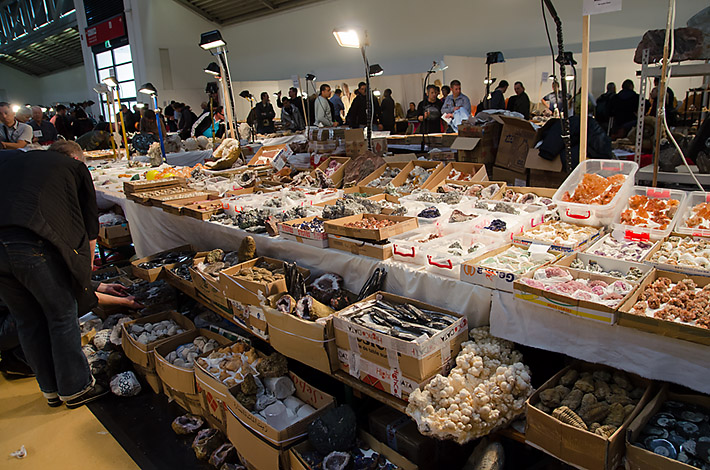 Mineral dealers in the A5 hall.
Of course, I also visited some of the dealers. I could not miss the awesome offer by the Czech guys from Karp.cz and nice Malkhan elbaites by the Kynicky brothers. Shafiee Muhammad had some very nice pegmatite minerals, Jurgen Margraf had very nice selection of Alpine minerals and Tom Prazskier from Spirifer had great minerals from Morocco.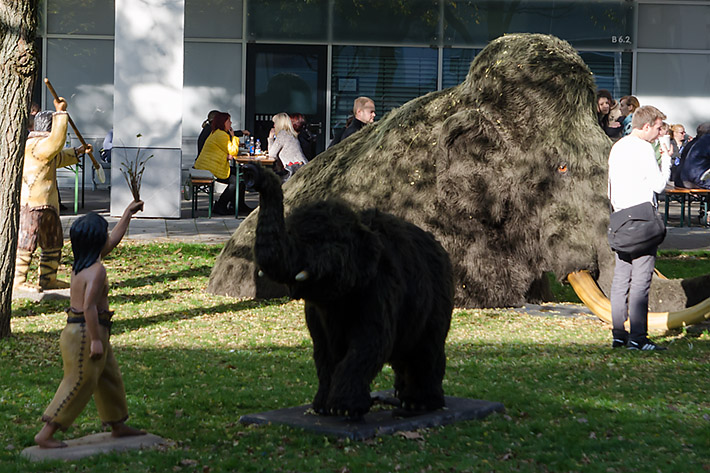 One of the main show topics was paleolithic era. Nice animal reconstructions were displayed outside the halls.
Minerals
A lot of the dealers had more or less similar stuff. I saw a lot of plumbogummite pseudomorphs from China, and also lot of chinese fluorite, calcite and stibnite. Many dealers had nice specimens from Namibia and of course many European collectors offered Alpine minerals. There were also great golds from USA, nice calcites from Elmwood, crocoites from Tasmania, copper and silver minerals from Morocco and fluorite from England. I also saw various zeolites from India and pegmatite minerals from Afghanistan, Pakistan and Brazil.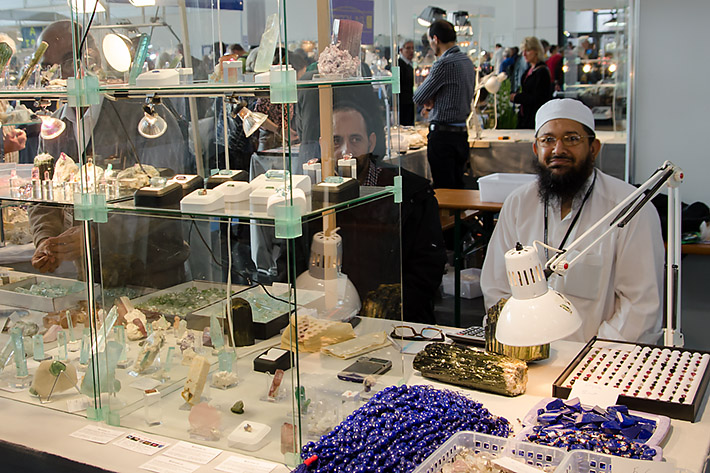 Shafiee Muhammad and his stand with minerals from Pakistan.
What cought my attention were some nice silver pieces from Kongsberg, excellent wulfenites from Iran, nice azurites from Milpilas, Mexico and nice crystals of bastnasite from Afghanistan. Also some excellent cerussites from Tsumeb, huge gold from Victoria, Australia and many pegmatite and Alpine minerals. Selection of some photos is bellow.
Nice pink alpine fluorites from the Mont Blanc area, France.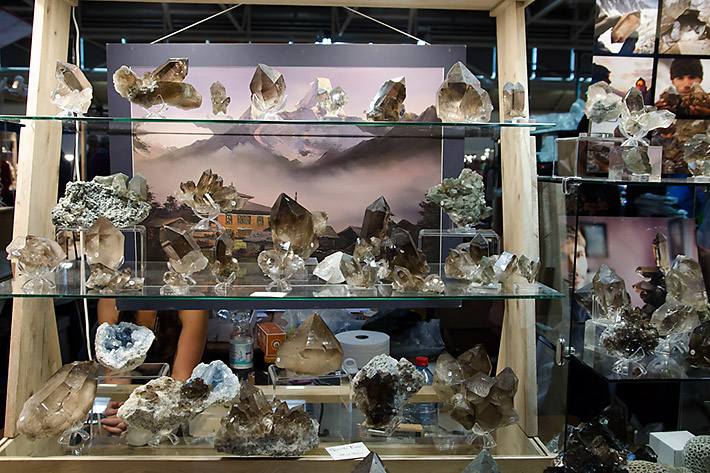 French cristalliers and their selection of smoky quartz from Mont Blanc area.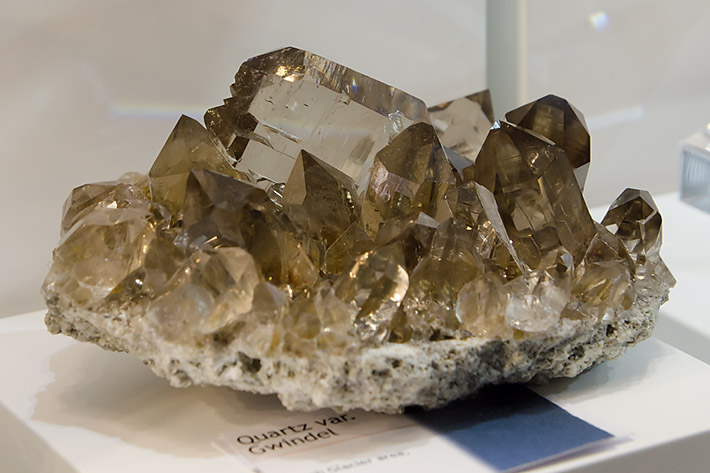 Perfect alpine gwindel sitting on the smoky quartz cluster.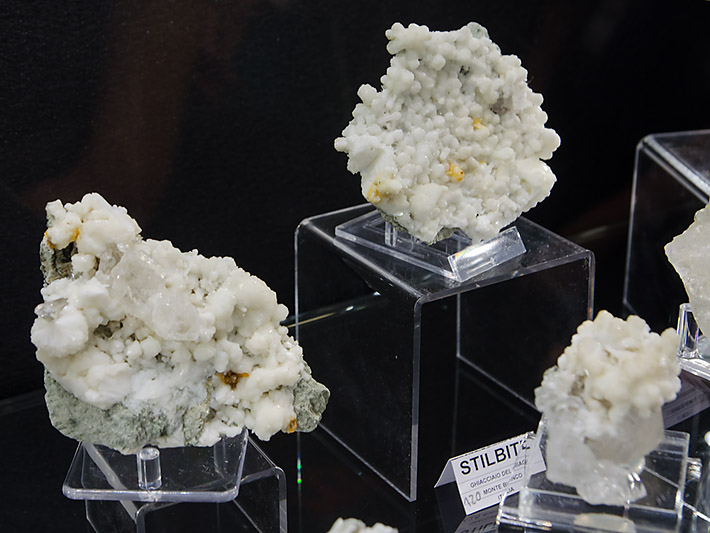 Recent discovery of very nice stilbites and rock crystals from Mont Blanc area.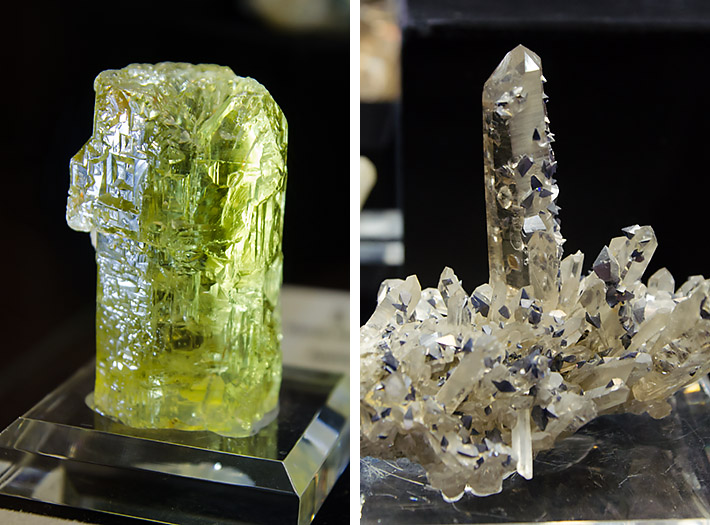 Left: Gemmy heliodore with typical etched surface from Volodarsk, Ukraine. Right: Superb rock crystal cluster with anatase from Hardangervidda, Norway.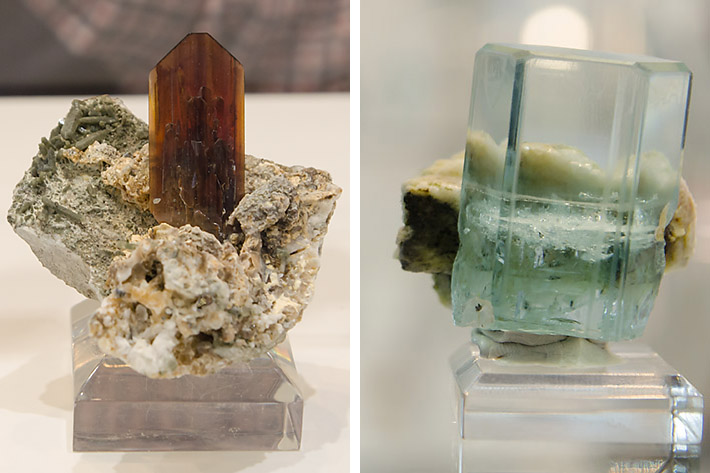 Left: Awesome big brookite on matrix from Kharan, Pakistan. Right: Great quality aquamarine from Shengus, Pakistan.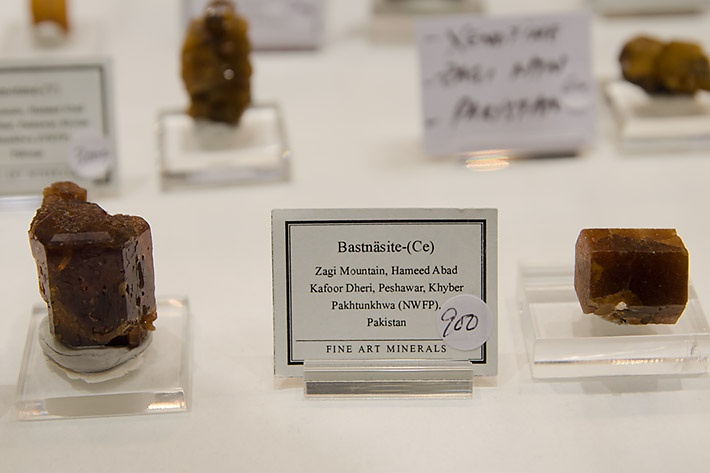 Perfect bastnasite-(Ce) crystals from Zagi Mountain, Pakistan.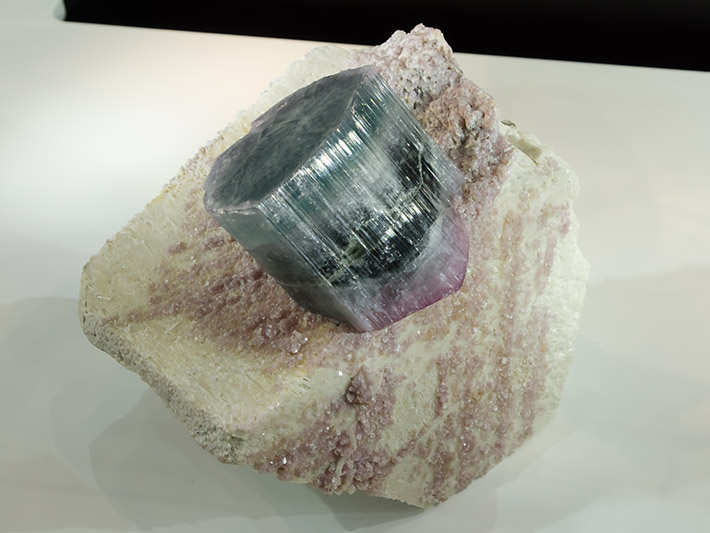 Big crystal of K-feldspar with lepidolite and great elbaite crystal from Paprok, Afghanistan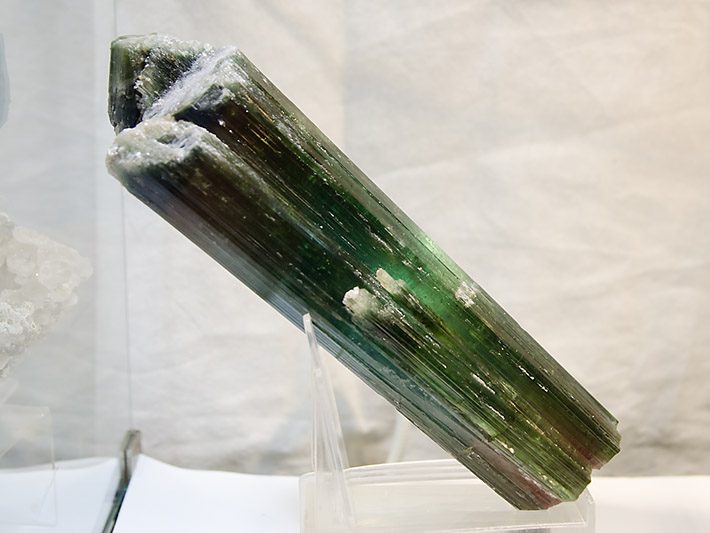 Nice gemmy green elbaite from Brazil.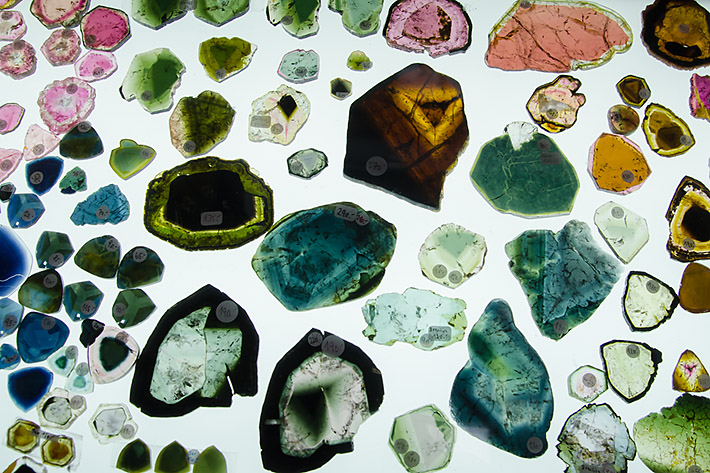 Various sliced lithium tourmalines.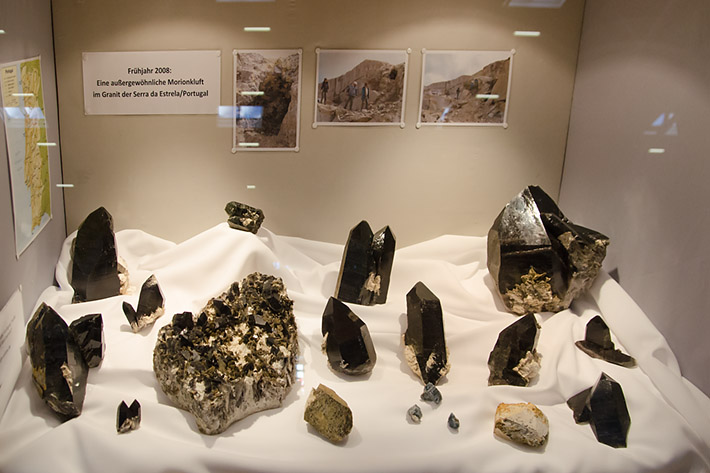 Nice collector display with miarolitic pegmatite pocket from Portugal.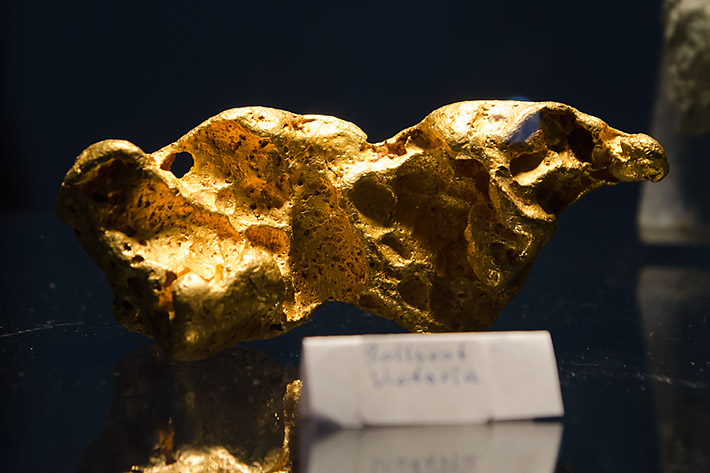 Big gold nugget from Victoria, Australia.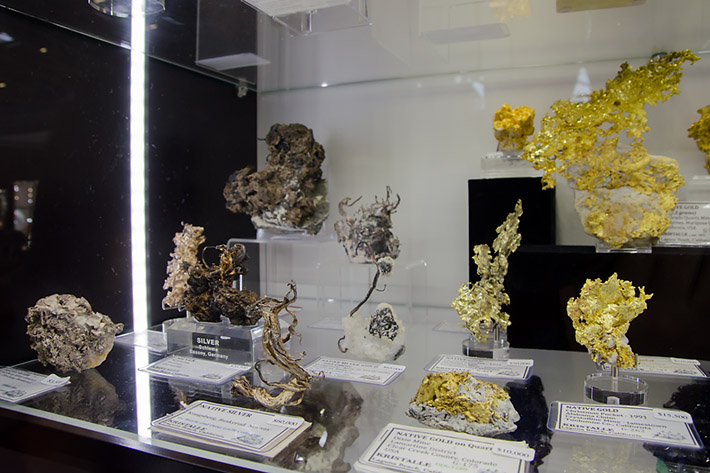 Various gold and silver specimens, many from famous localities like Eagle&s Nest, Kongsberg or Freiberg.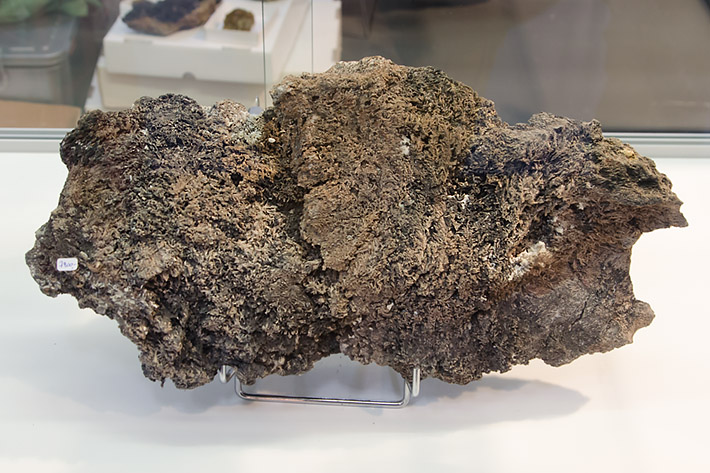 Huge native silver from Hartenstein, Germany.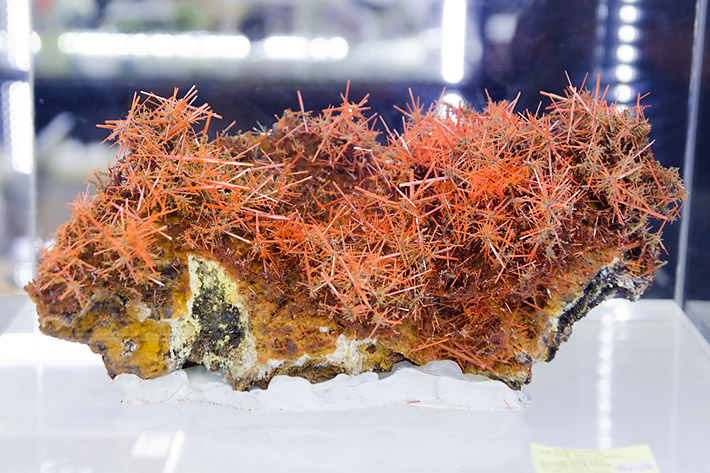 Huge crocoite cluster from Tasmania by Minerama.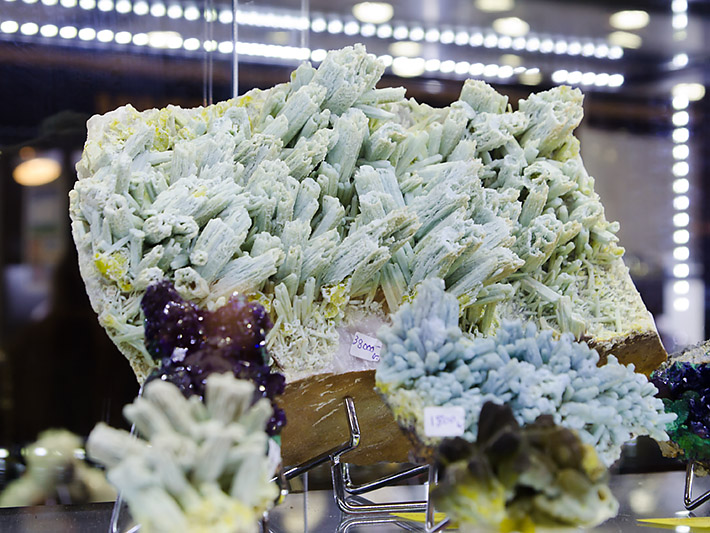 Plumbogummite after pyromorphite was available in all sizes. This one from Minerama was probably the biggest one.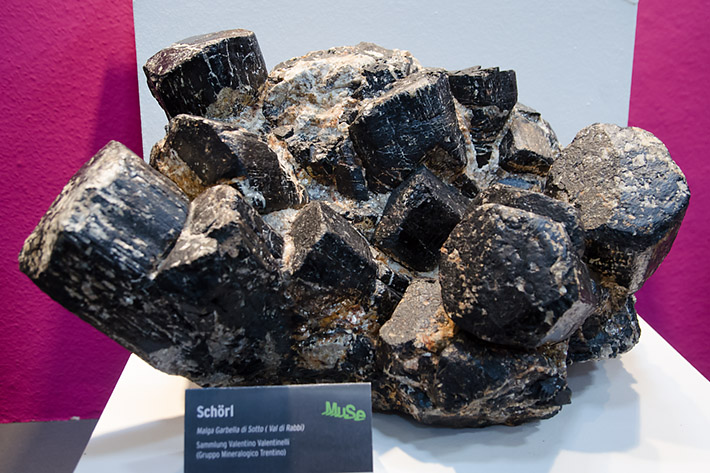 Huge cluster of schorl crystals from Trentino, Italy.
Polished quartz crystals were unfortunately very widespread.