The History of Australian Gold Rush
Published: 22.11.2018 05:48
Last updated: 22.04.2019 10:08
The story of the settlement of Australia is the story of a remote penal colony unexpectedly turning into a cauldron of repeated mass migrations driven by the discovery of rich gold deposits. The gold discoveries were simply unbelievable, including the biggest nugget ever found!
For most of Australia's recorded history, beginning with the first European (Dutch) landfall in 1606 until Captain James Cook's 1770 exploration and claiming of the southeastern coastline, the population of Australia was nearly entirely indigenous, except for scattered exploratory settlements landed by the Dutch, French, Spanish and English.
Political Geography of Australia
To visualize the geography of Australia, think of the continent as divided into three equal sectors from west to east: the western third is Western Australia; the middle third is divided equally into the Northern Territory and South Australia; and the eastern third is divided unequally into Queensland (the northern half), New South Wales (most of the southern half) and Victoria (a small sliver on the southeast coast).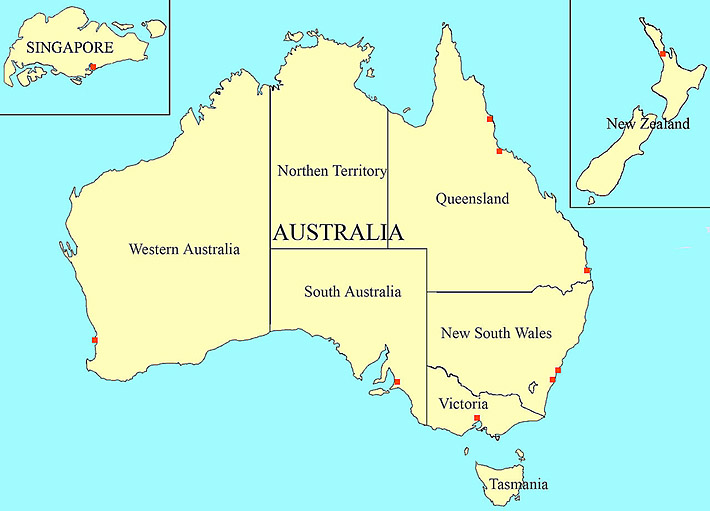 Political map of Australia. Source: Zhudyzhu
Beginning in 1788, the British initiated systematic settlement in their newly claimed territory (New South Wales) to create a dumping ground for English convicts. In the artful phrase of the day, convicts were sentenced to Transportation. New South Wales remained exclusively a penal colony until 1823, when the British government decided to establish a formal Parliament to administer the State.
The First (Fake) Discovery - 1788
The first claimed gold discovery, in 1788, was actually a hoax perpetrated by a convict, James Daley, who used the story to arrange an escape from custody while leading an official to the site. Recaptured, he received 50 lashes as punishment but insisted he was telling the truth. The Governor relented and gave Daley another opportunity to reveal the site.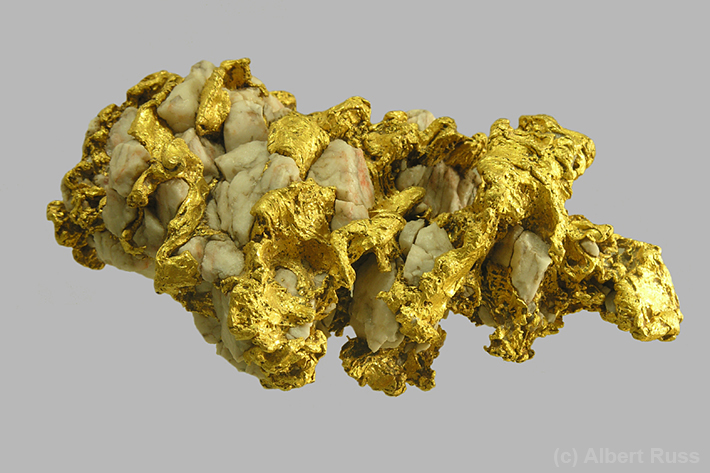 Large gold nugget from Western Australia. Size 15 x 7 cm. Photo: Albert Russ.
Before departing for the site, officials warned Daley he would be put to death in the event of another deception. He immediately confessed to a falsehood, explaining that he had manufactured the gold from a gold guinea and a brass buckle. Able to prove the fabrication by revealing the remnants of his raw materials, he received 100 lashes. Fellow convicts continued to believe his change of heart was a ploy to keep knowledge of the site private, but Daley never got another chance to visit his gold discovery; he was hanged a few months later for breaking and entering.
Discouraging, then Encouraging, Migration
Beginning in 1820, numerous individuals began reporting actual gold finds, all scattered in a number of localities throughout New South Wales, all small shows of small flakes and nuggets found in streams and rivers. The discoveries continued intermittently from 1820 through 1848. Colonial authorities in NSW kept records of the discoveries, which were generally treated as curiosities worth little sustained interest. The authorities were, however, concerned about the possibility of large groups of workers abandoning farms and fields to prospect. They adopted a deliberate policy of suppressing news of gold discoveries to remove the temptation to leave.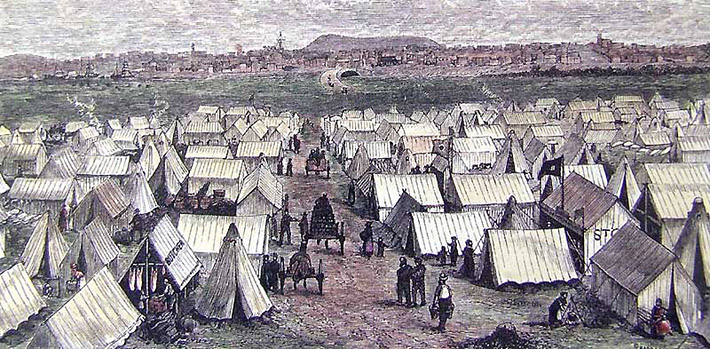 Canvas town on Yarra River, Victoria - on the way to gold fields. Probably 1852. Author: S. T. Gill
The year 1848 was a watershed in Australian history because that was the year New South Wales reversed its policy of suppressing news of gold finds. The reason was not altruistic: the 1848 discovery of gold in California, and the apprehension about potential local migrations of Australians to other Australian localities was replaced by the potential for massive emigrations of Australians leaving for the United States. NSW Administrators petitioned the Colonial Office in England to permit Australians to develop gold properties, and in an even bolder move, began offering rewards for gold discoveries.
The Population Explosions
With the continued influx of convicts, officials and their families, the population of NSW gradually swelled to 77,000 by 1851.
Overnight, following the first major gold discovery in 1851, the NSW population exploded by 600%, from 77,000 to a record 540,000 in 1853. In 1852 alone, 370,000 voluntary immigrants arrived. The discovery put a quick end to the practice of Transportation: Why provide free passage for criminals to the new El Dorado?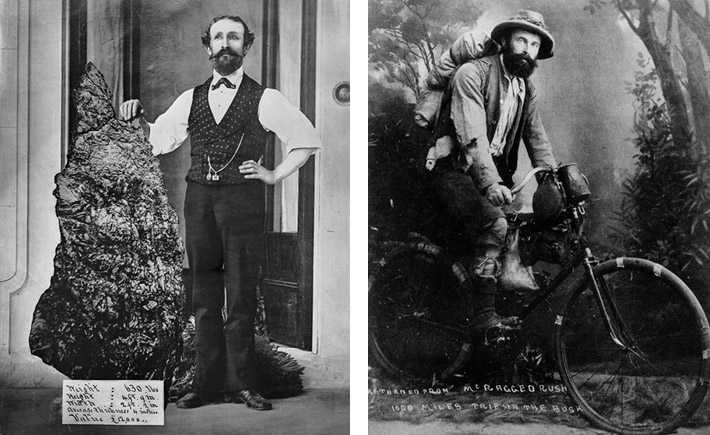 Left: The "nugget" from Hill End, New South Wales - found by German prospector, Bernhard Otto Holtermannon 19. October 1872. More than half of the 630 lbs weight was pure gold. Source: American and Australasian Photographic Company/State Library of New South Wales Right: Unknown gold miner who cycled 1000 miles round trip to gold mines in Western Australia in 1895. Author: Unknown
Overall, the largest national increase occurred in the 10 years following the 1851 discoveries, from 437,665 in 1851 to 1,168,149 in 1861, a 170% increase, attributable mostly to the NSW/Victoria discoveries.
The discoveries in Western Australia, 30 years later, produced a 300% increase in the State, from 46,290 in 1891 to 184,124 in 1901.
The Individual Gold Rushes, Considered Separately
The following account summarizes the most important geographic groups of discoveries in chronological order. It is understood that once a district opened up, it could remain intermittently active up to the present time.
The First Mini Gold Rush - 1848
In December 1848, the first mini gold rush occurred when a stone containing 38 ounces of nearly pure gold was brought to Melbourne from the Pyrenees Ranges in Victoria (a geographic area of southern NSW that would be carved out administratively from NSW in 1851). Approximately 100 men rushed to the Pyrenees to exploit the discovery, but were neutralized in February, 1849 when the government posted official notices in town announcing the find but warning individuals not to engage in unauthorized occupation of Crown Lands, and sending a force of 10 mounted police to enforce the order.
The First Victorian Gold Rush - 1850
The Colonial policy of offering rewards for discoveries was to shape Australian behavior considerably. For one thing, by granting ownership rights, the administrators were actually encouraging prospectors to divulge exactly where the gold had been found, a situation very unlike practices in the US, where secrecy and concealment of discovery locations were paramount. Secondly, the reward offers took many forms, offering so much money for a discovery of a certain size within so many miles of so-and-so place.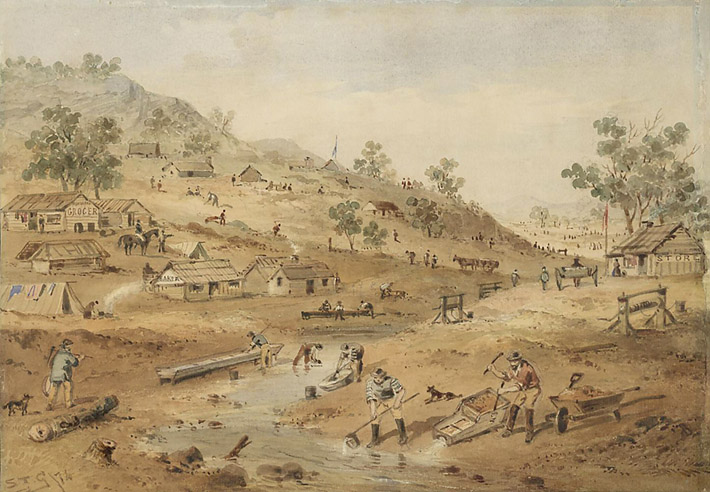 Diggings in the Mount Alexander district of Victoria in 1852. Author: S. T. Gill
These twin practices produced a steady increase in prospecting activity, culminating in another discovery in Victoria. In this case, the finders received a £1,000 reward, made under the auspices of the Victorian Gold Discovery Committee, a task force charged with recognizing the successful identification of economic goldfields: a sort of Chamber of Commerce promotion to highlight the achievements of the State. From time to time, other State governments offered similar incentive awards.
As is the case in many gold districts, the earliest discoveries were surface shows of flakes lying exposed in river sediments and riverbanks. After easy exploitation, miners would have to dig deeper to extract the first of what might be several levels of alluvial gold accumulation. And, following that, they would be forced to look more carefully for the primary unexposed source of the gold, whether it was ledges of gold-bearing quartz veins, or disseminations in granitic or volcanic rocks. All of these scenarios played out in Australia.
The 1851 Discoveries - NSW and Victoria
The sequential discoveries of gold in a number of NSW and Victorian sites unleashed a wave of voluntary human migration unlike any ever seen before. Cumulative gold production set records that stood for years. On recording the shipments of bullion arriving on the Thames, the London Times declared, This is California all over again but, it would appear, California on a larger scale.
The 1852 production for NSW totaled 26.4 tonnes (850,000 ounces).
The 1852 production for Victoria alone was 174 tonnes (5.600,000 ounces).
The 1856 production for Victoria alone was 93 tonnes (3,053,744 ounces).
Through the 1850s Victoria accounted for 1/3 of the world's output.
The 1851-1896 cumulative total for Victoria was tallied as 1895 tonnes (61,034,682 ounces).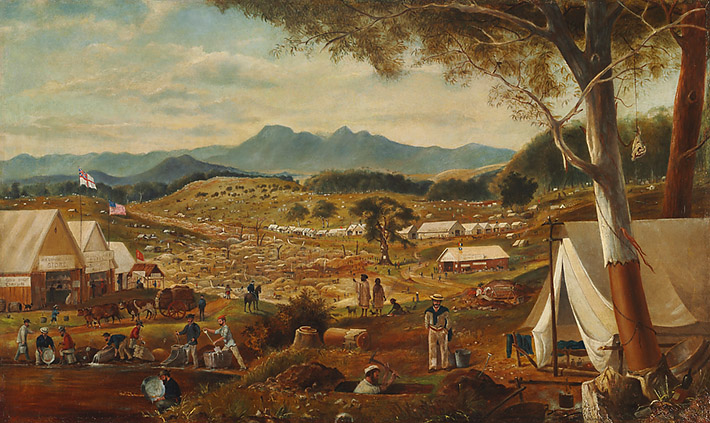 Gold diggings at Ararat, NSW, Australia - probably 1858. Author: Edward Roper/State Library of New South Wales
The Bathurst, NSW discovery in February started with a single find of 120 grams in a waterhole. Three months later, the goldfield was covered by 300 separate digging operations, and the discoverer, Edward Hardesty, was awarded a prize of £10,000 and a pension for life.
NSW Miners - The Early Years
The Castlemaine, Victoria discovery in April led to recognition of the Clunes discovery (below).
The Warrandyte, Victoria discovery in June produced the first award of £1,000 for a find within 200 miles of Melbourne after an earlier claim of a £200 reward failed to be substantiated.
The Clunes, Victoria discovery in July attracted another 400 diggers and generated yet another £1,000 reward.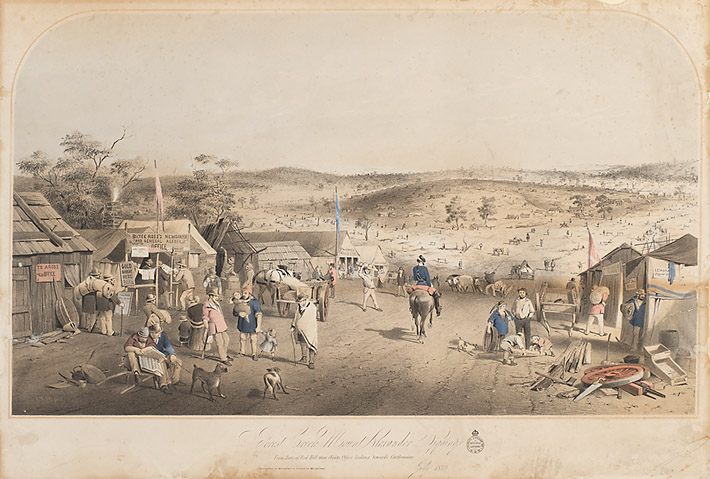 Forest Creek, Mount Alexander diggings from the base of Red Hill near Argus office, looking towards Castlemaine, July 1852. Author: S. T. Gill/lithographed by Macartney & Galbraith, Melbourne
The Castlemaine Victoria area was revisited in July and yielded enough gold to immediately attract 8,000 miners checking alluvial stream beds, a number which rose to 25,000 by year-end.
The Buninyong, Victoria discovery in August produced another £1,000 reward for its discoverer.
The Ballarat, Victoria discovery in August had so many claimants that the Committee felt unable to recognize a unique discoverer.
The Bendigo, Victoria discovery in September was contested for years, and no official credit seems to have been awarded, although the field was productive enough to supply 30 pounds of gold by year-end.
Continual smaller finds were recorded for NSW between 1852 and 1893, and for Victoria between 1852 and 1869.
The 1857/1858 - 1861/1866 - 1867/1870 - 1871/1904 Discoveries - Queensland
Small shows at Rockhampton in 1857 were sufficient to induce a minor gold rush in 1858 of 15,000 miners, most of whom were participating in what came to be called a duffer rush because the inexperienced miners became destitute on the goldfield and had to be rescued and ferried back to NSW by ship by the colonial government.
Four years later, an even smaller find at Cape River precipitated a repeat of the 1857 surge with similar results.
Economic distress in 1867 led the Queensland Government to offer an incentive award of £3,000. The main result of this effort was the discovery of the Glympie goldfield, a highly productive area, hosting 25,000 active miners, credited with saving the State government from bankruptcy.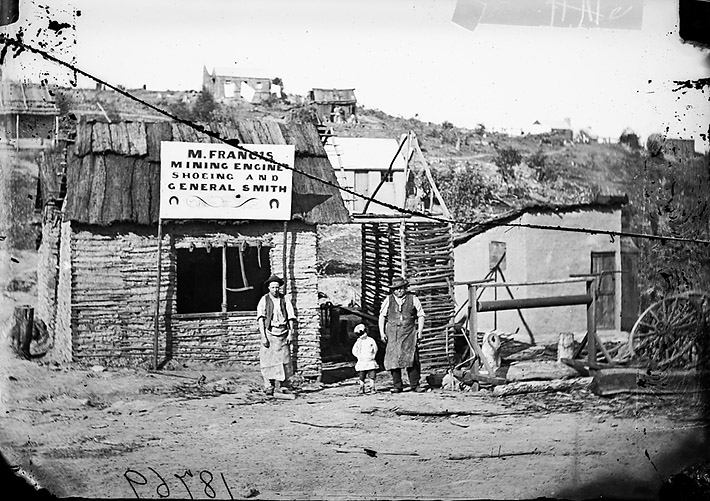 M. Francis, mining engineer, shoeing & general smith at Hill End, NSW, Australia. Source: Mitchell Library, State Library of New South Wales
Finally, a 12-year-old Aboriginal stockman was responsible for the greatest of all Queensland discoveries, Charters Towers. He was tracking horses in 1871 that had broken free from a pack train when he came upon flakes of alluvial gold. The find was dwarfed by the discovery of actual well-mineralized quartz reefs, which produced a long-lived period of mine development.
The 1868 Discovery - Gawler, South Australia
This was a literal boomtown discovery:
1 person prospecting on day 1
40 people prospecting on day 2
1,000 people prospecting after 7 days
4,000 people prospecting after 30 days
and 50 people prospecting 2 years later
The 1871/1909 Discovery - Pine Creek, Northern Territory
A small-scale gold rush developed in 1871 when employees of the Australian Overland Telegraph Line encountered gold while digging holes for telegraph posts. In this particular State, at this particular time, Chinese workers were an absolute majority - 674 out of 824 Northern Territory miners.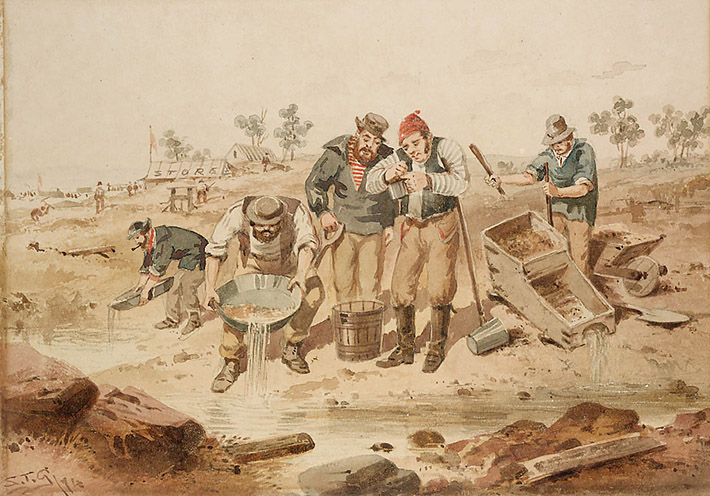 Tin dish washing and cradling of gold in 1874. Source: S. T. Gill/Mitchell Library, State Library of New South Wales
The Chinese Impact on Australian Gold Rushes
As an aside, it should be noted that Chinese immigrants had been a significant portion of the gold rush miners immigrating to Australia, and were widely disliked because of their relative success by working together cooperatively. Their success antagonized European miners to the extent that Chinese family members were prohibited from joining their husbands and fathers in Australia, and the hostility to Chinese miners evolved over the decades into an unofficial White Australia policy, implemented officially under the Immigration Act of 1901. The policy was gradually gutted between 1949 and 1973.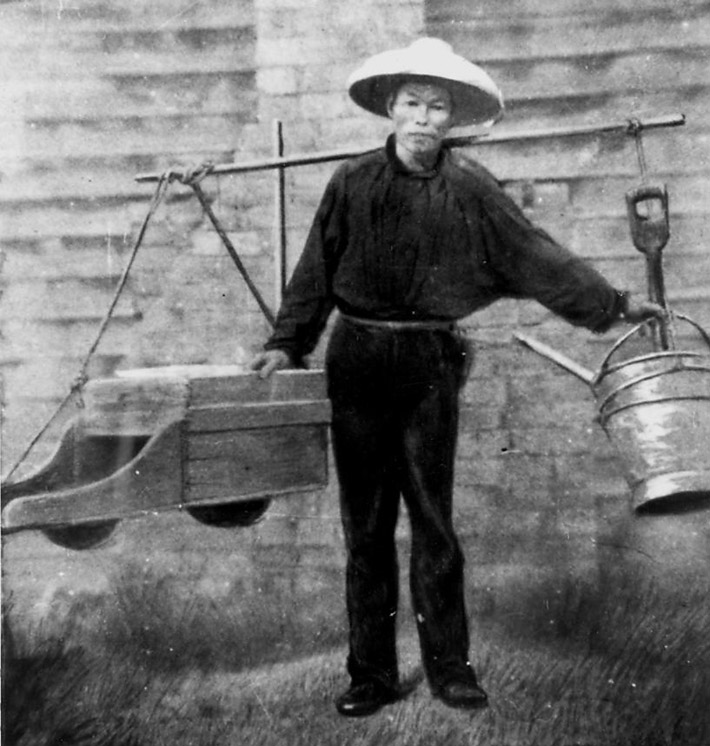 Chinese gold digger starting for work in Queensland, Australia, ca. 1860s. Source: R. Daintree/State Library of Queensland
The 1885 Discovery - Halls Creek/Kimberley, Western Australia
Once again, an Australian State government was offering an incentive award in 1872 - £5,000. Ten years later, it paid off. A small discovery led to another rush of 10,000, and a new goldfield, Kimberley, was declared in May 1886.
Once again, many of the newly arrived miners were unprepared, destitute and sick, many of whom died trying to cross the arid desert to Halls Creek. Those arriving suffered from sunstroke, dysentery and scurvy. To compound their misery, the miners found the ore difficult to extract, and the Government levied a tax on each ounce produced. The miners retaliated by refusing to register with the Government, and the authorities found it difficult to collect either taxes or production statistics.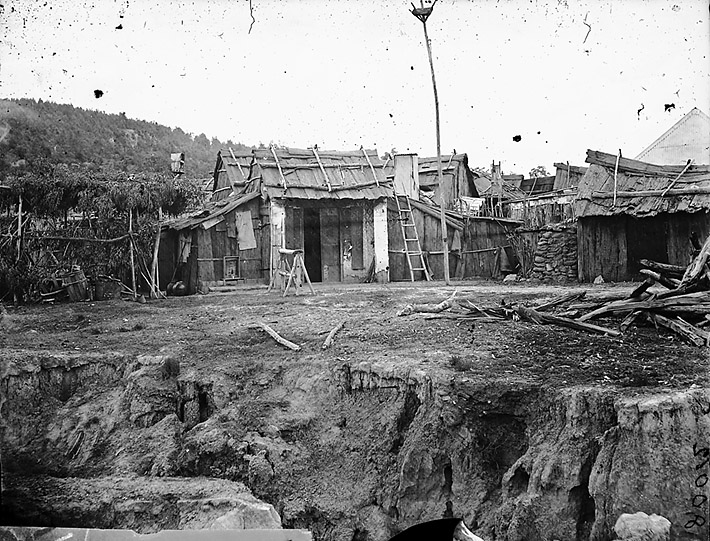 Gold digger's bark huts in Chinatown, Tambaroora, NSW, Australia. Source: Mitchell Library, State Library of New South Wales
Ultimately, the Government refused to pay the full £5,000 award on the grounds that the terms had not been met - no one had proven that at least 10,000 ounces had been produced within a 2-year time span. (independent authorities believe at least 23,000 ounces were mined at Halls Creek, but went unrecorded as it left the State by an undeclared route). As a consolation prize small stipends of £500 were paid to two of the early claimants.
The 1887/1891 Discoveries - Yilgarn & Pilbara, Western Australia
Both goldfields were the fruit of separate £1,000 rewards offered by the State Government.
The Yilgarn discovery created a short-lived rush which evaporated when a huge find was reported further east at Coolgardie (see below).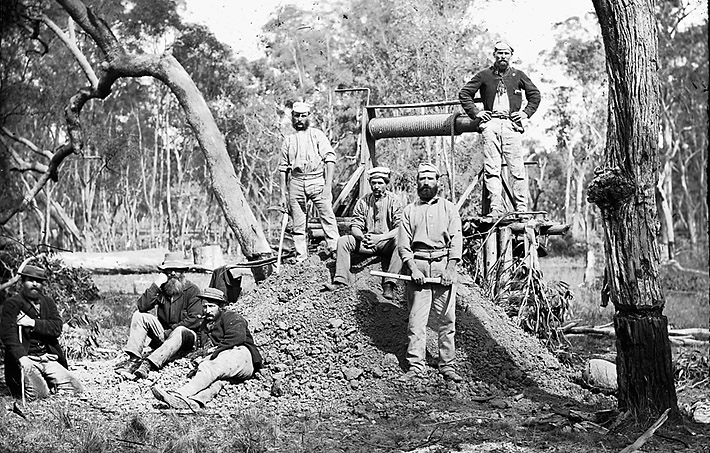 Small gold minehead without shelter and seven miners, Gulgong, NSW, Australia, ca. 1870-1875. Source: Mitchell Library, State Library of New South Wales
Pilbara was robust enough for the Government to develop a railway line in support of the mining. Alluvial gold was quickly exhausted, forcing miners to develop underground workings.
The 1892/1899 Discoveries - Coolgardie & Kalgoorlie, Western Australia
The Coolgardie discovery was such a spectacular find (554 ounces recovered in one afternoon) that it immediately drained prospectors from the Yilgarn goldfield to the west. With a year, a fully stocked townsite of 4,000 had been constructed. Over time, the population grew to 15,000.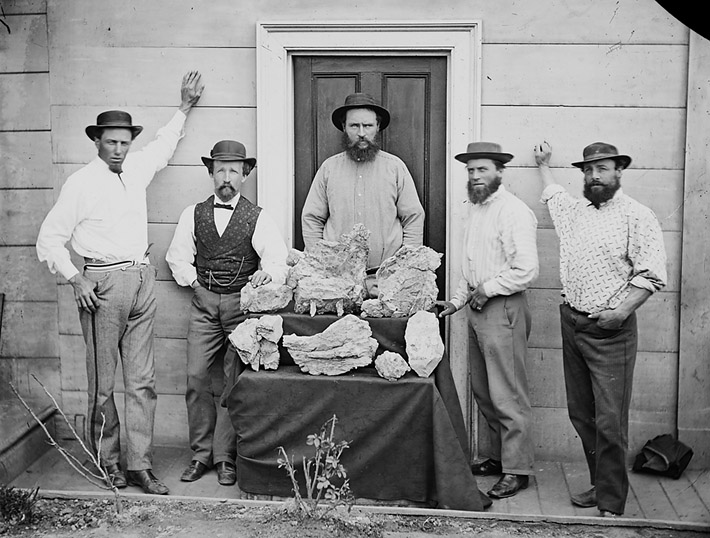 B.O. Holtermann (2nd from left), Richard Ormsby Kerr (centre) and Beyers (2nd from right), with reef gold from Star of Hope mine, NSW, Australia. Source: Mitchell Library, State Library of New South Wales
The Kalgoorlie discovery, 25 miles away, was almost as spectacular (100 ounces recovered immediately from alluvium), but developed into a far more important area. It not only contained the best alluvial accumulations in the State, but also hosted one of the most prolific quartz-ledge areas in the continent. The population grew to 30,000, supported by the requisite numbers of pubs (93!), churches and newspapers.
The Hidden Value of Calaverite at Kalgoorlie
The productivity of the area earned it the nickname of The Golden Mile but its potential was not recognized immediately. The reason lay hidden in the composition of the ore. Pick-and-shovel miners are accustomed to prospecting for gold as a stand-alone visible element, occurring as flakes or nuggets. What the early miners did not fully comprehend that gold can also alloy with tellurium (Te) in weird minerals - krennerite, petzite, sylvanite and calaverite.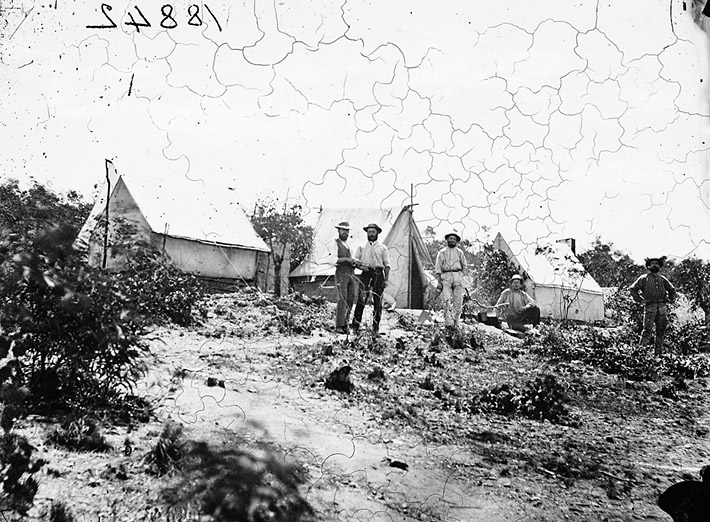 Gold miner's camp at Hill End, NSW, Australia. Source: Mitchell Library, State Library of New South Wales
These alloys can display a variety of colors and pungent garlicky odors:
Krennerite: AuTe2 varying to (Au0.8,Ag0.2)Te2 - White to blackish-yellow
Petzite: Ag3AuTe2 - Steel-grey to iron-black
Sylvanite: (Ag,Au)Te2 - Silver-grey to silver-white
Calaverite: AuTe2 - Silvery white to brassy yellow
Calaverite - Not Fool's Gold After All!
Calaverite was present in the Kalgoorlie ores, and initially mistaken for gold because of its brassy yellow color. It was soon dismissed as fool-s gold, and was routinely discarded during mining, dumped as mine waste, incorporated in road, sidewalk and building construction.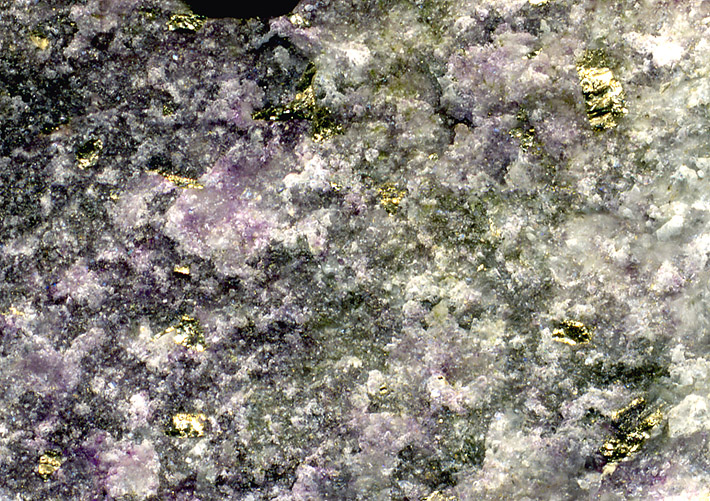 Calaverite (gold color) with purple fluorite and quartz from Cripple Creek Diatreme, Colorado, USA. Photo: James St. John
What the miners didn't know was that calaverite is a common tellurium alloy of gold, and that gold is easily poured from it by low-temperature heating, a fact discovered along with its identification at Angel's Camp, Calaveras County, California in 1861 during the California Gold Rush. This information did not reach Kalgoorlie until 1896, when it prompted a brand-new gold rush requiring wholesale reexamination of mine dumps and digging up of the town's sidewalks and streets, and teardown of some structures.
The Modern Era
Australia has retained its position as a leading world supplier of gold. Australia is the world's second largest producer, after China, and accounts for 9% of world output. Western Australia produces 60% of Australian gold, and all of the States contribute their share to the production total.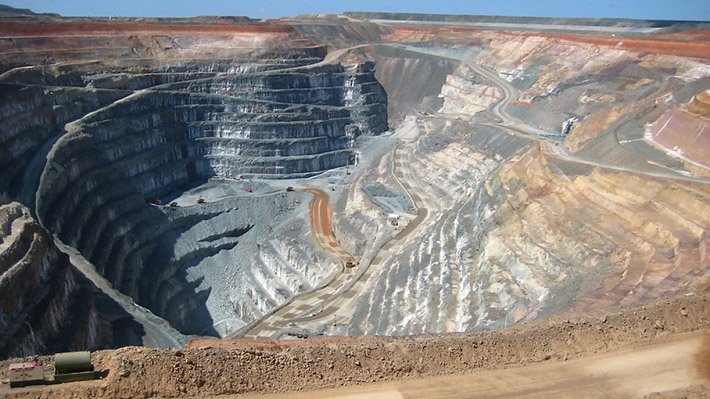 Modern open pit gold mining in Sunrise Dam Gold mine, Western Australia. Photo: Calistemon
Most of the production comes from open pits exploiting primary sources, rather than alluvium, but the production does depend heavily on the weathered nature of the gold, which simplifies recovery and processing.
Perhaps the biggest single change in gold mining has been the discovery of a new class of gold deposit, the Iron Oxide-Copper-Gold (IOCG) type, first identified in South Australia. The deposit was discovered in the early 1980s and developed as the Olympic Dam Mine, with the townsite of Roxby Downs built in 1987 to service it. It is the 4th largest copper deposit and the single largest accumulation of uranium known in the world. 70% of the value comes from copper, 25% from uranium and 5% from silver and gold.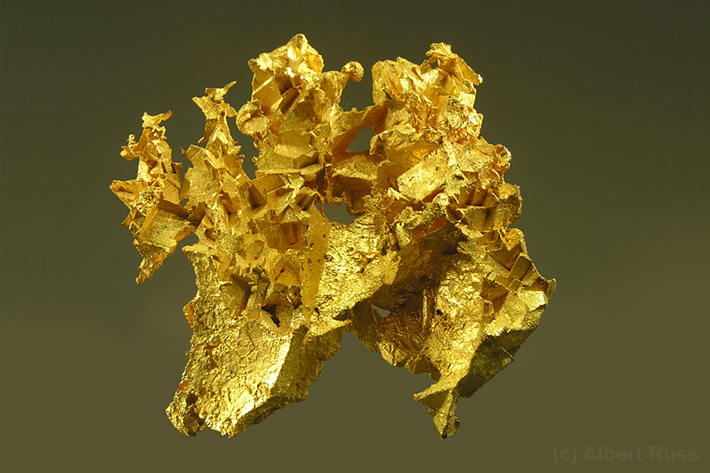 Big piece of native gold from Australia. Size 10 x 10 cm. Photo: Albert Russ.
IOCG deposits are exceptionally important because they represent a very large concentrated accumulation of valuable metals, ranging in size from 10 M tonnes to 4 B tons of ore, identifiable by a strong gravity and magnetic signature created by a high concentration of iron oxide minerals. Ore content ranges from 0.2 to 5.0% copper, and between 0.1 to 3.0 g/t (parts per million) gold.
Since the discovery of Olympic Dam, 5 other IOCG deposits have been found in South Australia:
Carapateena, 203 Mt, 0.056 g/t Au
Hillside, 170 Mt, 0.20 g/t Au
Prominent Hill, 153 Mt, 1.17 g/t Au
Wilcherry Hill, 60 Mt, Au not divulged
Cairn Hill, 14 Mt, 0.10 g/t Au
as well as 2 in Queensland:
Mount Elliot, 475 Mt, 0.30 g/t Au
Ernest Henry, 122 Mt, 0.55 g/t Au
With hindsight, it is obvious that colonial administrative policies in 19th century Australia actively promoted gold exploration by offering both cash incentives and awarding mineral rights to successful prospectors. The cash incentives are less relevant today, as explorers can more easily raise capital, provided they can still acquire mineral rights. There is every reason to expect Australian success in gold discovery to continue.