Melanterite (iron II sulfate) - Properties, Photos and Occurence
Author: Zbyněk Buřival
Published: 14.02.2020 12:29
Last updated: 29.10.2020 09:43
Melanterite is a perishable product of iron ore weathering, forming awesome green stalactites and crusts in the abandoned mines. Its shaky existence is a nice example of natural processes, but admiring melanterite beauty often includes trips to hardly accessible underground places.
Structure of Melanterite
Melanterite is the most famous member of melanterite group sulfates. It is a divalent iron sulfate heptahydrate FeSO4.7H2O, often known as iron(II) sulfate or ferrous sulfate. Melanterite forms monoclinic crystals. However, natural crystalline forms are quite rare. Melanterite often forms efflorescences, encrustations and stalactites, less often crystalline crusts or needle-shaped crystal aggregates.

Melanterite is isostructural with other members of melanterite group and easily accomodates other divalent metals like Cu, Mg, Zn, Co and Mn. The most common variety accomodates higher amount of Cu (up to 30 % boothite CuSO4.7H2O component), known as cuprian melanterite. Some sources incorrectly mention chalcanthite component in melanterite, but chalcanthite is pentahydrate with triclinic struture.
Physical Properties of Melanterite
Melanterite has vitreous to silky luster, it is transparent to translucent with white streak. The Mohs hardness is only 2, density is 1.9. Melanterite has conchoidal fracture and displays cleavage in two directions. Beware, melanterite is highly soluble in water!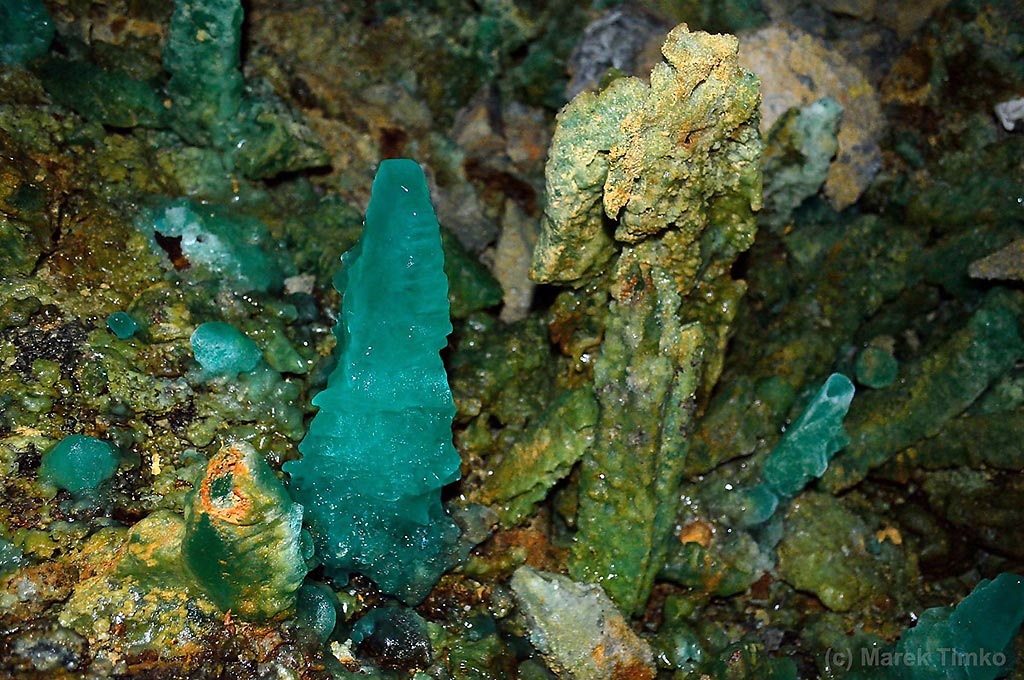 Fresh bright green melanterite stalagmites and encrustations, note older partially dehydrated and oxidized melanterite with yellow and rusty parts. Abandond mines in Baiut, Romania. Photo: Marek Timko
Fresh melanterite is always green. It tends towards blue-green hues with higher Cu amount in the structure. And it turns pale green to almost white when dehydrated – see chemical stability chapter bellow.
Melanterite Chemical Stability
Melanterite is highly unstable material. It makes almost no sense to collect it as it requires very specific humidity and acidity. When removed from e.g. underground mines to the surface environment, it gets dehydrated and/or oxidized within hours or maximum few days. Melanterite specimens must be properly collected and conserved to preserve them, which is complicated and expensive process.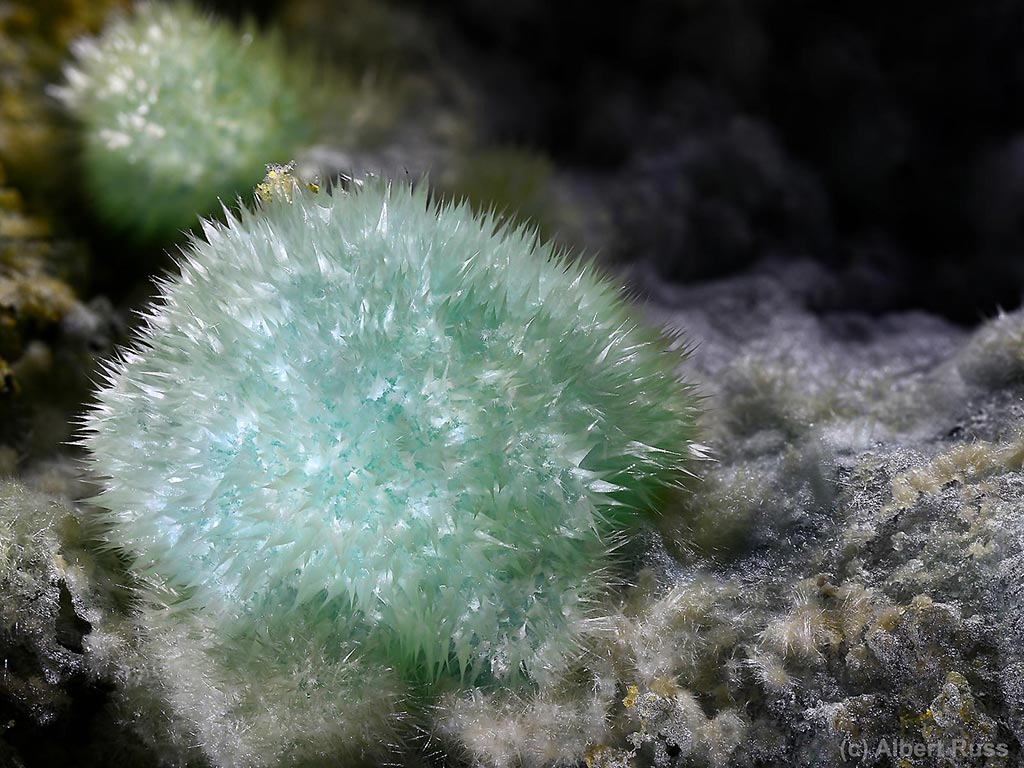 Crystal ball of melanterite needles, associated with other white sulfates (likely epsomite). Underground mines in Hodruša, Slovakia. Photo: Albert Russ
Melanterite is very easily dehydrated. It first turns into pale green color and then into white powdery material when almost completely dry. This is often mixture of various less hydrated iron sulfates like ferrohexahydrite (6x H2O), siderotil (5x H2O), rozenite (4x H2O) and szomolnikite (1x H2O).
Divalent iron in melanterite is also very easily oxidized, which again results into decomposition of melanterite. There are various sulfates with varied amount of water and different ratio of Fe2+ and Fe3+ in the structure. These are further oxidized to pure Fe3+ sulfates and lastly converted to more stable Fe3+ minerals like goethite, lepidocrocite, or jarosite – depending on acidity of the environment and presence of water/humidity.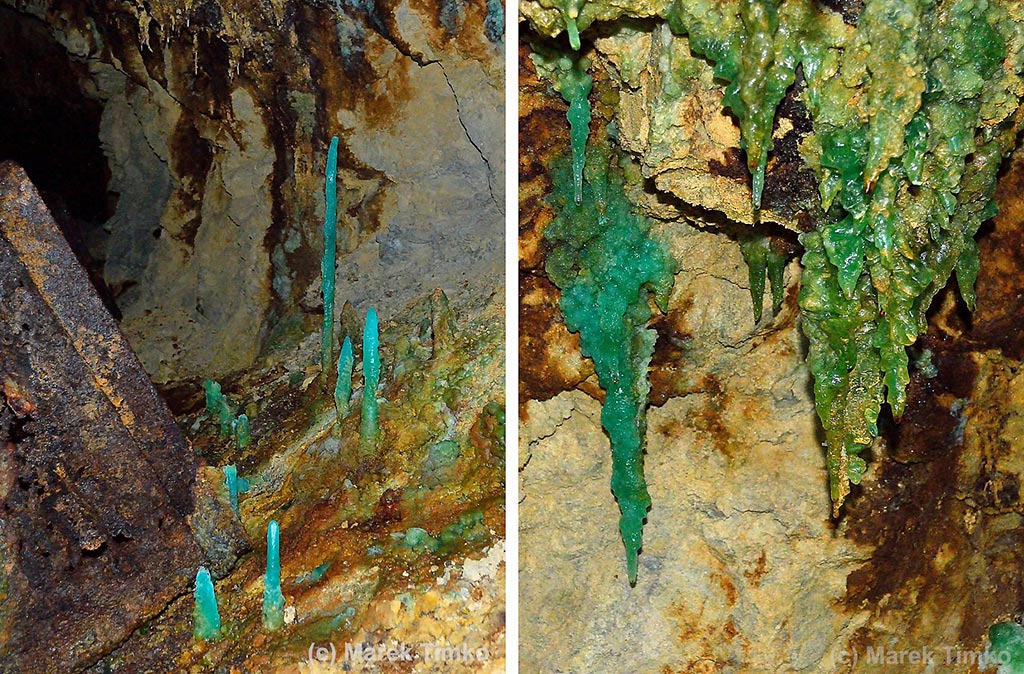 Fresh to slightly decomposed melanterite stalactites and stalagmites in the abandoned mines in Baiut, Romania. Both photos: Marek Timko
Origin
The most common melanterite origin is decomposition of iron sulfides, mostly pyrite and marcasite. Iron sulfide is oxidized to iron(II) sulfate, which is soluble in water. Decomposition of sulfides occurs in classic sulfidic deposits and also in various pyrite/marcasite rich sediments like coal or some shales.
Simplified pyrrhotite to melanterite chemical reaction is:
FeS + 2 O2 + 7 H2O => FeSO4.7 H2O
Of course, the real oxidizing agent is not the pure oxygen and the sulfides mineral assemblage is very often quite complex. Real natural systems usually result in varied assemblages of secondary sulfates and other secondary minerals like carbonates, phosphates and oxides.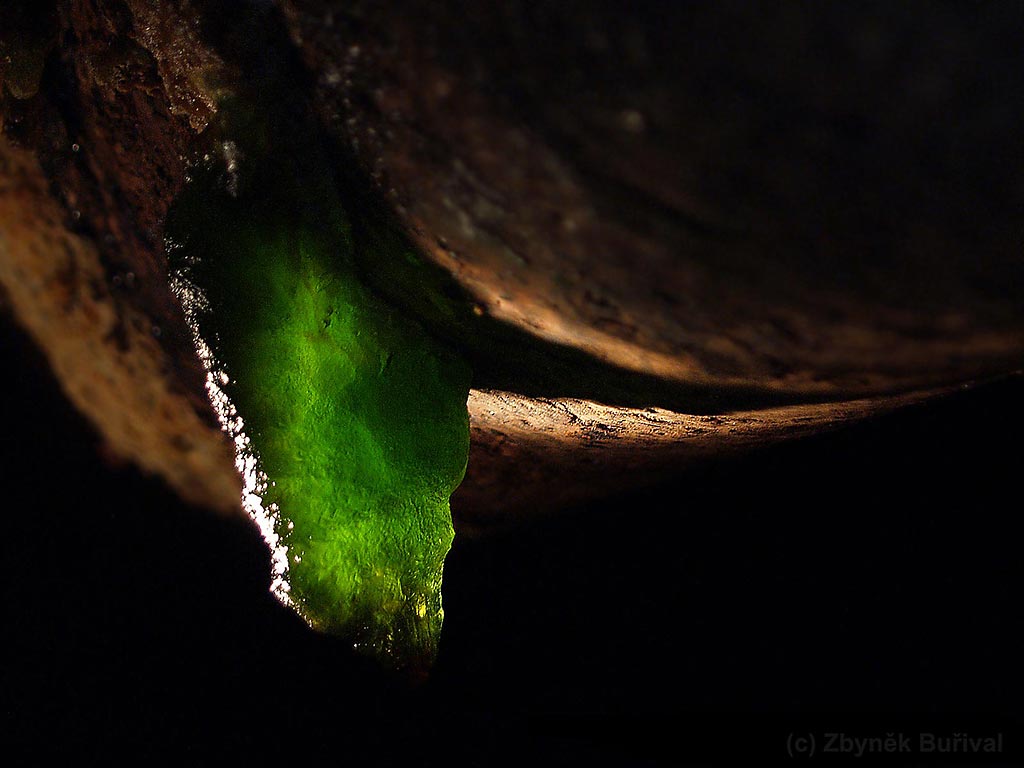 Melanterite stalactite hanging from the iron pipe in the underground mine in Jáchymov, Czech Republic. Photo: Zbyněk Buřival
Melanterite is often present only as a temporary mineral, its stability strongly depends on humidity, acidity and air flow. Crusts and stalactites of melanterite are constantly growing and dissolving, its presence in the underground mines is often shifting from one place to the other. Open pits usually have only seasonal melanterite occurence, sometimes limited only to short periods between rain falls.
Much less common is melanterite produced by volcanic fumaroles. There it forms layers of tiny crystals or crusts near the volcanic vents.
Applications
Melanterite is not mined in its natural form, because it forms highly unpredictable and irregular accumulations. It is also highly unstable and water soluble, thus very problematic to handle and store. Melanterite for industrial use is synthetic, it is produced in vast amounts as a byproduct of the steel finishing or ilmenite processing into commercial grade titanium dioxide.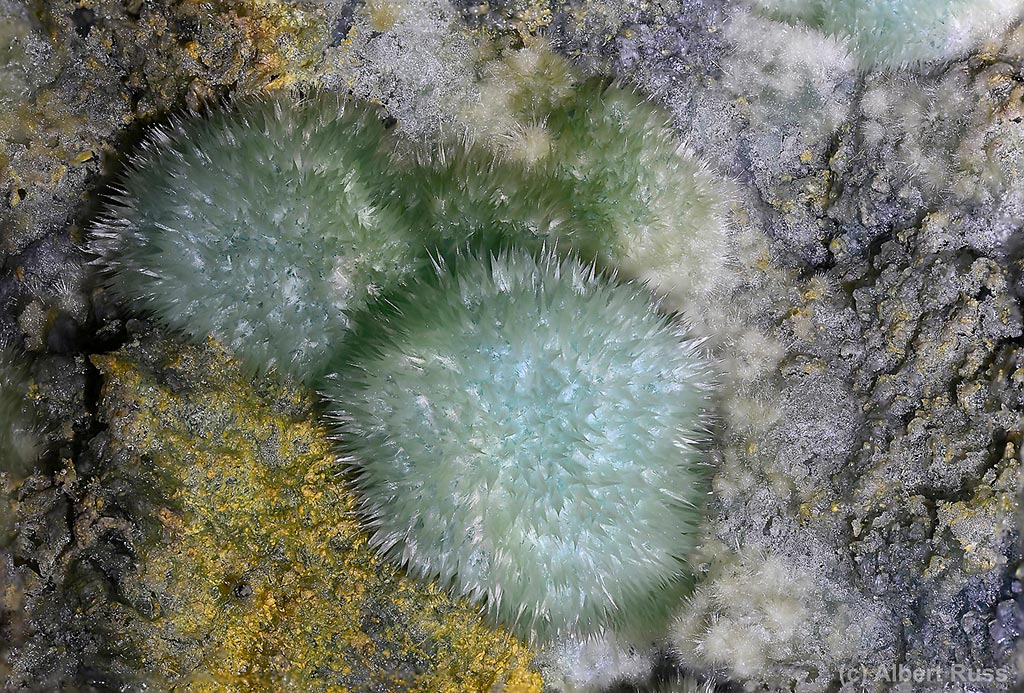 Melanterite crystal balls sitting on the white sulfates encrustation, underground mine in Hodruša, Slovakia. Photo: Albert Russ
In history, melanterite was used to produce inks and as an coloring agent. Divalent iron in melanterite is easily oxidized or complexed into very insoluble and long-lasting pigments. This feature is still used in some maple-wood coloring processes.
In modern times, serious amounts are used as a supply of iron in agriculture and treatment to highly alkaline soils. It also kills funghi and moss, while being much less toxic then its cousin chalcanthite (CuSO4.5 H2O). Iron(II) sulfate is used in water purification to remove phosphates and chlorethylenes. It is also used in gold refinement to precipitate pure gold from aqua regia solution. Some food supplements also contain iron(II) sulfate.
Occurence of Melanterite
Generally, melanterite occurs in oxidation zones of iron sulfide deposits. Its formation is often temporary and depends on the humidity and acidity of the environment. It is more common in the abandoned underground mines, but it can form also in the open pits if there is enough humidity.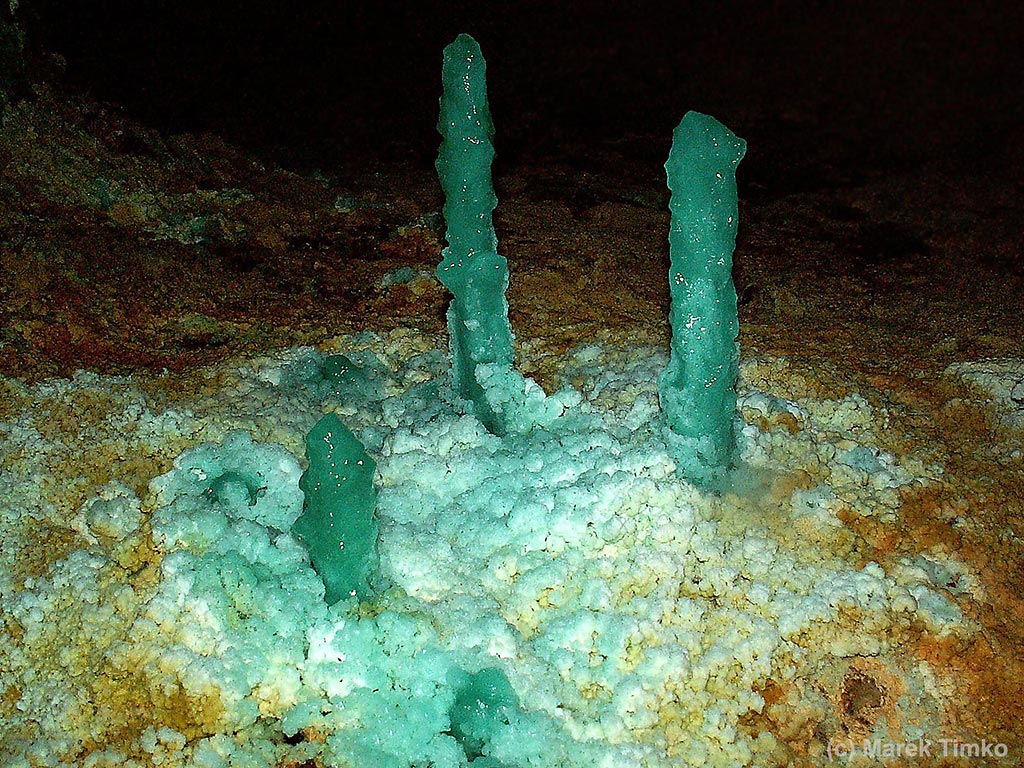 Fresh melanterite stalagmites in the abandoned underground mine in Baiut, Romania. Photo: Marek Timko
Classic sites include Falun in Sweden (type locality); Rammelsberg in Harz Mts., Germany; Baiut in Romania; Rio Tinto in Spain; Cyprus island; Hodrusa in Slovakia; or Idria in Slovenia.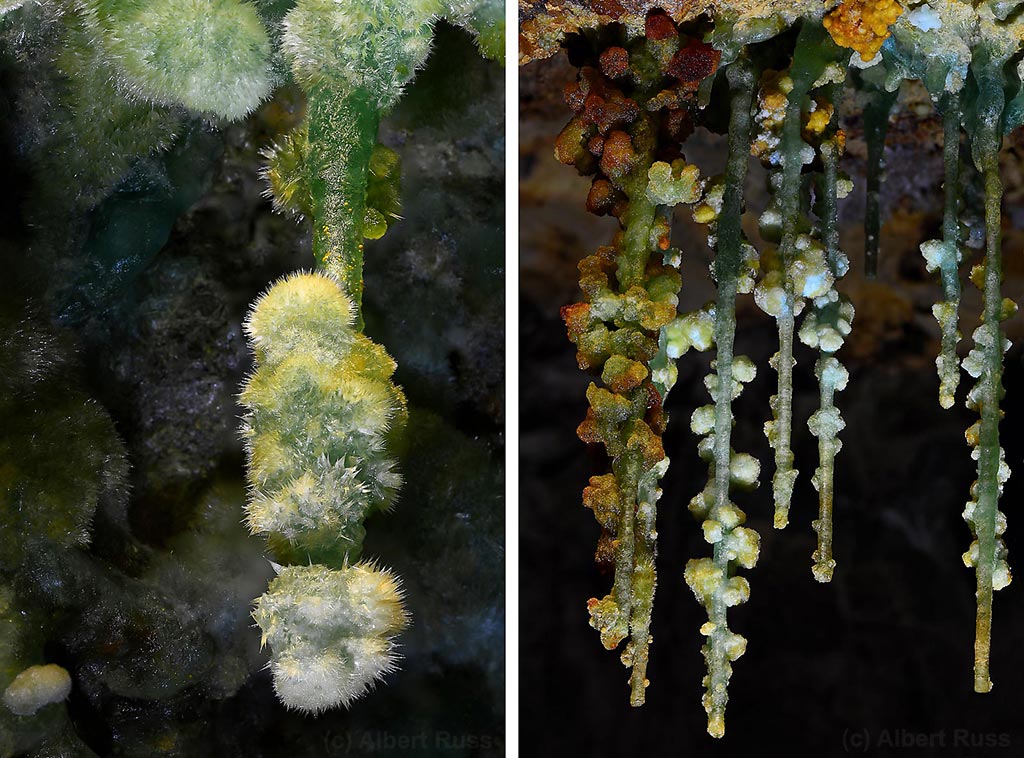 Melanterite stalactites and tiny crystal sprays in the underground mine in Hodruša, Slovakia. Both photos: Albert Russ
US sites include Alma mine and Island Mountain Mine in California; Ducktown in Tennessee; Butte in Montana; and Bingham in Utah.
Volcanic fumaroles with melanterite are far less common and can be represented by volcanoes on Kamchatka peninsula in Russia.
References
Baur, W. H. (1964). On the crystal chemistry of salt hydrates. III. The determination of the crystal structure of FeSO4. 7H2O (melanterite). Acta Crystallographica, 17(9), 1167-1174.
Frau, F. (2000). The formation-dissolution-precipitation cycle of melanterite at the abandoned pyrite mine of Genna Luas in Sardinia, Italy: environmental implications.
Mauro, D., Biagioni, C., & Pasero, M. (2018). Crystal-chemistry of sulfates from Apuan Alps (Tuscany, Italy). I. Crystal structure and hydrogen bond system of melanterite, Fe (H2O) 6 (SO4)· H2O.
Peterson, R. C. (2003). The relationship between Cu content and distortion in the atomic structure of melanterite from the Richmond mine, Iron Mountain, California. The Canadian Mineralogist, 41(4), 937-949.
Reddy, S. N., Rao, P. S., Ravikumar, R. V. S. S. N., Reddy, B. J., & Reddy, Y. P. (2001). Spectral investigations on melanterite mineral from France. Spectrochimica Acta Part A: Molecular and Biomolecular Spectroscopy, 57(6), 1283-1287.