Report from Munich Mineral Show 2016
Author: Zbyněk Buřival
Published: 19.11.2018 10:10
Last updated: 26.01.2021 10:26
Munich show is the important European mineral show. Munich 2016 was definitely worth to see, many new minerals, many old friends. The exposition of the Alpine minerals was very nice, as well as wide selection of minerals for sale.
My main goal at the Munich show was to manage couple meetings regarding further development of this website. And of course to meet many friends and check the new finds. Unfortunately, I had only Friday to visit the show. The time to admire (and photograph) all the nice specimens was very limited. If you are interested, here is the report from the Munich 2015.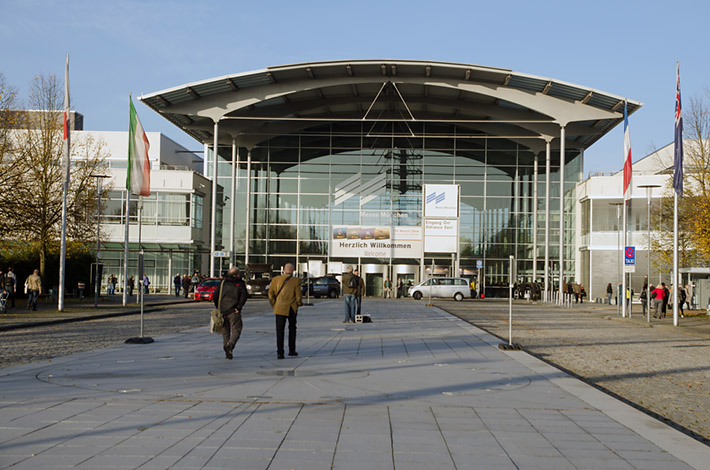 Entrance to the Exhibition Halls in the early morning.
The most welsome meeting was of course with Albert Russ. I stopped at the stand of Mineralogical Almanac, Lapis and Mineralogical Record to check the news. I also visited stand of the Colido.de - mineral cataloguing software.
I spent most time visiting many dealers. I can't miss the Karp, Kynicky brothers and 4C Minerals, where I met also many friends. I stopped for a while at Greenlaws, Wendel Minerals, Mustafa Ghulam and Anton Watzl.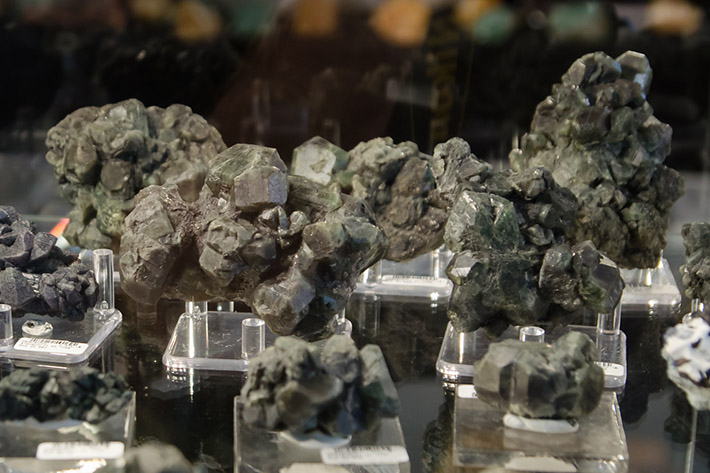 Alexandrites from Fort Victoria, Zimbabwe
Minerals
Probably the most famous new specimens were chromium dravites from Tanzania and heliodors from Volynsk, Ukraine - both at Crystal Classics. Las Vigas in Mexico produced some pretty large new amethyst clusters, unfortunately quite pale colored. I also noticed nice alexandrites from Zimbabwe and phenakites from Myanmar. Nice cassiterites from Bolivia were unfortunately often chipped, as well as many cuprites from Rubtsovsk. Of course there was a very nice selection of various minerals from China, Morocco, Afghanistan, Pakistan, India and Bulgaria.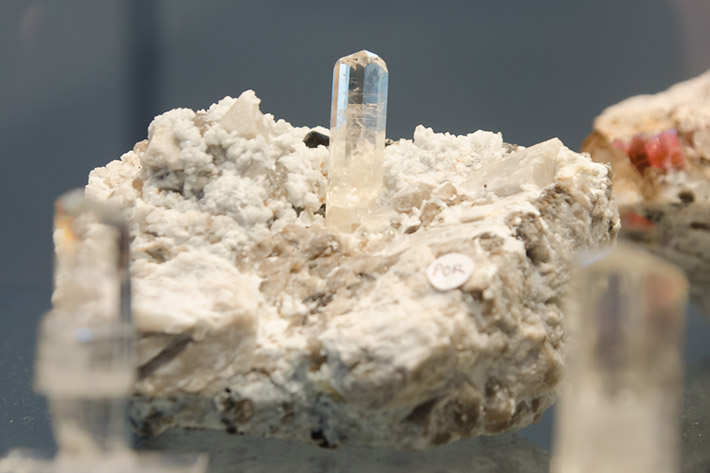 New phenakites from Myanmar by Karp Minerals. Some were even on matrix!
In my opinion, the show was better then last year. There were more specimens which get my attention. The exposition of the alpine minerals was simply outstanding and I spent a lot of time there. Many people complained about the change in the top dealer part of the A6 hall, because almost all stands were moved since last year. Lot of complaints were made about the high prices. Especially some premium offers were insanely high and similar quality could be bought at the A5 hall for 1/10 of the premium price. But anyone can choose where to buy and negotiate the price. Unfortunately, there was also a lot of fakes, polished crystals, repaired specimens, treated specimens - buyers must be always prepared for such tricks.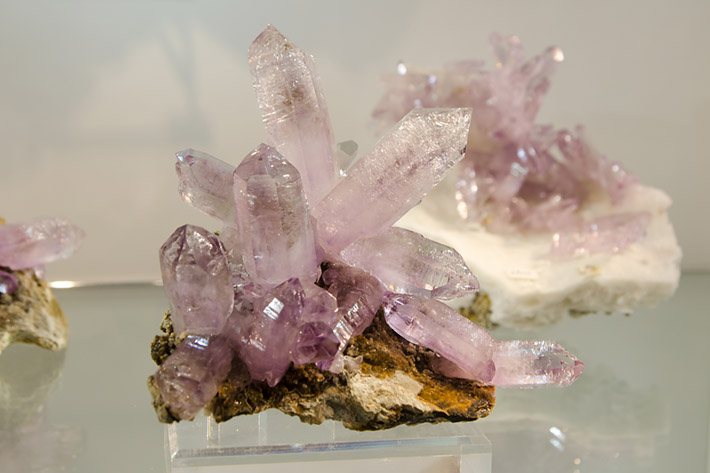 New pale amethysts from Las Vigas, Mexico.
Some pictures follow. I was not able to get all the important stuff, simply no way to manage all the meetings and photography in one day. It is a brief selection of specimens which cought my attention. I am interested especially in Alpine minerals and pegmatites, I am sorry if I omitted your favourite minerals.
Various Minerals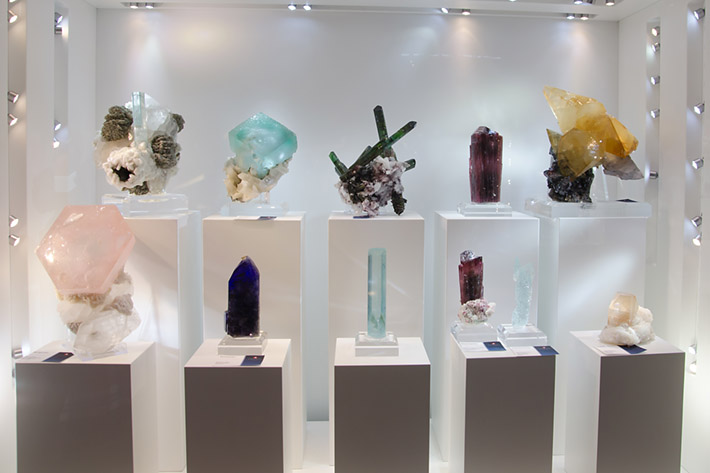 Some of top specimens by the top dealers.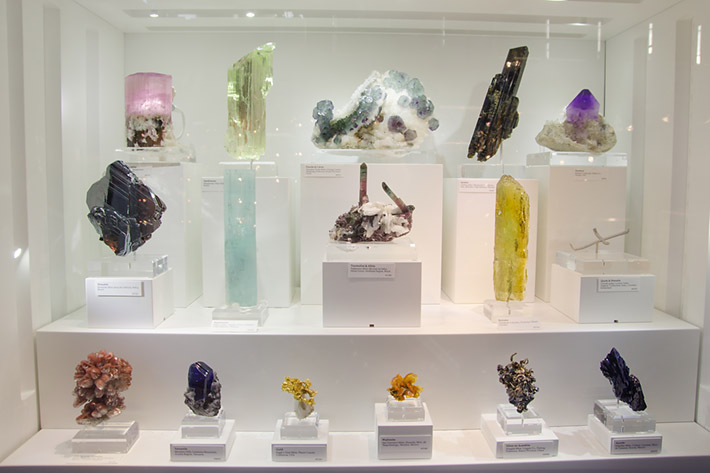 Some of top specimens by the top dealers.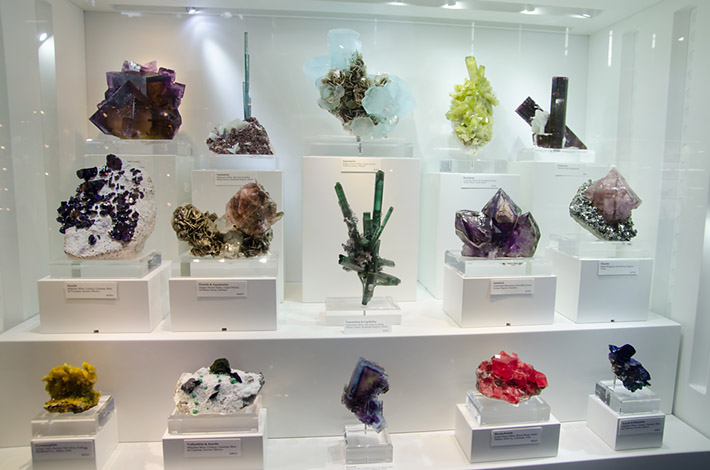 Some of top specimens by the top dealers.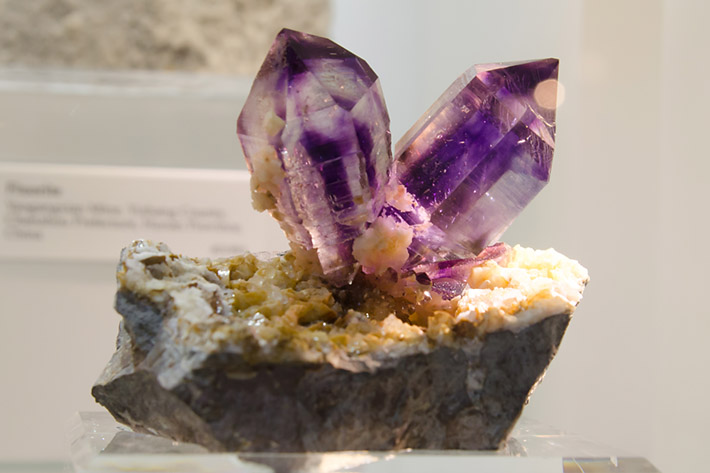 Very nice amethyst from Goboboseb, Namibia.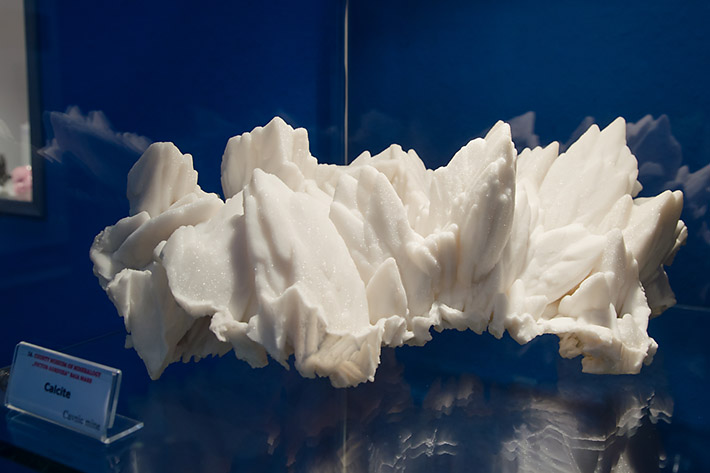 Nice and huge cluster of calcite from Romania.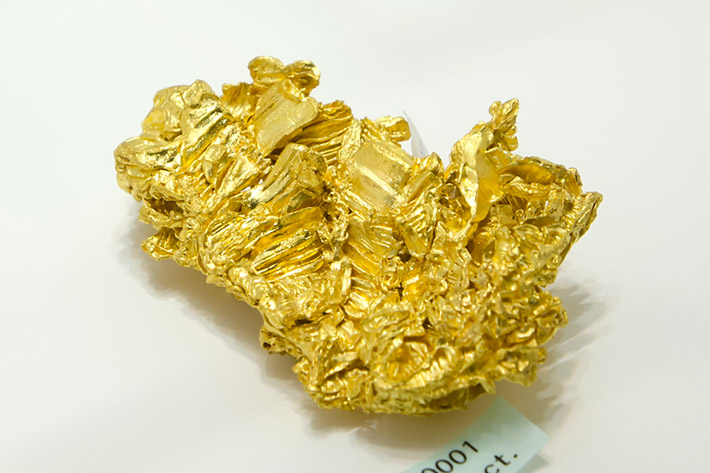 New and nice crystallized gold. Unfortunately, I'm not sure if it was really from Brazil.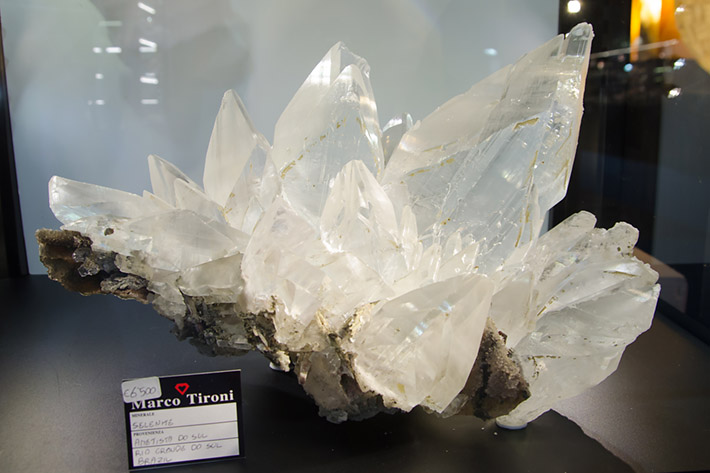 Huge and perfect quality gypsum cluster from Brazil.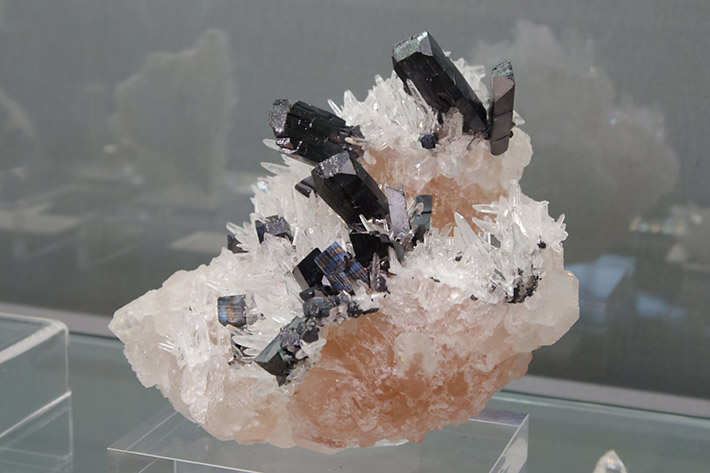 Very nice hubnerite from Huamachuco, Peru.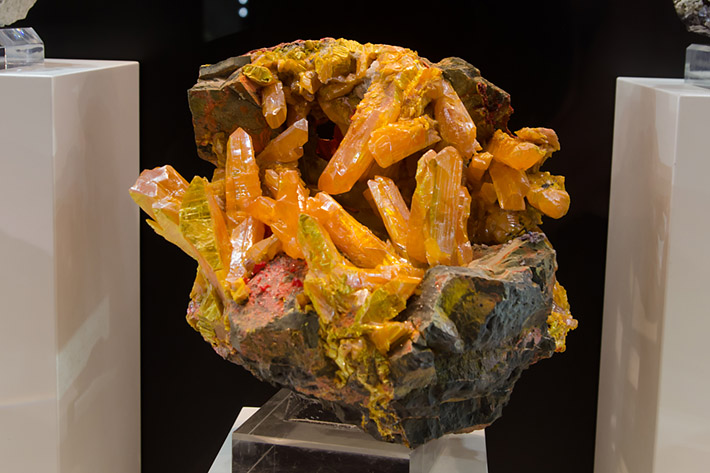 Huge cluster of nice orpiment from China.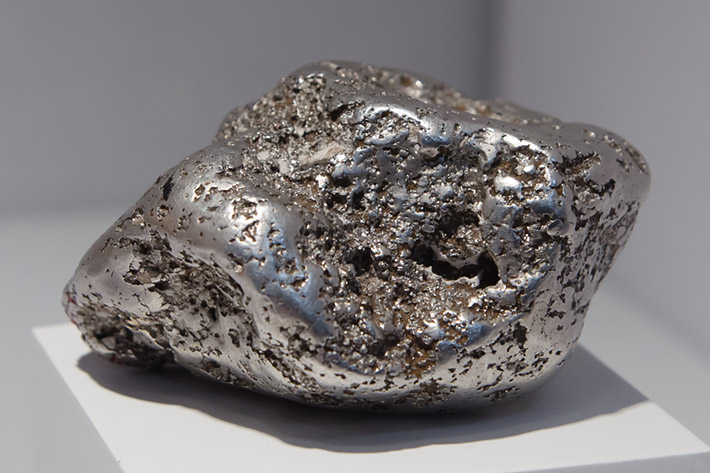 Huge platinum nugget from Ural Mts., Russia.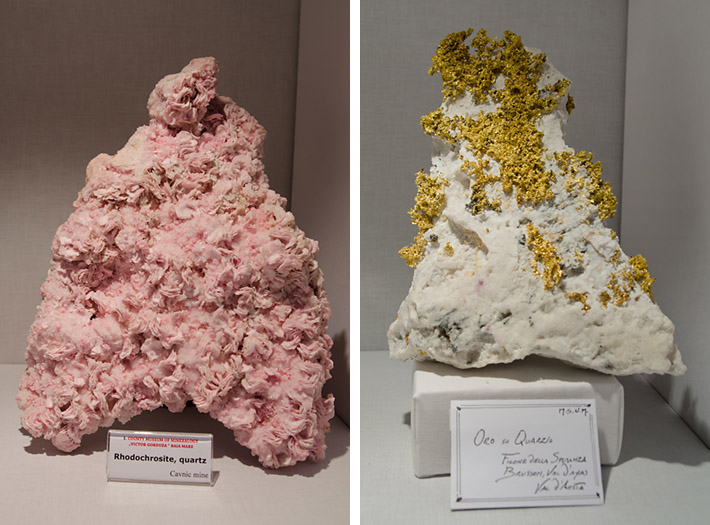 Left: Perfect cluster of rhodochrosite from cavnic, Romania.Right: Huge gold from the Italian Alps.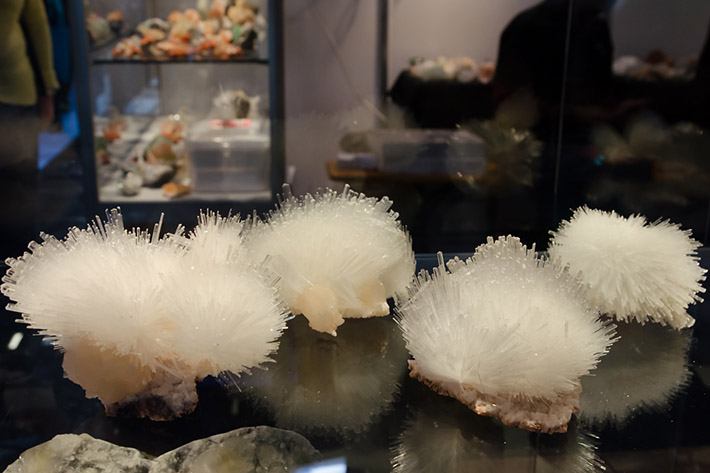 Very nice sprays of scolecite from India were available.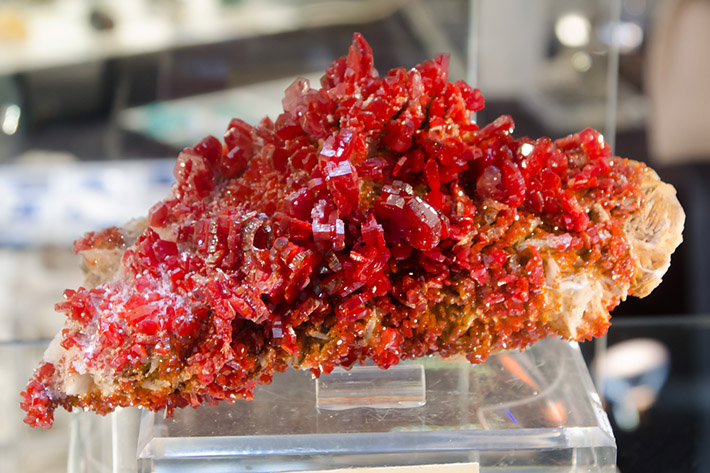 Nice cluster of vanadinite from Mibladen, Morocco.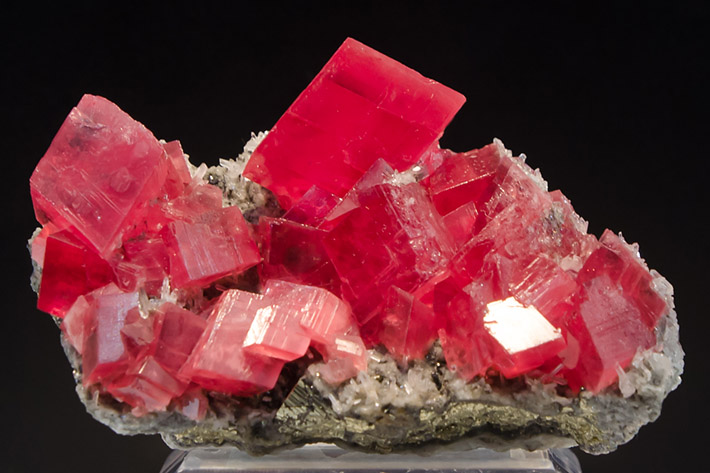 Rhodochrosite from Sweet Home Mine, Colorado. These are still very popular and extremely expensive!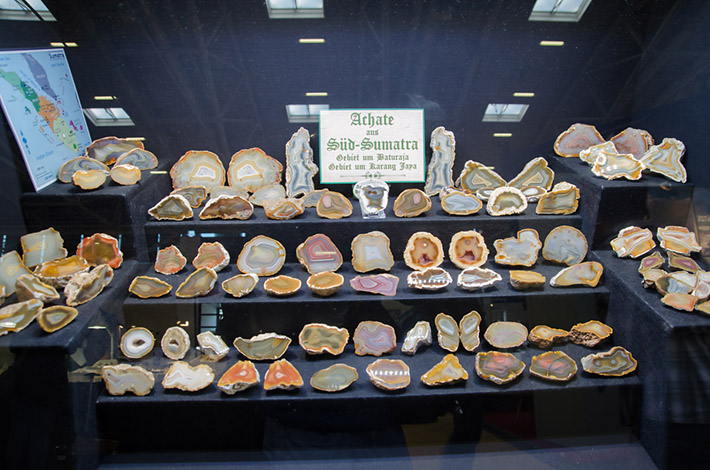 Agates are not my favourite subject but you don't see agates from Sumatra every day.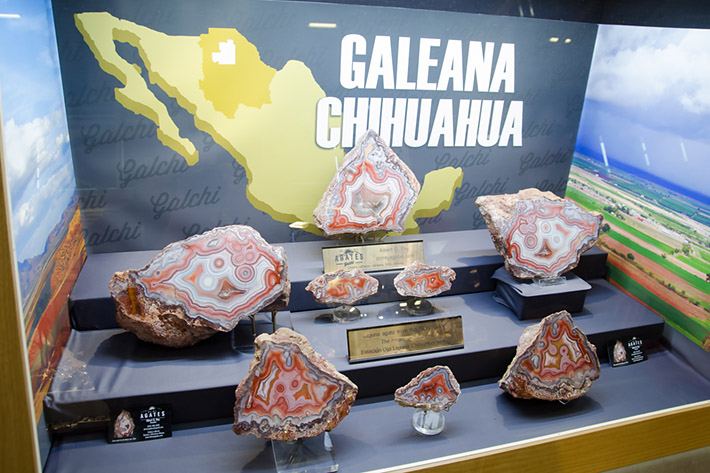 Also these agates from Chihuahua, Mexico were pretty nice.
Alpine Minerals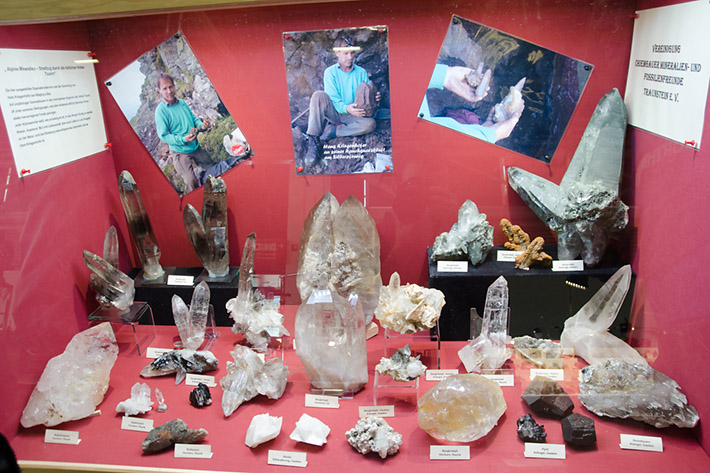 Selection of quartz crystals from Hohe tauern Mts., Austria.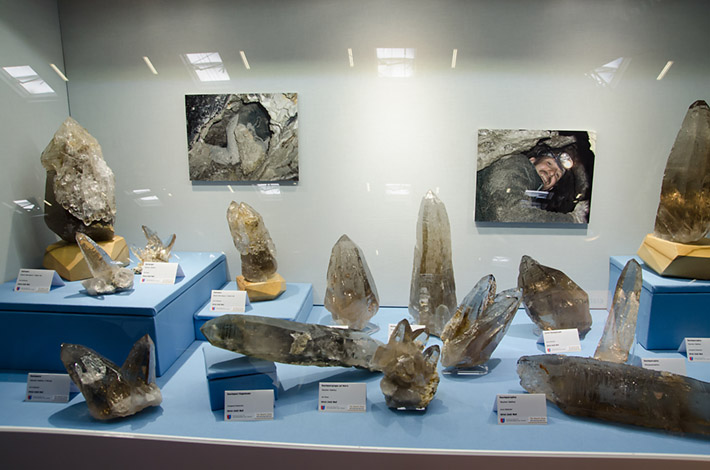 Nice quartz crystals from Alps by Ulrich Wolf.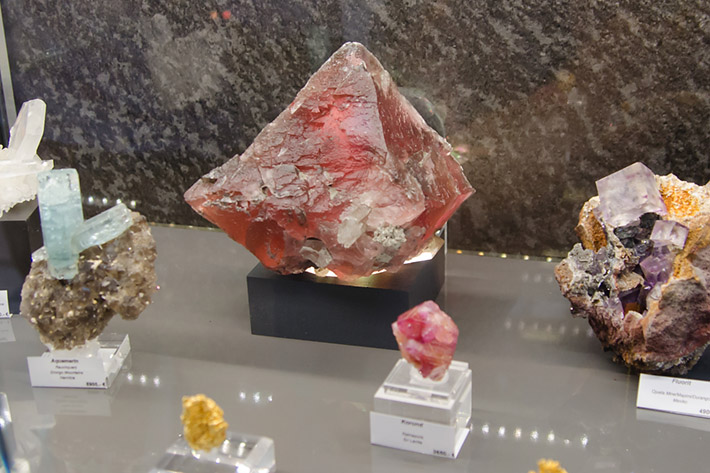 Huge Alpine fluorite by Jurgen Margraf.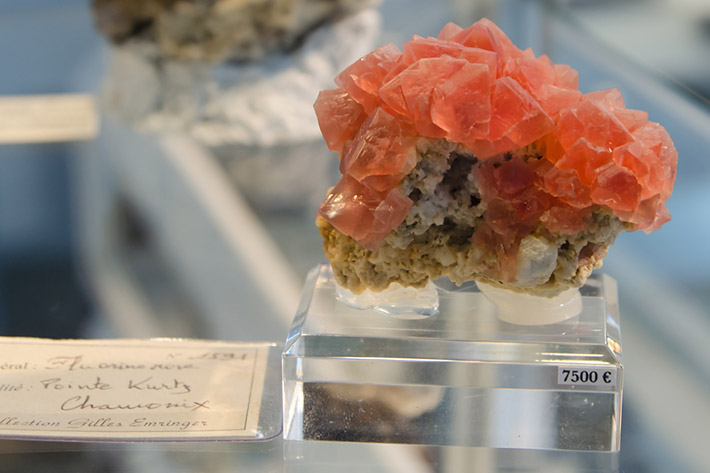 Perfect color of the fluorite from Mont Blanc Massiff, France.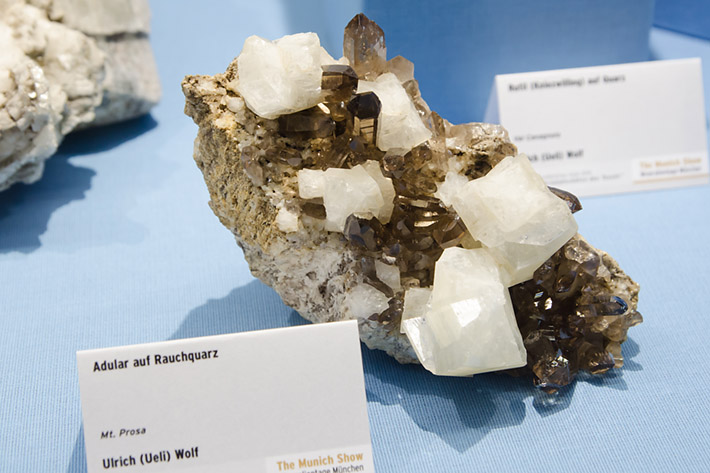 Deep colored smoky quartz with adularia from Mt. Prosa.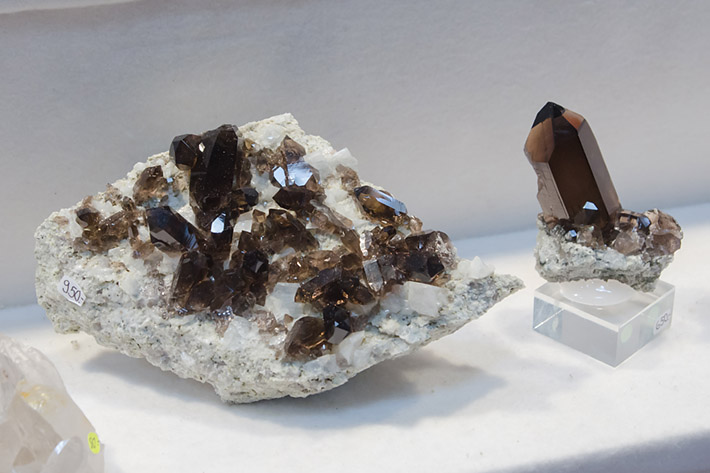 These smoky quartz crystals were probably the best I've seen in Munich 2016.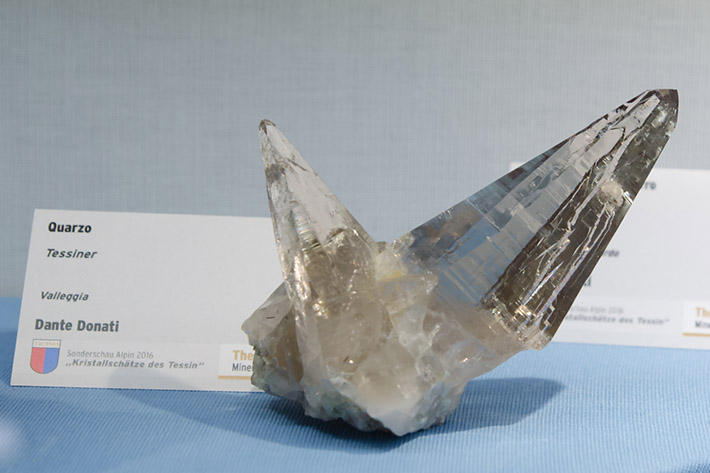 Killer Tessin quartz crystal from Valleggia, Italy.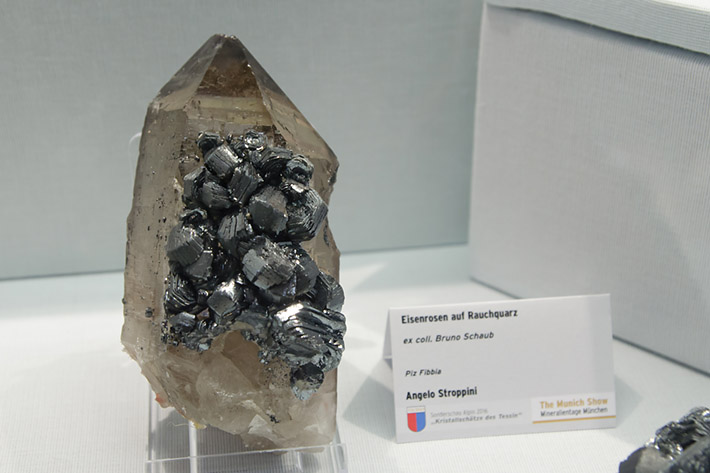 Hematite on the smoky quartz from Fibbia Mt., Switzerland.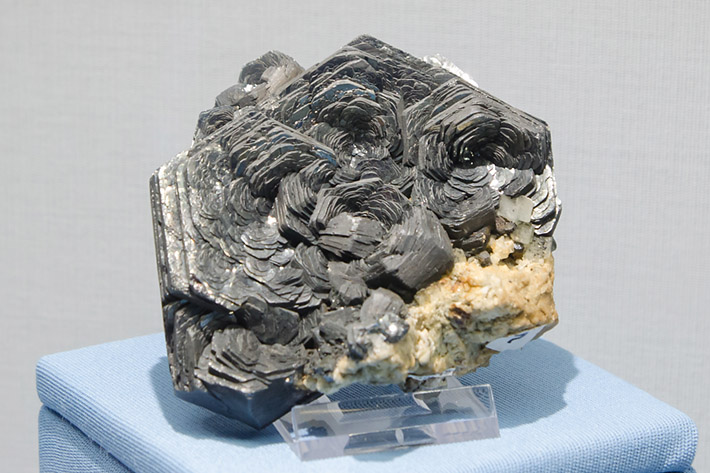 Perfect hematite rose from Fibbia Mt., Switzerland. NHM Bern collection.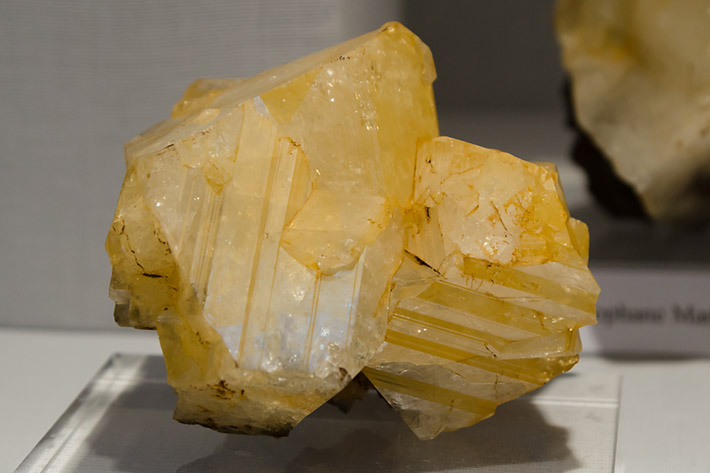 Manebach fourling of the rare hyalophane (Ba-feldspar) from Busovaca, Croatia.
Pegmatite Minerals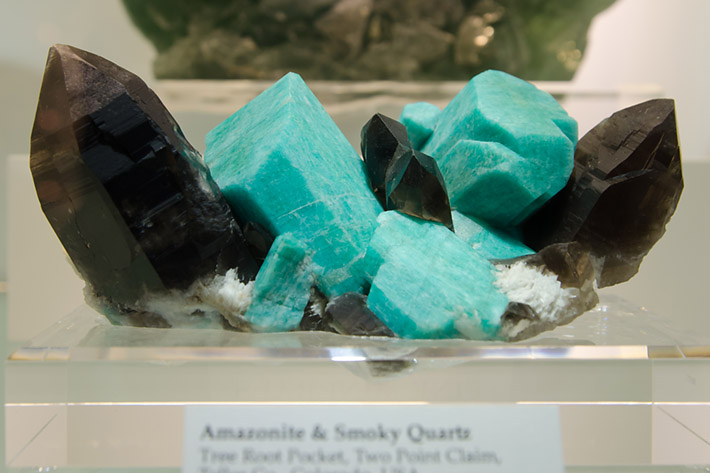 Bright colored amazonites and dark smoky quartz from Colorado.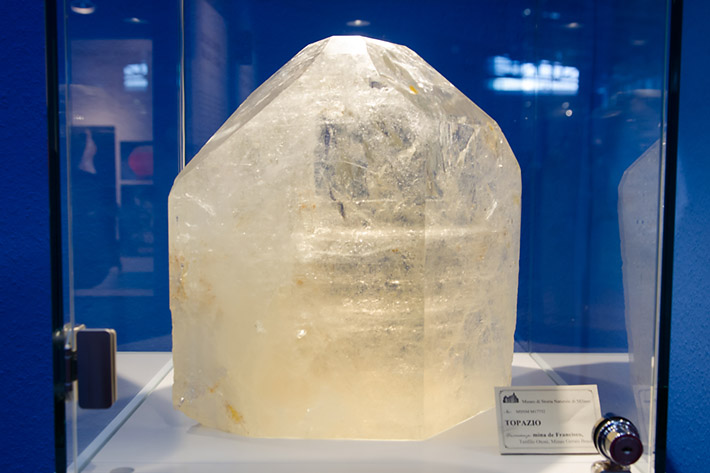 Huge topaz crystal from Minas Gerais, Brazil.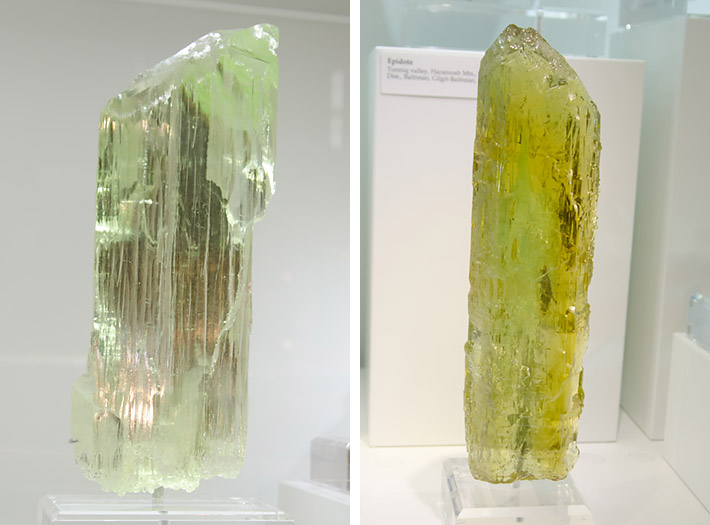 Left: Huge pale green kunzite crystal.Right: Big heliodor from Volynsk, Ukraine.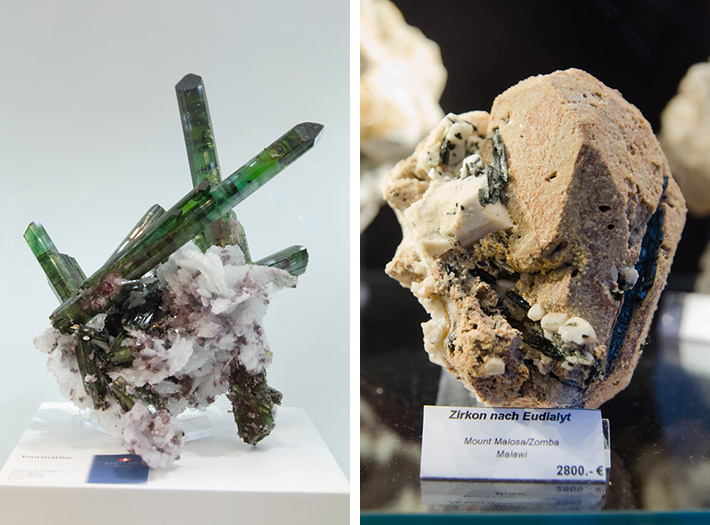 Left: Perfect elbaite cluster from Brazil.Right: Pseudomorph of zircon after eudyalite from Mount Malosa, Zambia.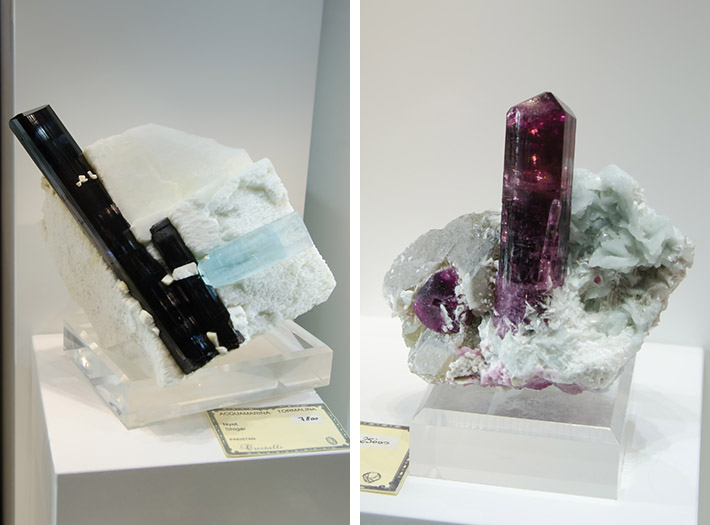 Left: Tourmaline and aquamarine on the big feldspar.Right: Nice elbaite from Malkhan, Russia.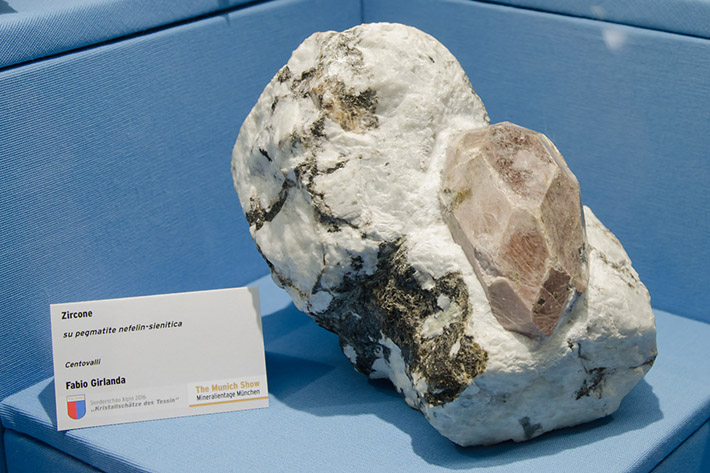 Huge zircon crystal in the syenitic pegmatite from Centovalli, Italy.