Thulite Mineral Collecting Trip to Søre Lia, Norway
Author: Zbyněk Buřival
Published: 22.11.2018 05:40
Last updated: 26.01.2021 10:35
Thulite (pink zoisite variety) is a Norwegian national stone and popular lapidary material. One of the well known thulite localities is Søre Lia Quarry near Lom, Norway. Here is the trip report from the visit in summer 2017:
Thulite mineral and its origin
Thulite is a pink variety of zoisite, sometimes also labeled as rosaline. The color is caused by the presence of Mn3+ in the structure which replaces Al3+. It was first discovered in Sauland, Telemark, Norway and named after mythical island Thule. Thulite does not form nice crystals in pockets but rather forms pink grains and bands in its host rocks. Deep pink thulites are used in jewelry as cabochons, beads, necklaces, or carved into various shapes.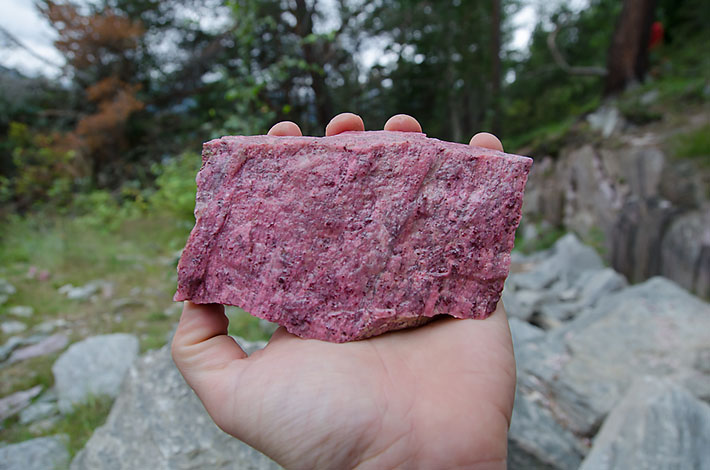 Big chung of good quality pink thulite with dark grains of piemontite.
Thulite is often associated with piemontite - the Mn3+ analogue of epidote. However, many piemontites are in fact Mn-rich epidote. Other typical companions of thulite are calcite and quartz. Thulite usually forms in various Ca and Mn rich metamorphic rocks. A common precursor to thulite is a marine sediment with elevated Mn content which is regionally metamorphed into marbles and quartzites. The Mn-rich parts produce pink grains and bands with thulite, piemontite and sometimes also other Mn-minerals.
Thulite locality Søre Lia (Lom), Jotunheimen, Norway
One of the famous thulite occurences is at Søre Lia Quarry, near the small town Lom at the edge of the Jotunheimen mountains. This is actually one of the best localities of thulite worldwide. The thulite locality is a small quarry with dump on the steep slope in the woods. The locality is private owned and not actively mined.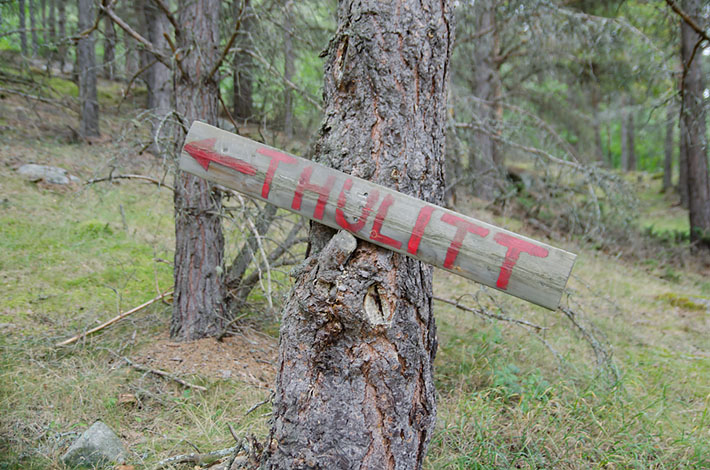 Sign at the beginning of the trail to the thulite quarry.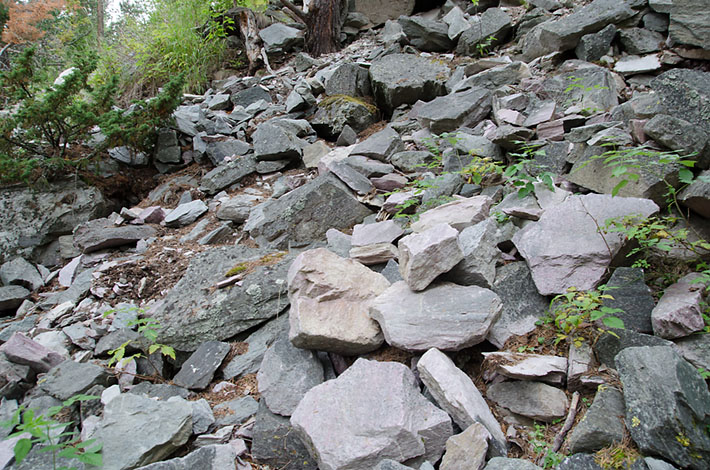 Dump bellow the Søre Lia Quarry with boulders of low quality thulite.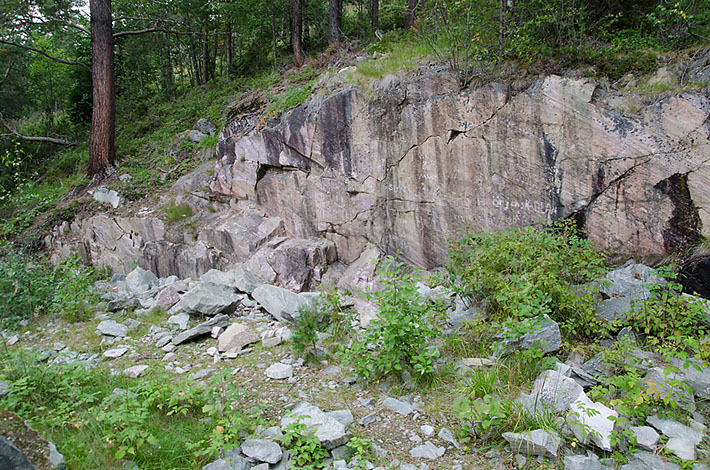 Thulite quarry in Søre Lia, Norway.
You need a permit to collect: this can be obtained at the Fossheim Steinsenter in the Lom town, aproximately 12 km from Søre Lia locality. I will not provide exact GPS coordinates here (the owner has had some bad experience with claimjumpers), you will get an exact map showing the trail to the spot together with the permit. No use of machinery, explosives or heavy tools is allowed. You don't pay for the permit but you are required to pay for any collected specimens - the rate per kilogram was 35 NOK for B grade material and 70 NOK for A grade in 2017.
The Fossheim Steinsenter museum is also well worth visiting. The admission is free and there are many interesting norwegian minerals, see the museum report.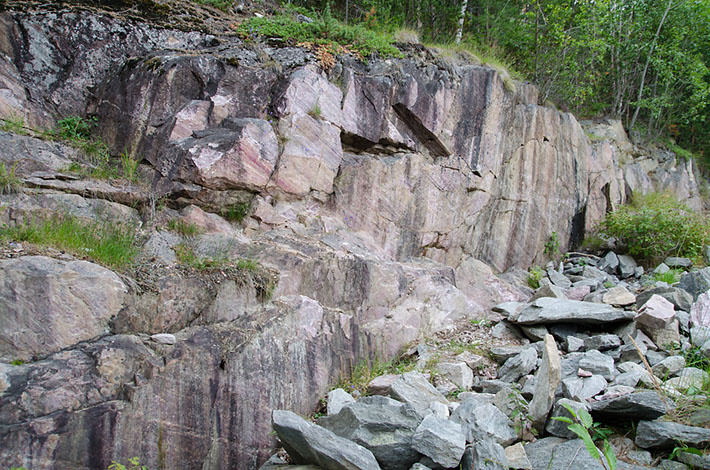 Thulite quarry with pink rocks in Søre Lia.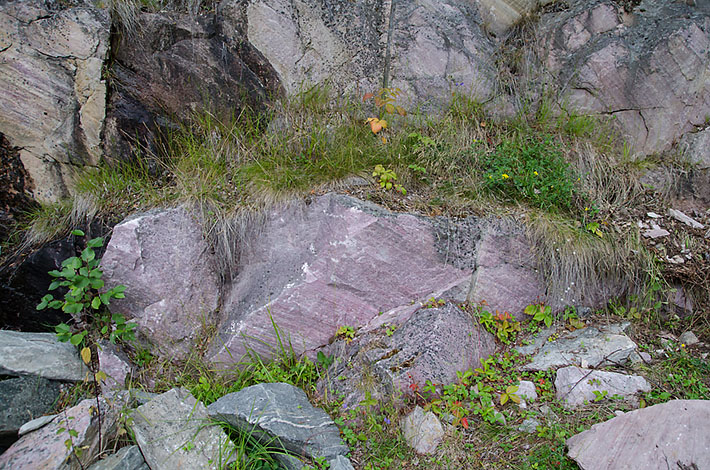 Outcrop of pink rocks in the thulite quarry.
Mineral Collecting Trip to Søre Lia, Norway
We planned to hike in Jotunheimen but the weather was not very nice. The visit of Fossheim Steinsenter seemed as an obvious choice. We saw a lot of thulite and list of localities nearby the town, so we asked the cashier. We got a permit and a trail map to the spot, it took just about an hour to get to the place. The hike is short but pretty steep, expect 20-30 minutes if you are in good condition.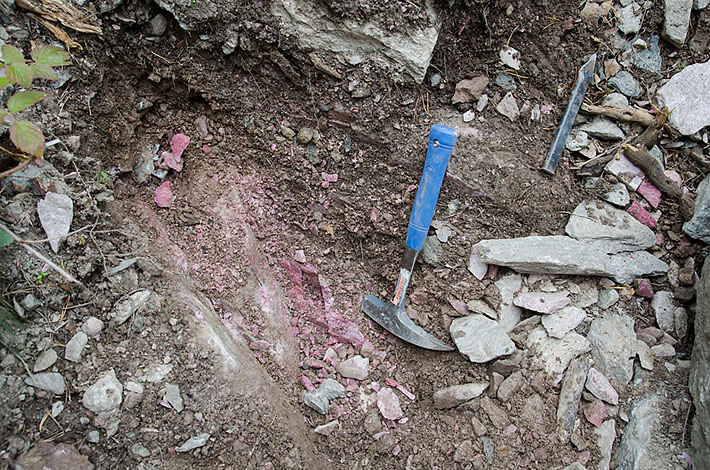 Collecting thulite in the quarry.
The small unused quarry and its dump are full of pink boulders, usually quite pale or generally not the best quality. There are several bands of quite good thulite in the quarry walls. These are of course quite hard to mine without heavy tools or blasting. We managed to locate one promising band in the quarry floor just under one big boulder. A couple of minutes later the boulder was gone and we were mining pretty nice and deep pink thulite specimens with small dots of piemontite. The extraction was easy despite the fact that we had only one geology hammer and small chisel.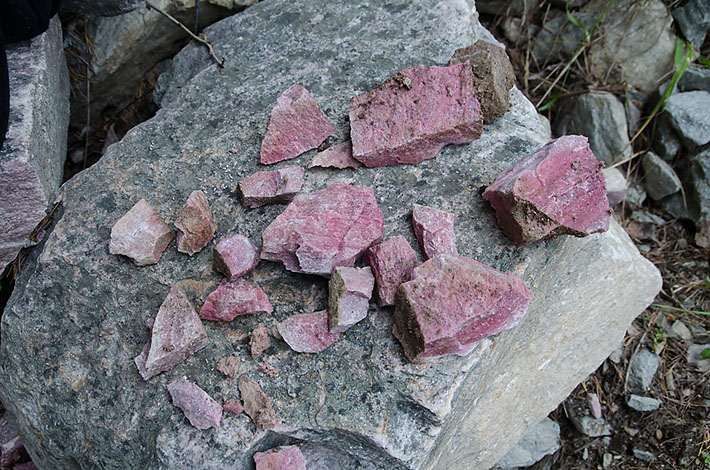 Collected thulite specimens, most stayed there for other collectors.
After getting some decent specimens so we aimed our collecting activities to abundant raspberries and great Boletus mushrooms. The lady at Fossheim Steinsenter was quite surprised with the quality of thulite specimens when we stopped there to pay for our finds.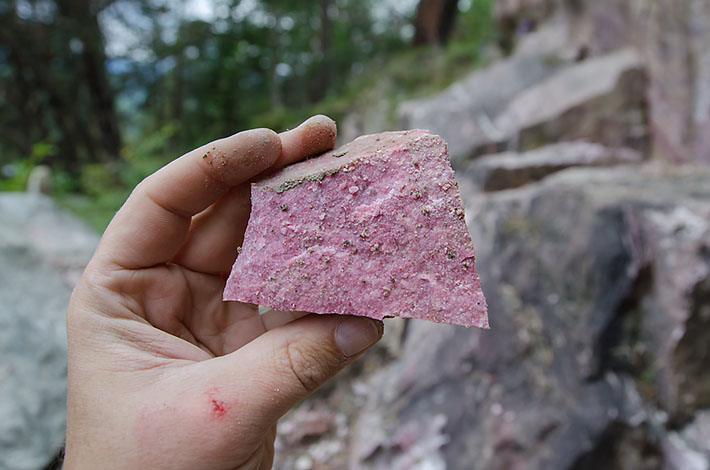 Good quality piece of thulite.
The Lia is a nice place and there is still good chance to hit good specimens if you invest some effort. Make sure to take a hammer, chisel (check permit rules for collecting limits!) and gloves: thulite occurs in quartzite which is quite hard and produces sharp shards. The hike is pretty steep so proper hiking shoes are a necessity.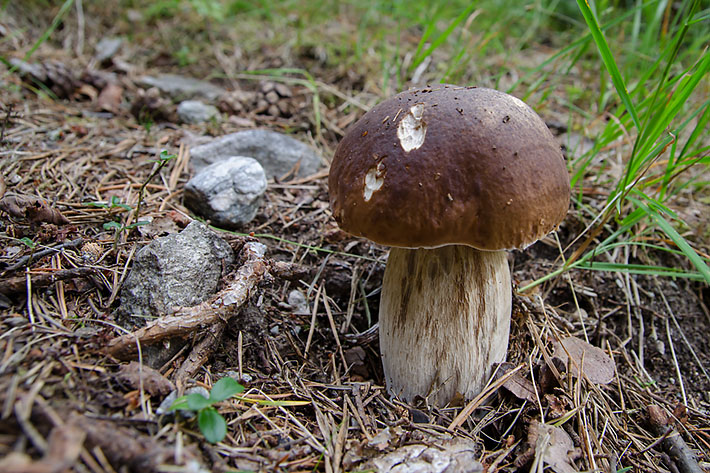 Edible Boletus mushrooms were higly appreciated bonus.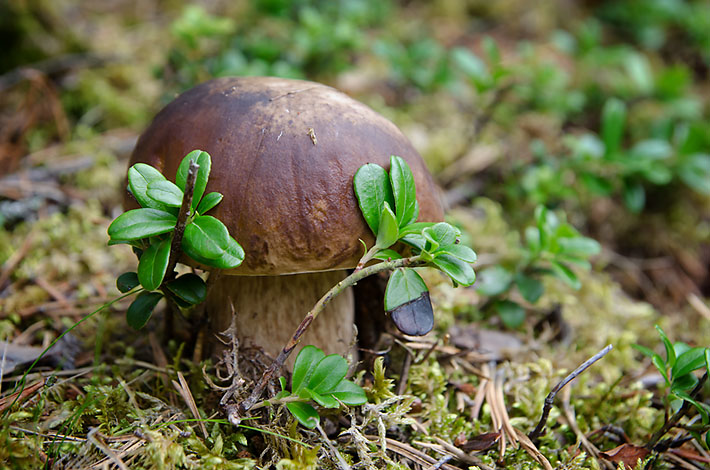 Another nice edible Boletus.