Report from Munich Mineral Show 2018
Author: Zbynek Burival
Published: 03.12.2018 08:32
Last updated: 26.01.2021 10:27
It is that time of year again – autumn is here and also the Munich show. For those unfamiliar, this is the biggest mineral show in Europe and probably the second most important show after Tucson.
I spent there 2 days this season. Take this report as a personal view, no one can fully go through all the show – it is simply too big. Sorry to all agate and opal specialists, lapidary enthusiasts and micromounters. And yes, this article is not about fossils at all. I admit I paid most attention to Alpine minerals, pegmatites and native elements.
You can also check reports from previous years:
In my opinion, this season was much better then 2017. More new and interesting material, some good deals to be made. Brucites from Balochistan, Pakistan were in my opinion much better quality then last year, also more specimens on matrix were available. There were interesting rutilated quartz crystals from India, new find of blue fluorites from Ireland and Sicily, Italy. I noticed quite nice selection of new pegmatite material from Malkhan, Russia and Himalaya Mine, California. Very intersting was a selection of really huge etched topazes from Espírito Santo, Brazil.
There was a lot of new fluorites from England brought by Greenlaws and Crystal Classics mining projects. Also Kvarc Samocveti – mining Volodarsk Volynskyi pegmatites – had a nice selection of etched heliodors, huge faceted topazes and clusters of impressive bi-color topaz crystals on albite.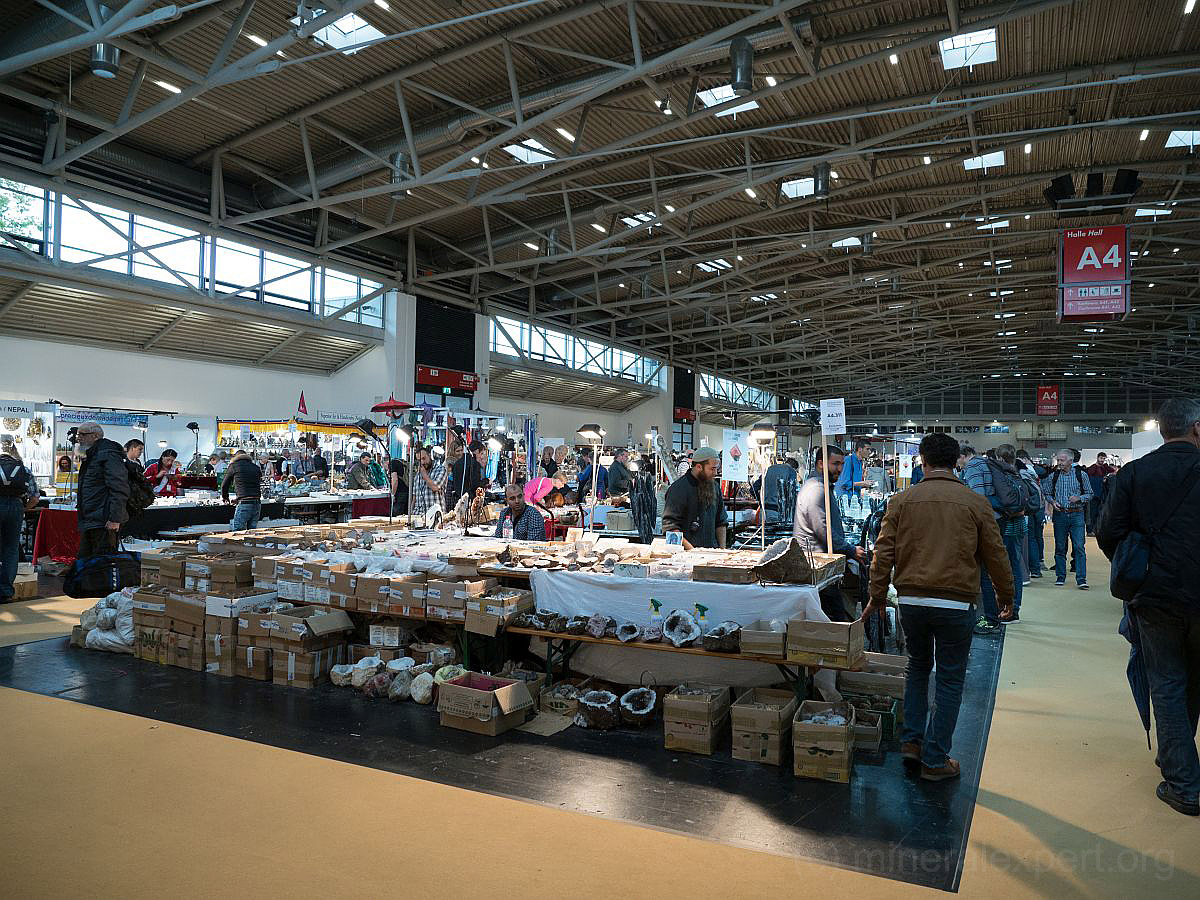 Overview of the trading hall A4, where local dealers and miners sell large volumes of material.
Of course plenty of new aquamarines from Pakistan, nice cassiterites from Bolivia, perfect pegmatite material from Namibia, and new dark red vanadinites from Mibladen, Morocco. There was also new and pretty high quality material from Myanmar – including topaz, phenakites, spinels and rubies. However, I did not notice much of the new specimens from China, most looked similar to last season.
What did not change is the prices. There are certain specimens in insane quantities – like Chinese fluorites and pyromorphites, Moroccan vanadinites, aquamarines from Pakistan – yet the price is really high. And nobody is buying, because these specimens are on the market for years and many collectors already have very good ones. Even the average specimen easily costs several hundreds $$. We shall see how this goes on...
Every Munich show includes the exhibition. Topic for the 2018 was "ELEMENTS". There was a display with selection of high quality specimens for each element. Of course, silicon, fluorine and titanium displays included a very nice Alpine minerals. Metals were dominated by world class ore specimens and secondary minerals from classic localities like Tsumeb, Mibladen, Red Lead Mine, Rubtsovsk, Pribram, Freiberg and many others.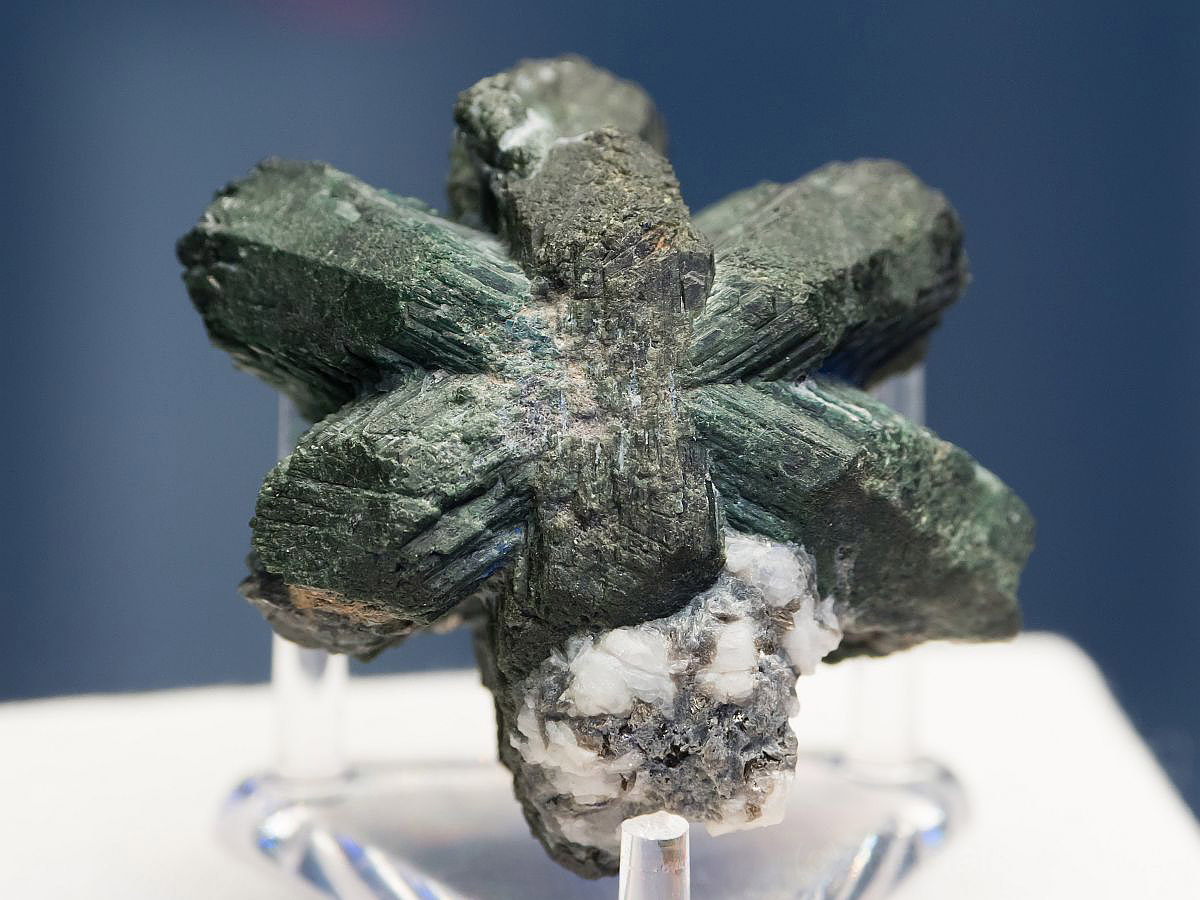 Chrysoberyl sixling from Girdlestone Farm, Masringo, Zimbabwe.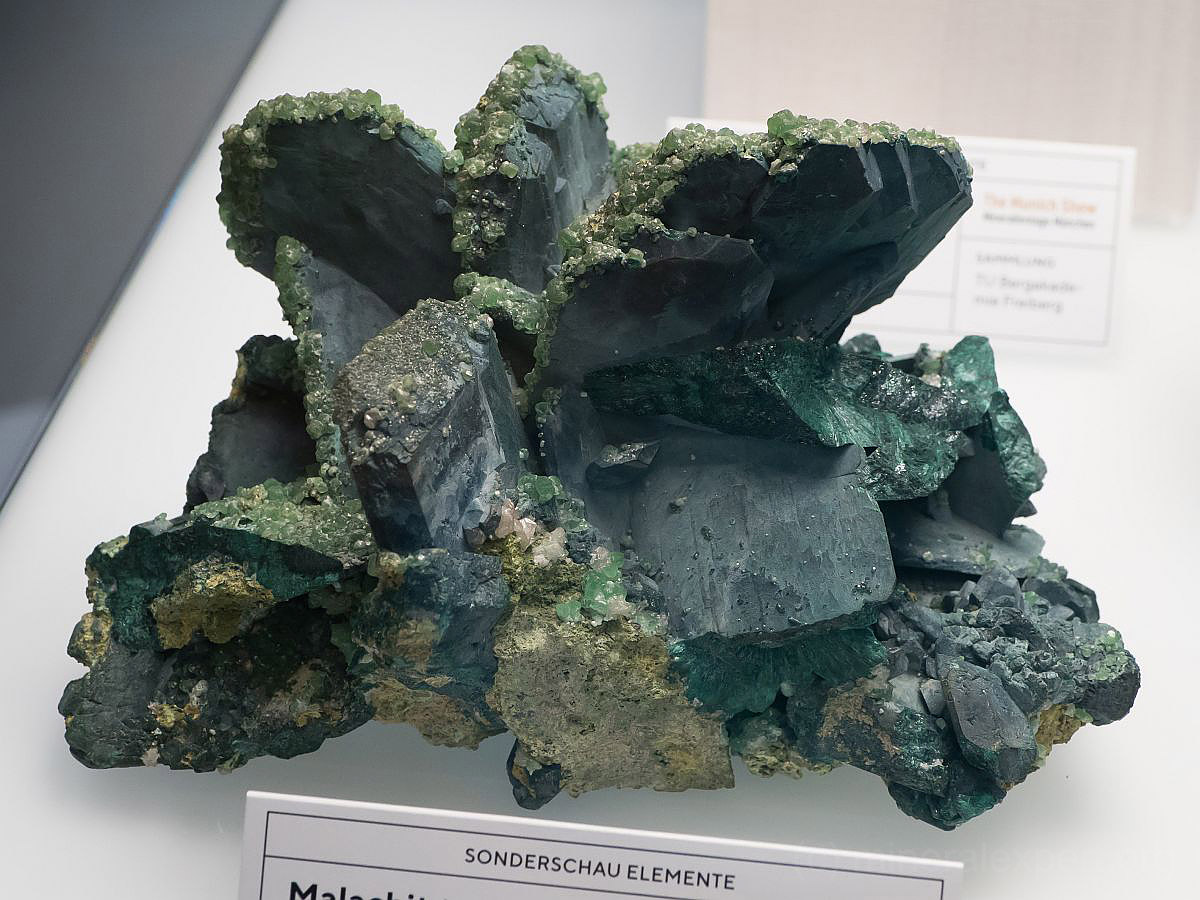 Pseudomorph of malachite after azurite from Tsumeb, Namibia.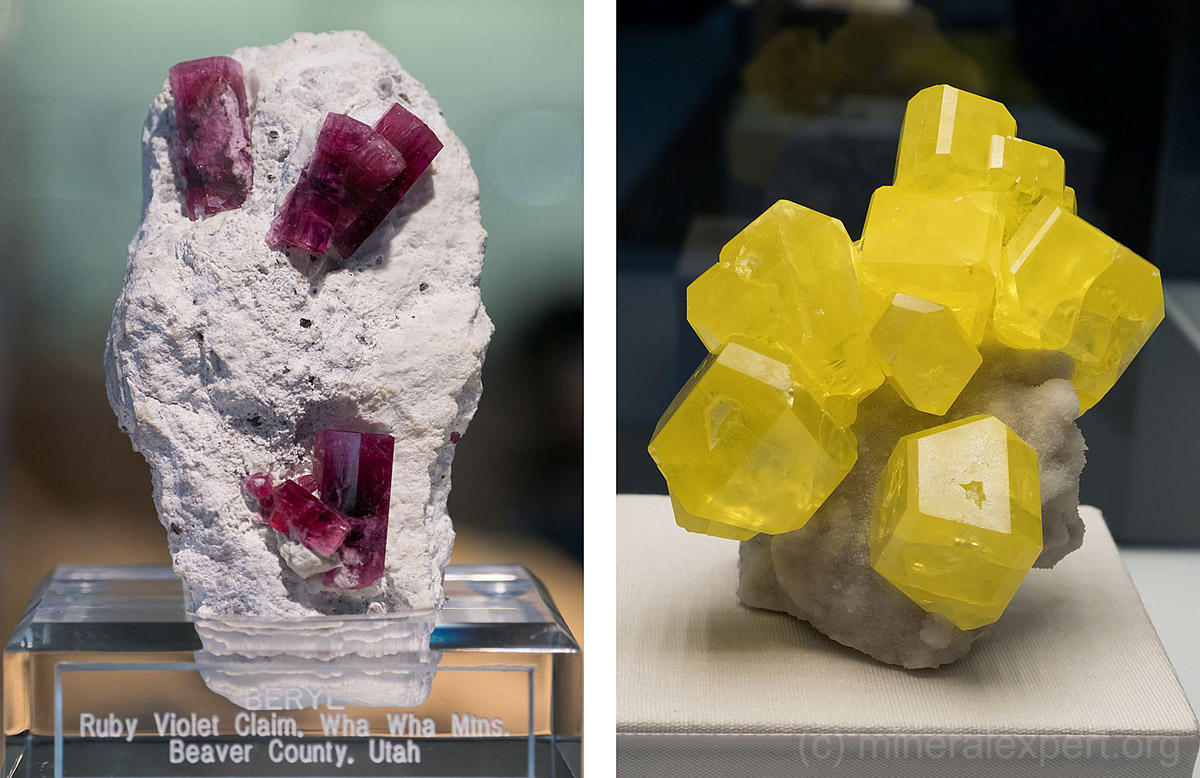 Great piece of red beryl from Wah-Wah Mts., Utah, USA.Nice cluster of native sulfur from Cozzo Disi Mine, Sicily, Italy.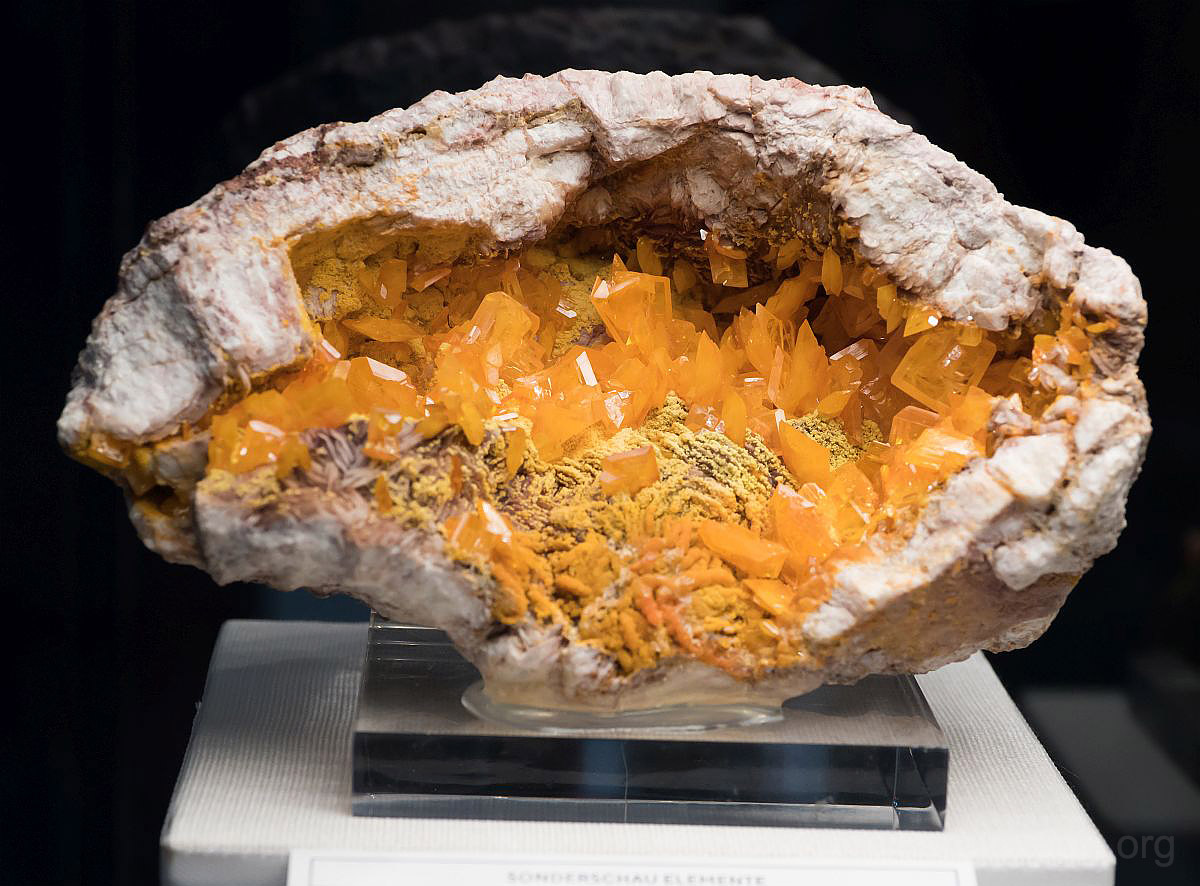 Classic piece of wulfenite from Rowley Mine, Arizona, USA.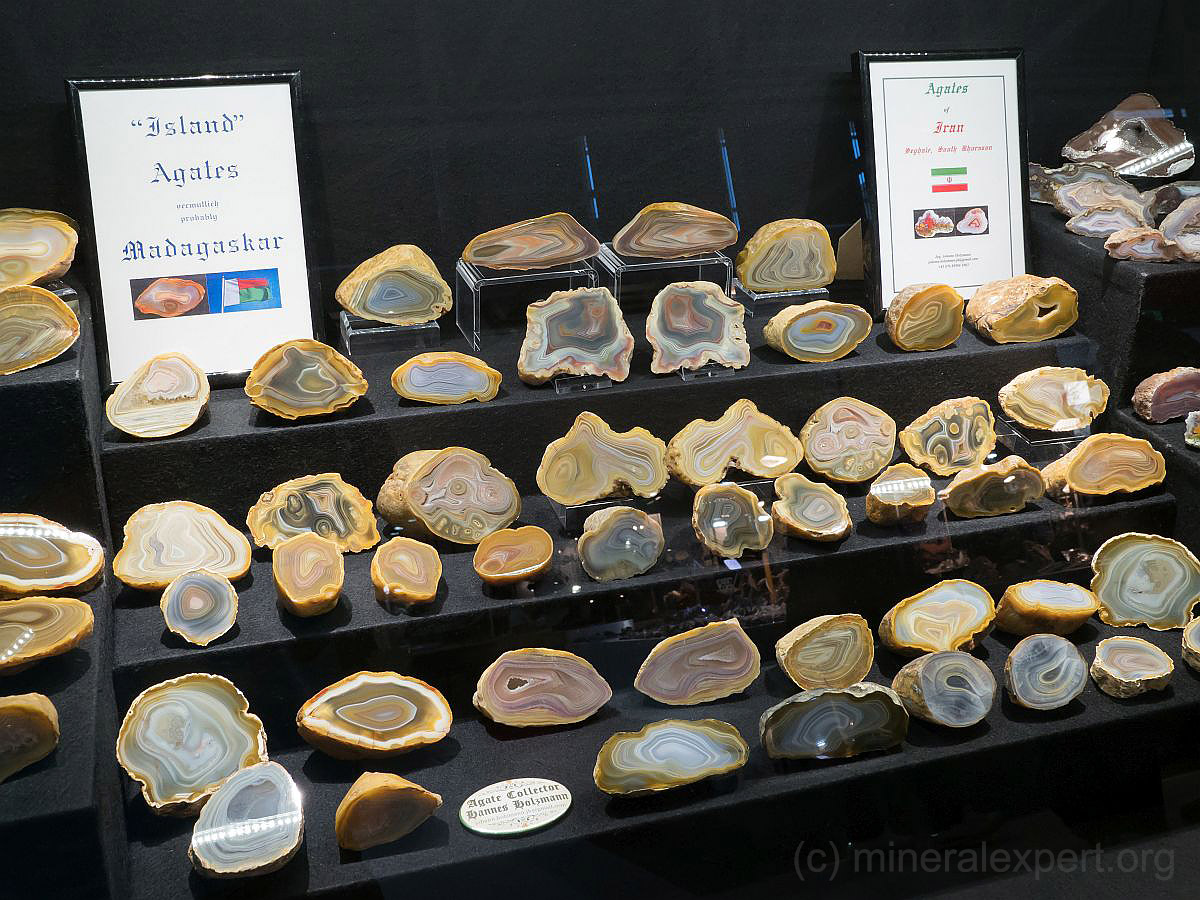 Interesting collection of agates from Madagascar.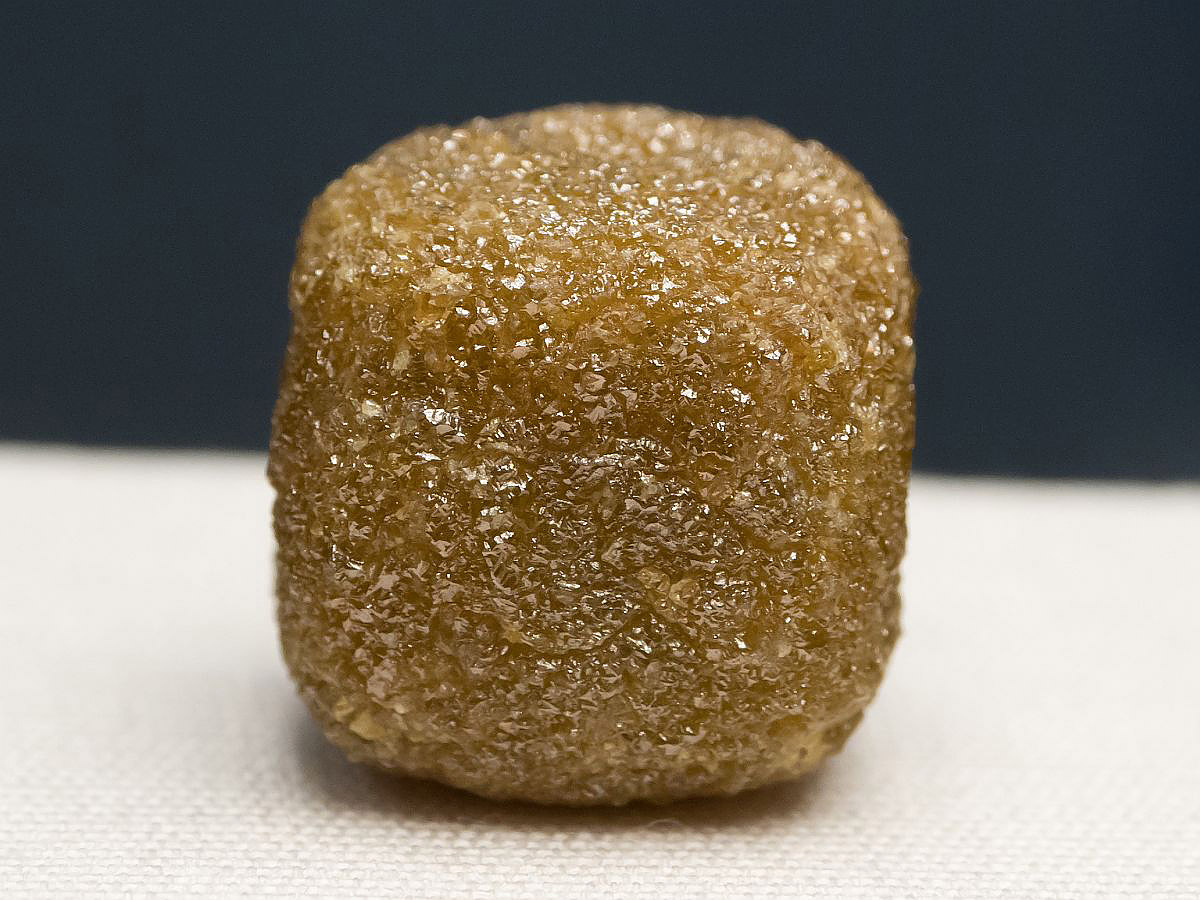 Interesting cubic shape of diamond crystal from Miba Mine, Kasai, DRC.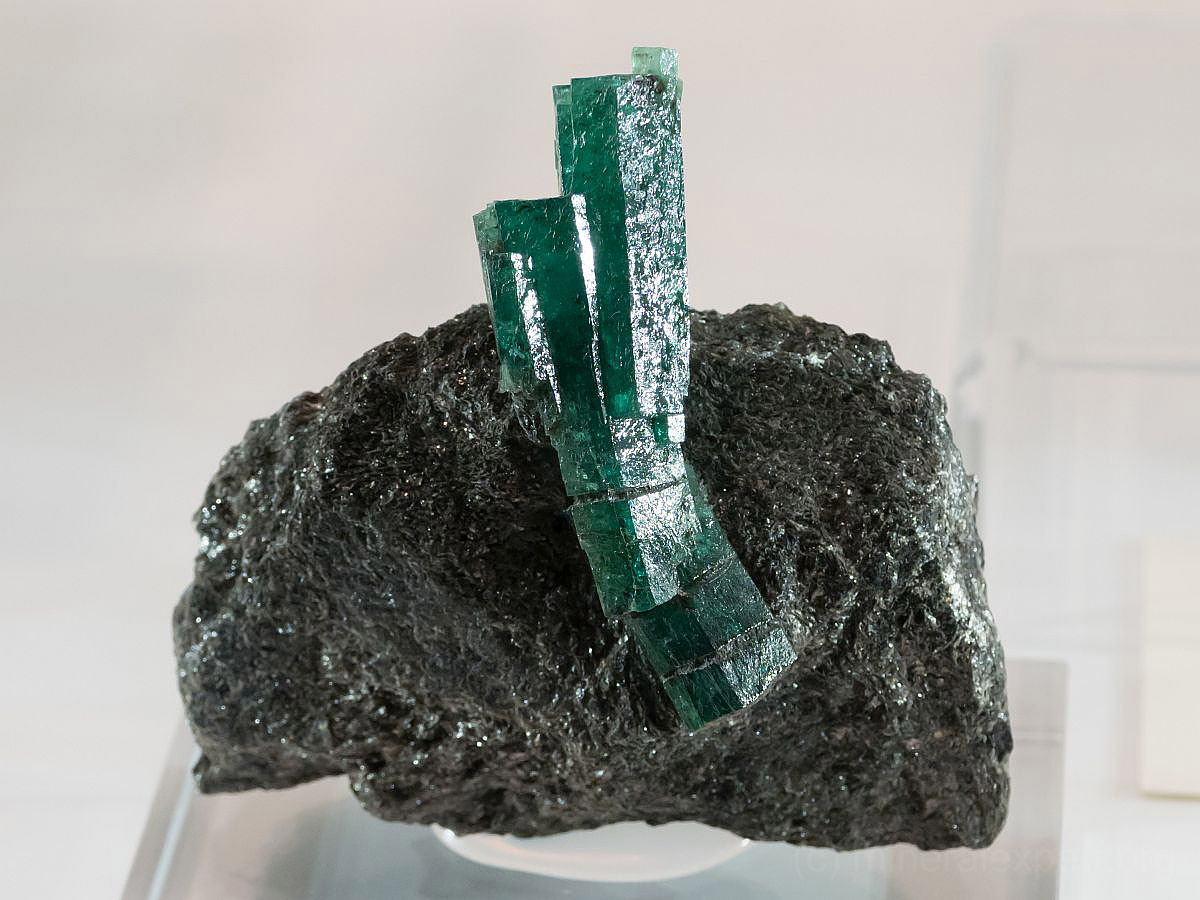 Very nice emeralds on matrix from Tokovaya, Ural Mts., Russia.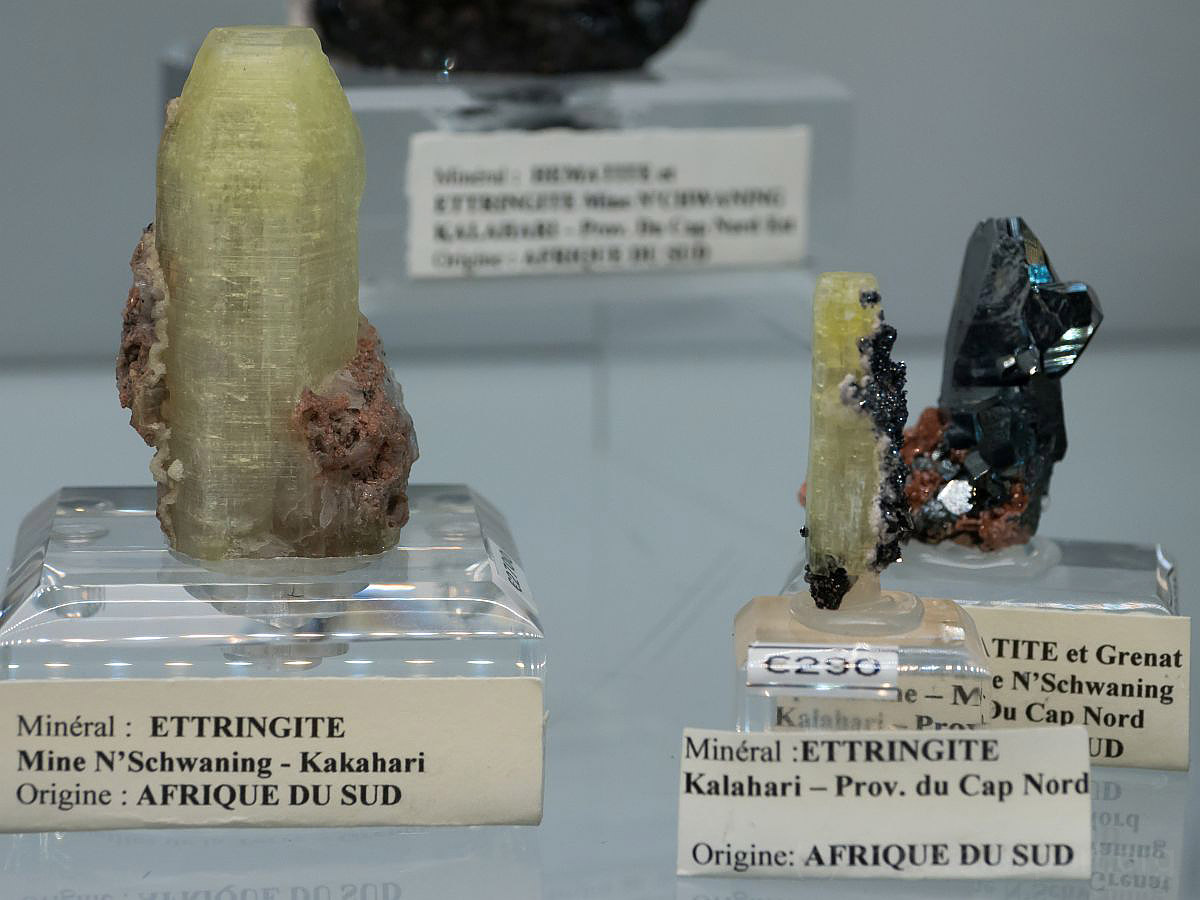 Interesting specimens of ettringite with hematite from N'Chwaning Mine, Kalahari, South Africa.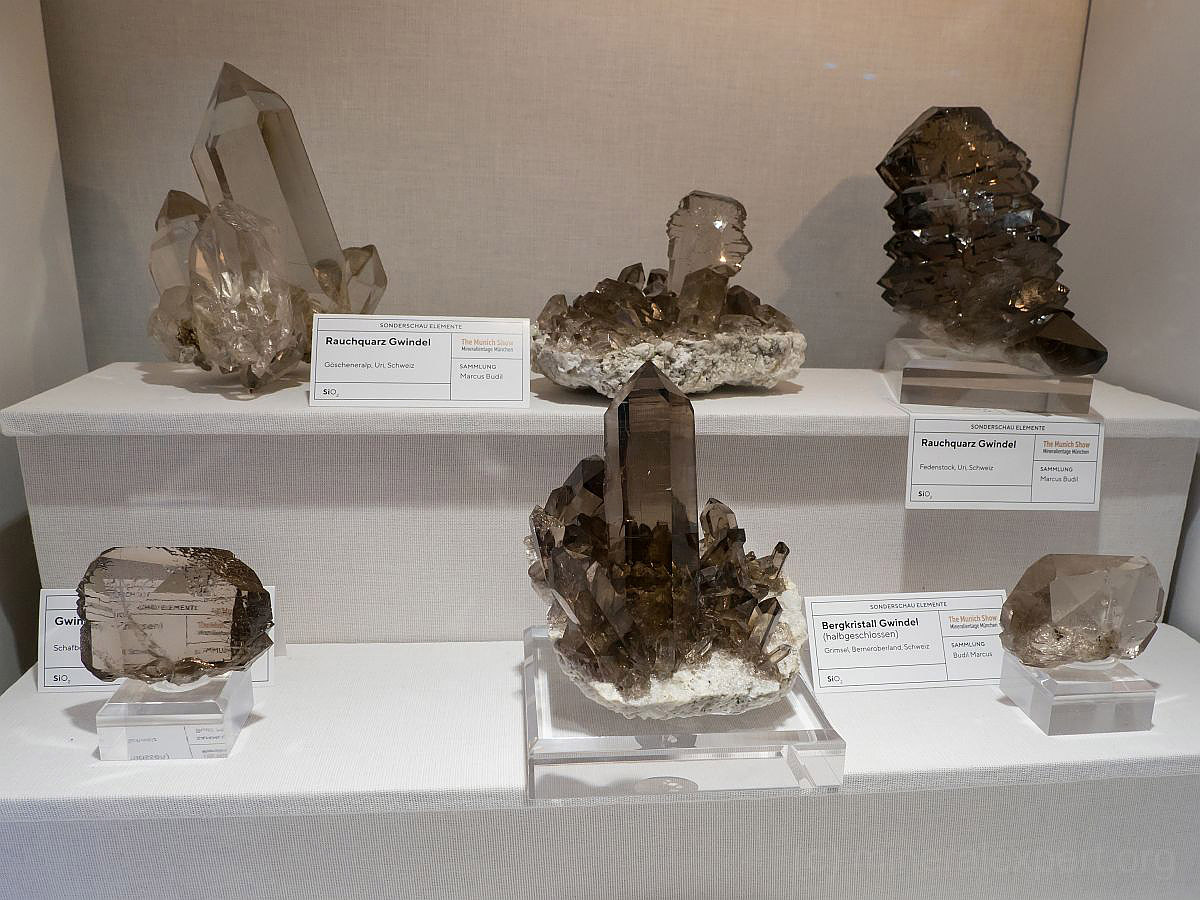 Selection of fine alpine smoky quartz from various places in Switzerland.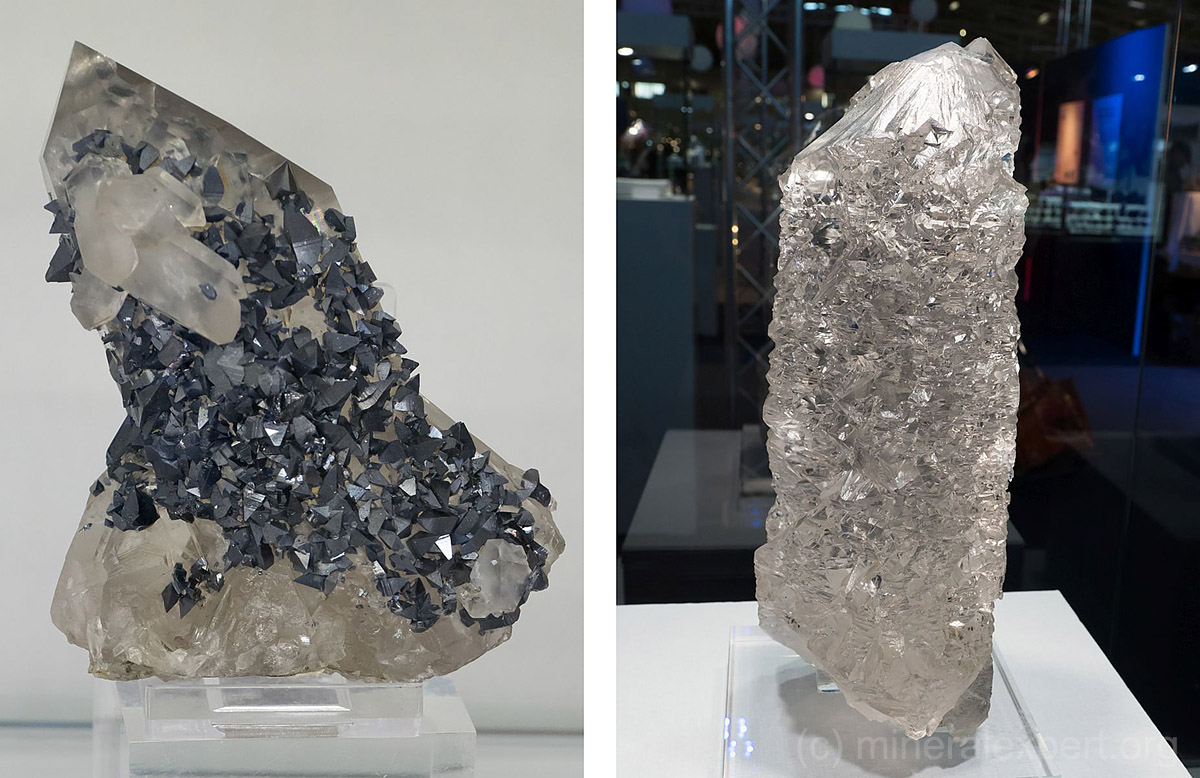 Left: Great clear quartz crystal covered by pretty big anatase crystals from Hardangervidda, Norway.Right: Huge alpine etched quartz from Habachtal Valley, Austria.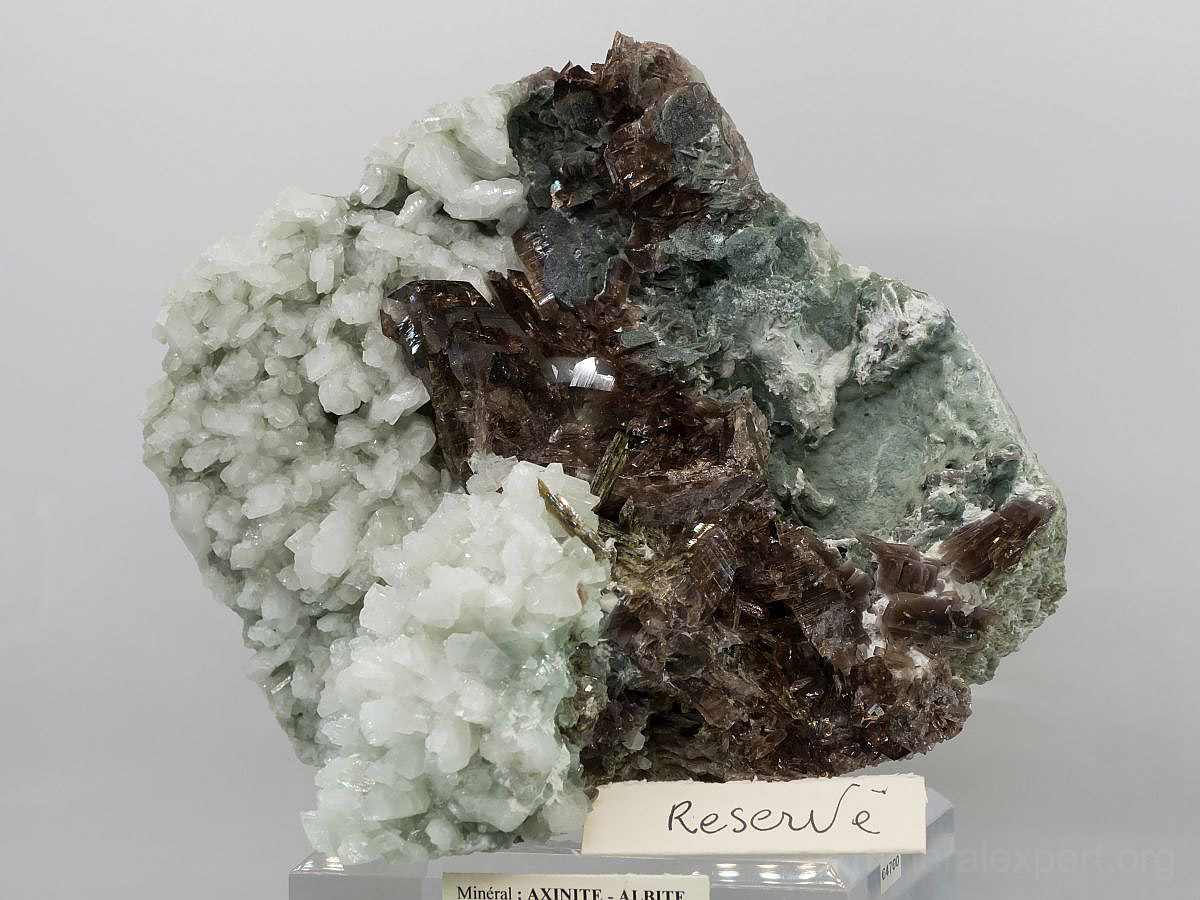 Pretty awesome alpine fissure with combination of axinite, epidote and albite from Tormiq Valley, Pakistan.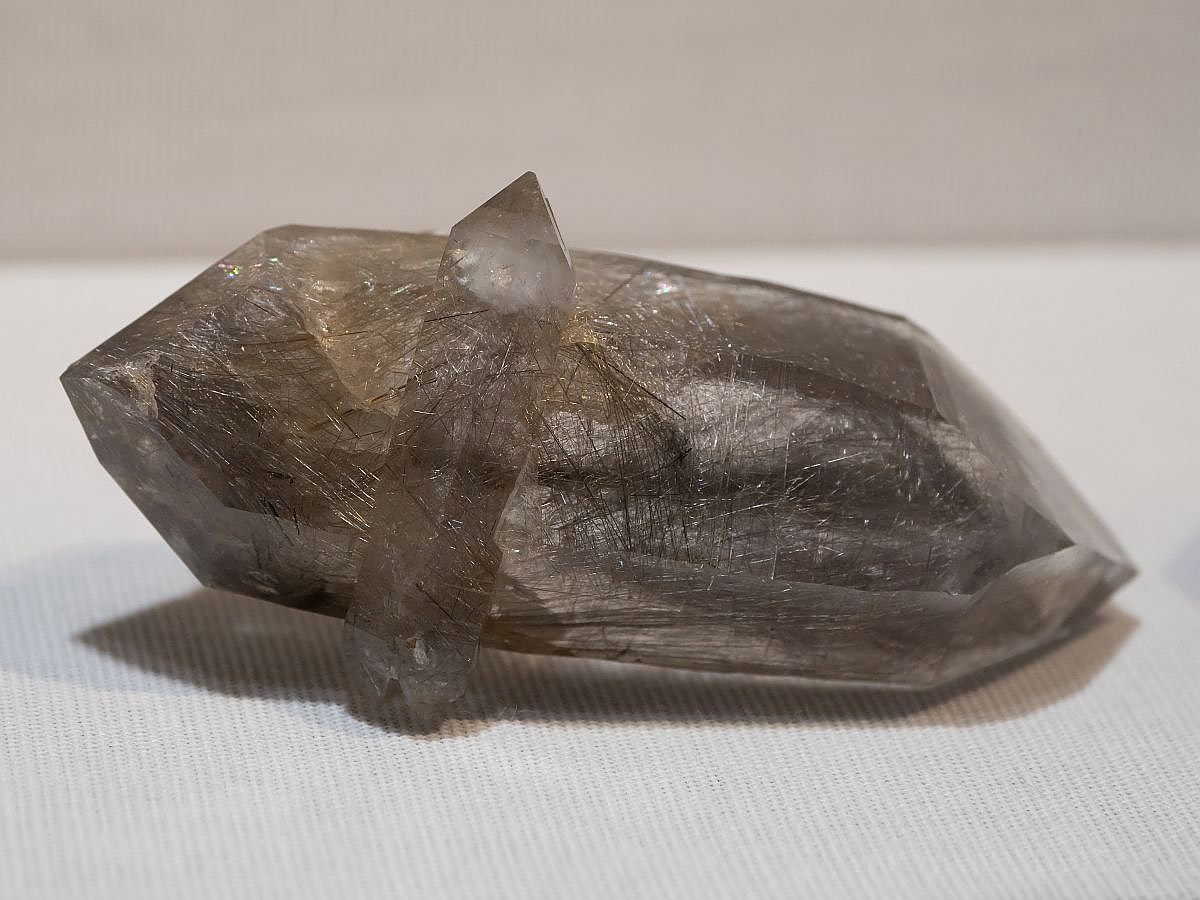 Very unusual alpine quartz with rutile and jamesonite from Sontga Brida, Switzerland.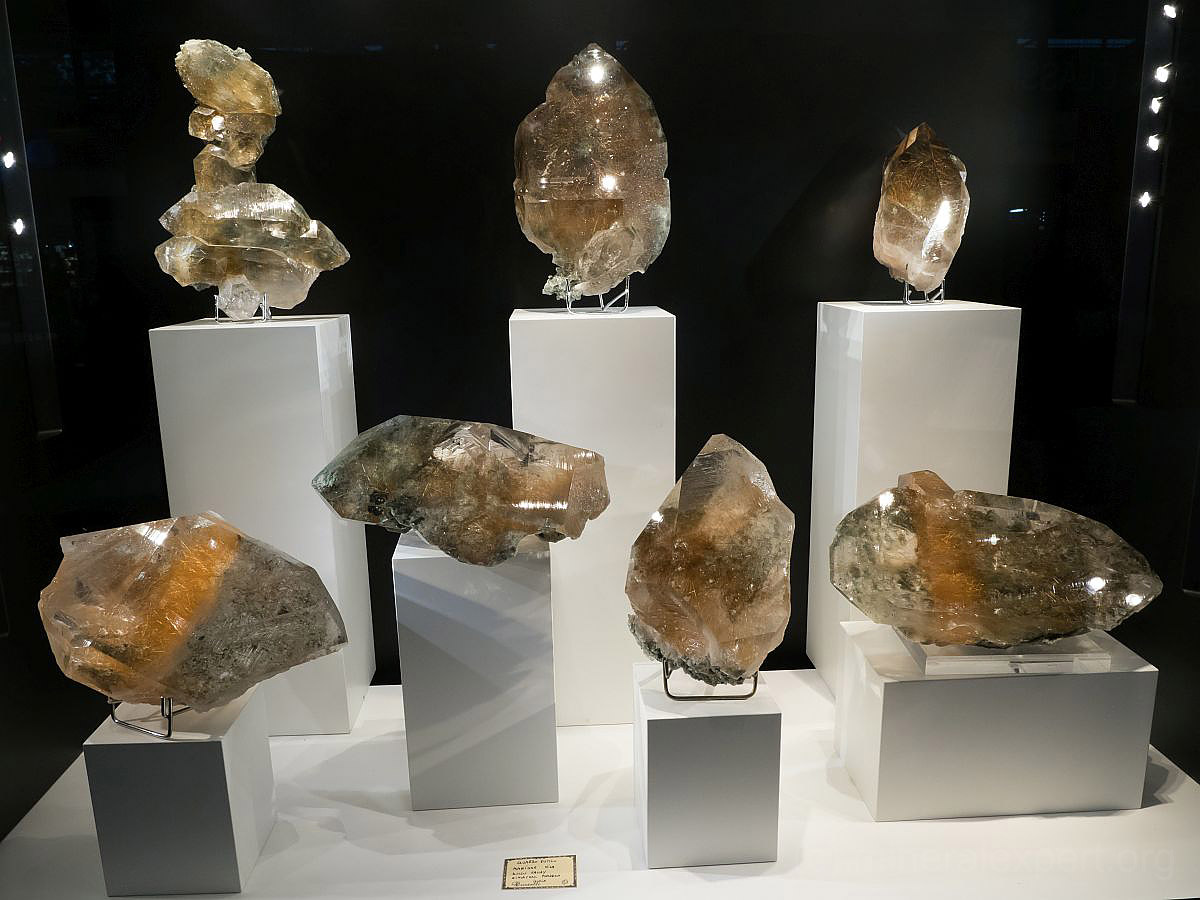 Nice rutilated quartz crystals from unusual locality at Maninar Mine, India.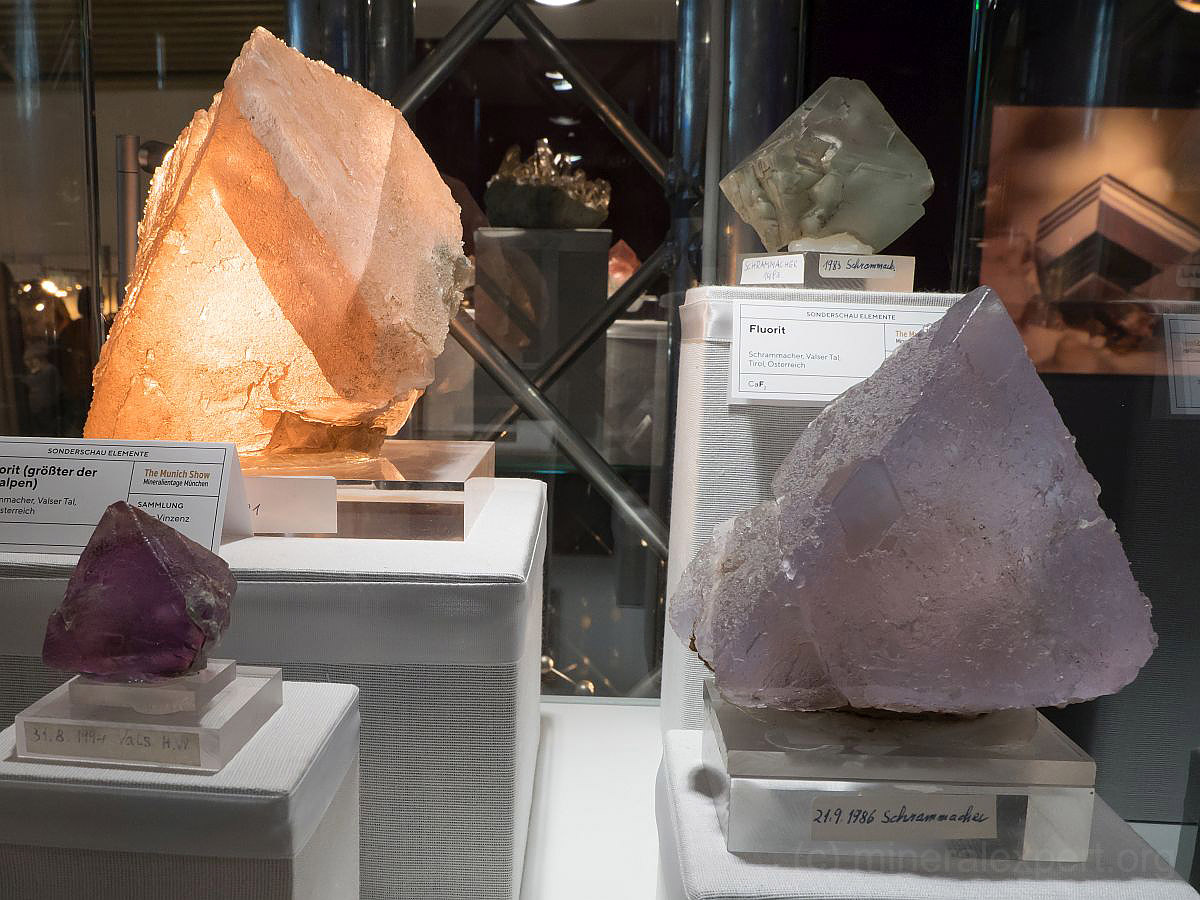 Huge alpine fluorites from Schrammacher Wand, Austria. The orange one on the left is the biggest fluorite from East Alps.
Perfect alpine fluorite octahedron on matrix from Planggenstock, Switzerland. Probably the most aesthetic specimen for sale at Munich 2018.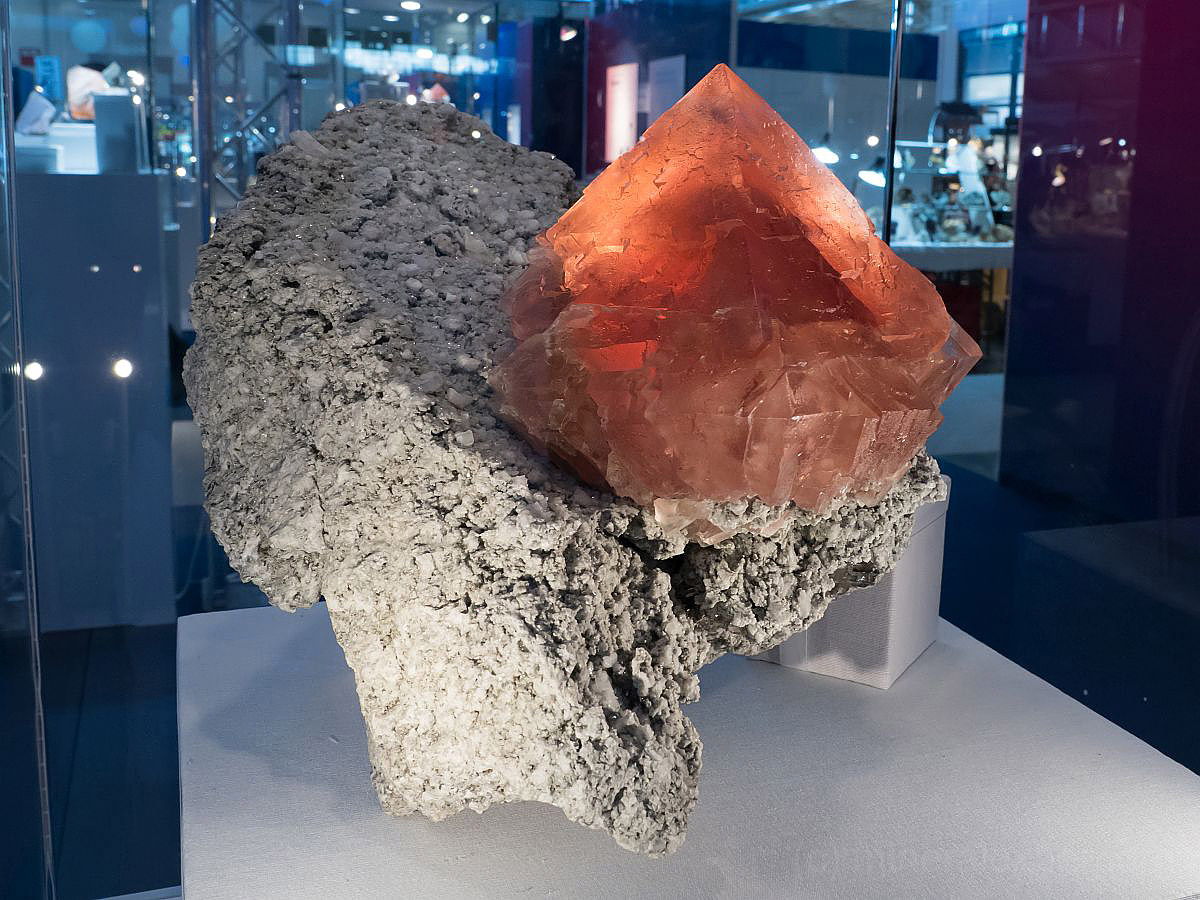 Absolutely incredible alpine fluorite on matrix – the location and the founder were kept secret.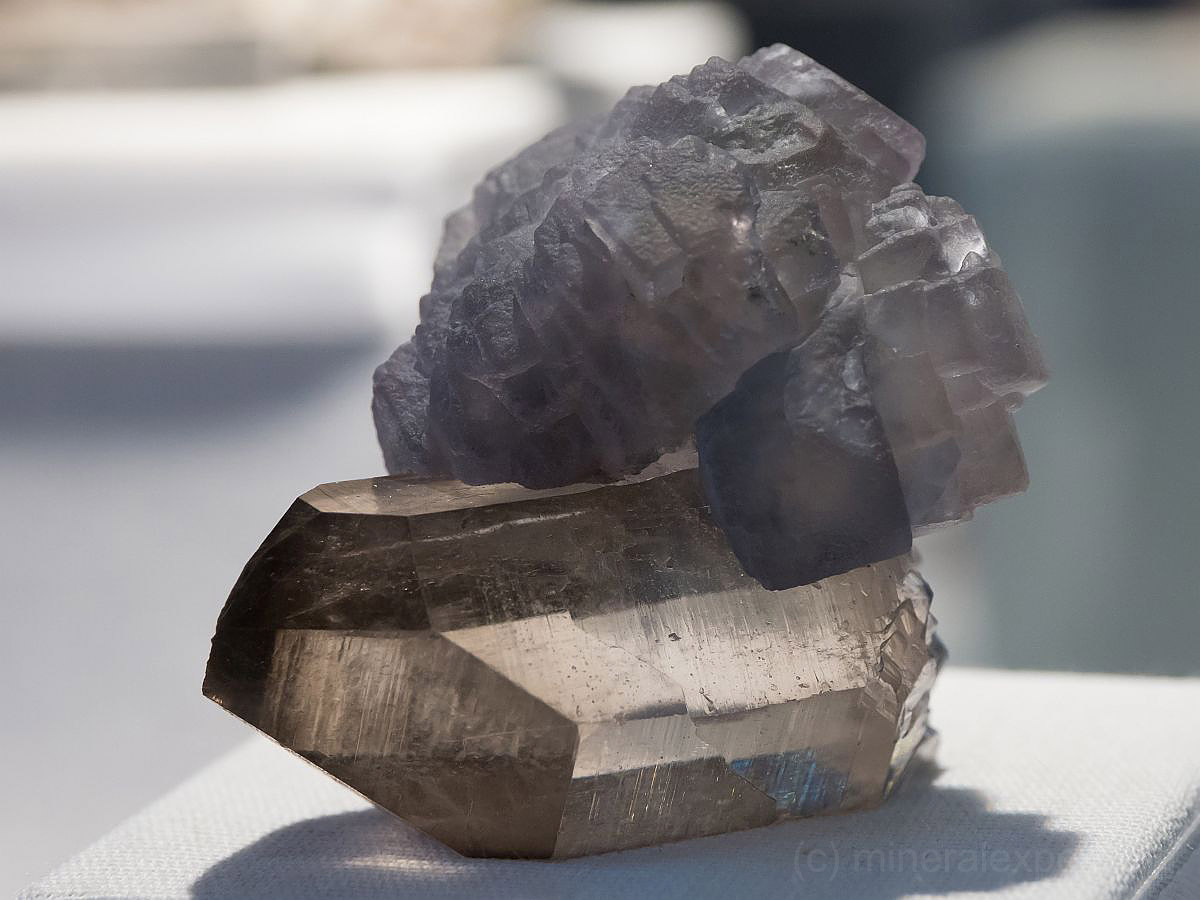 Rare blue alpine fluorite on smoky quartz from Auguille Verte, Chamonix, France.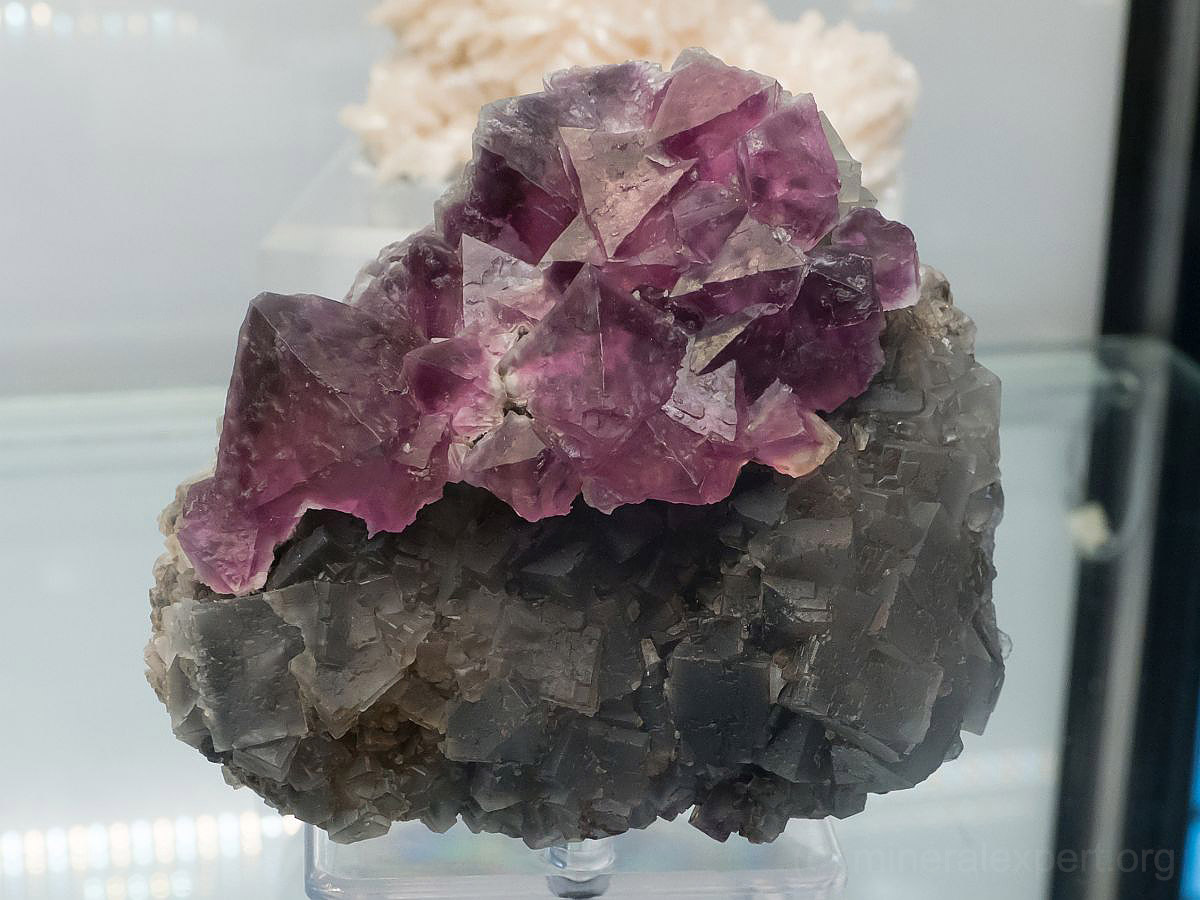 Genetically interesting 2-generation fluorite from Luna Co., New Mexico, USA.
Great cluster of purple fluorite from Shannapeasteen, Ireland.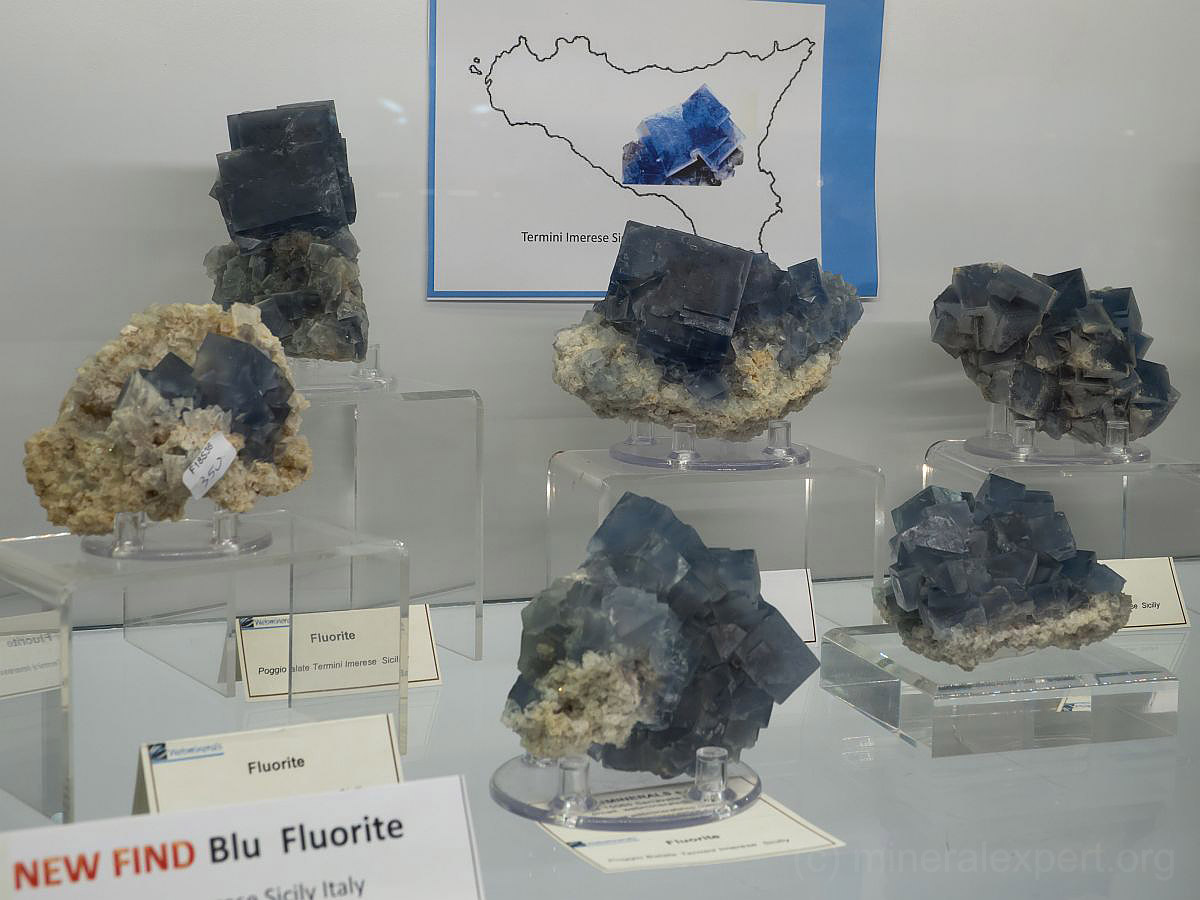 New find of blue-purple fluorites from Termini Imerese, Sicily, Italy.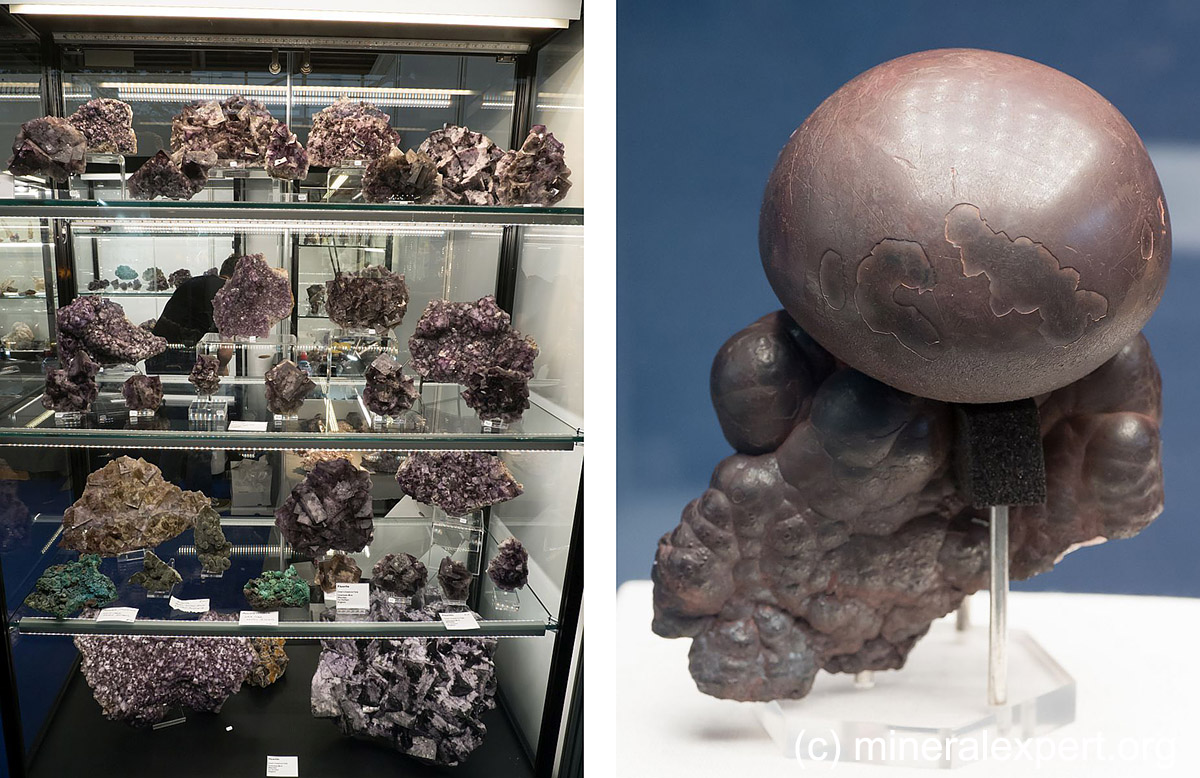 Left: Big display of classic English fluorites from the miner – Greenlaws Mine.Right: Great hematite ball from Beckermet Mine, Egremont, UK.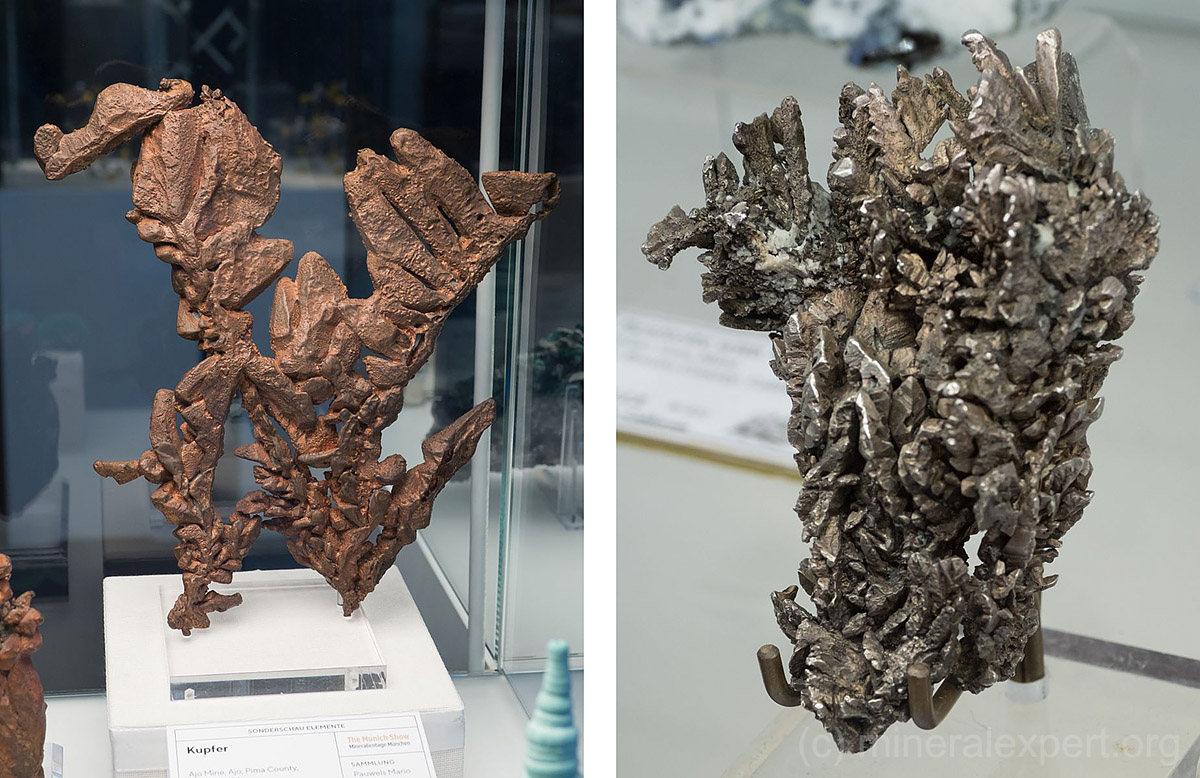 Left: Huge dragon-shaped skeletal copper from Ajo Mine, Pima Co., Arizona, USA.Right: Great crystallized native silver from Houghton Co., Michigan, USA.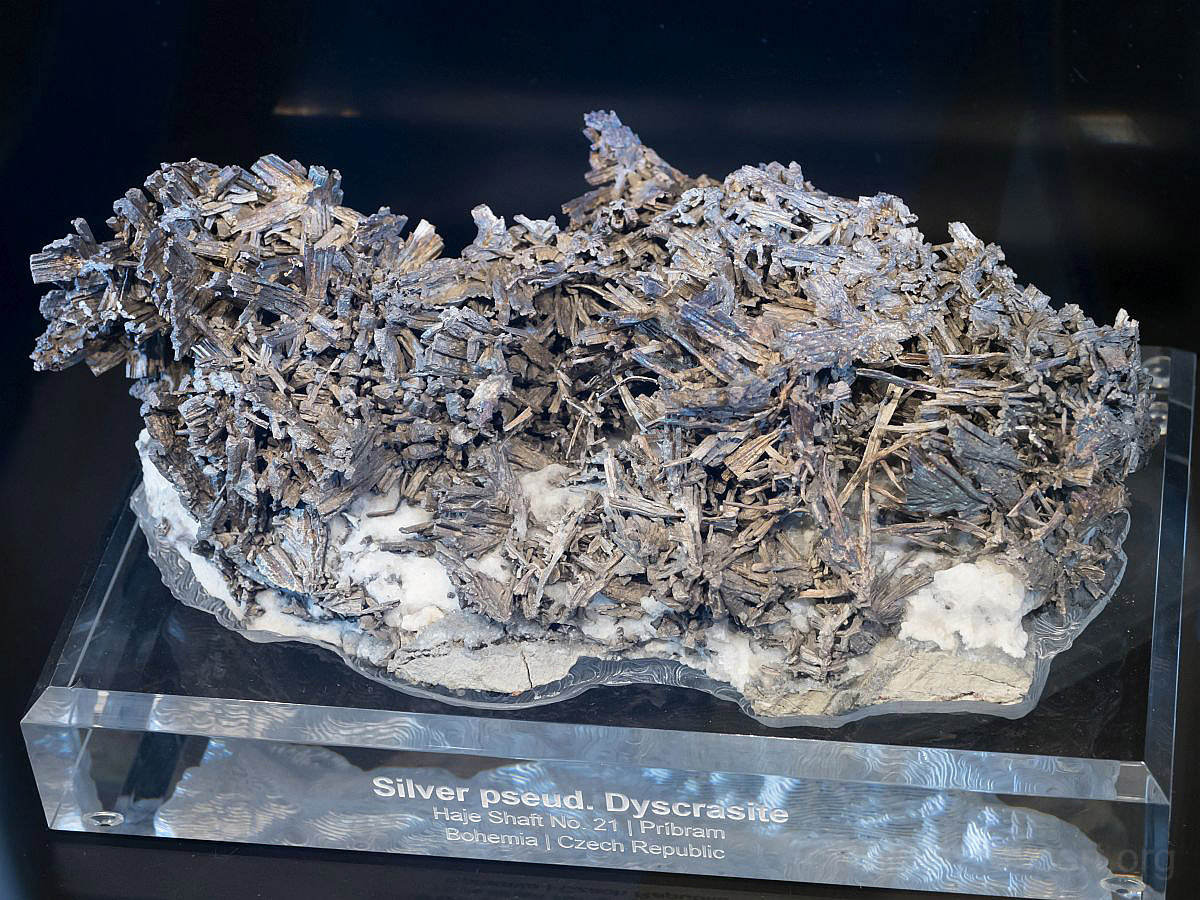 Museum quality pseudomorph of silver after dyscrasite from Příbram, Czech Republic.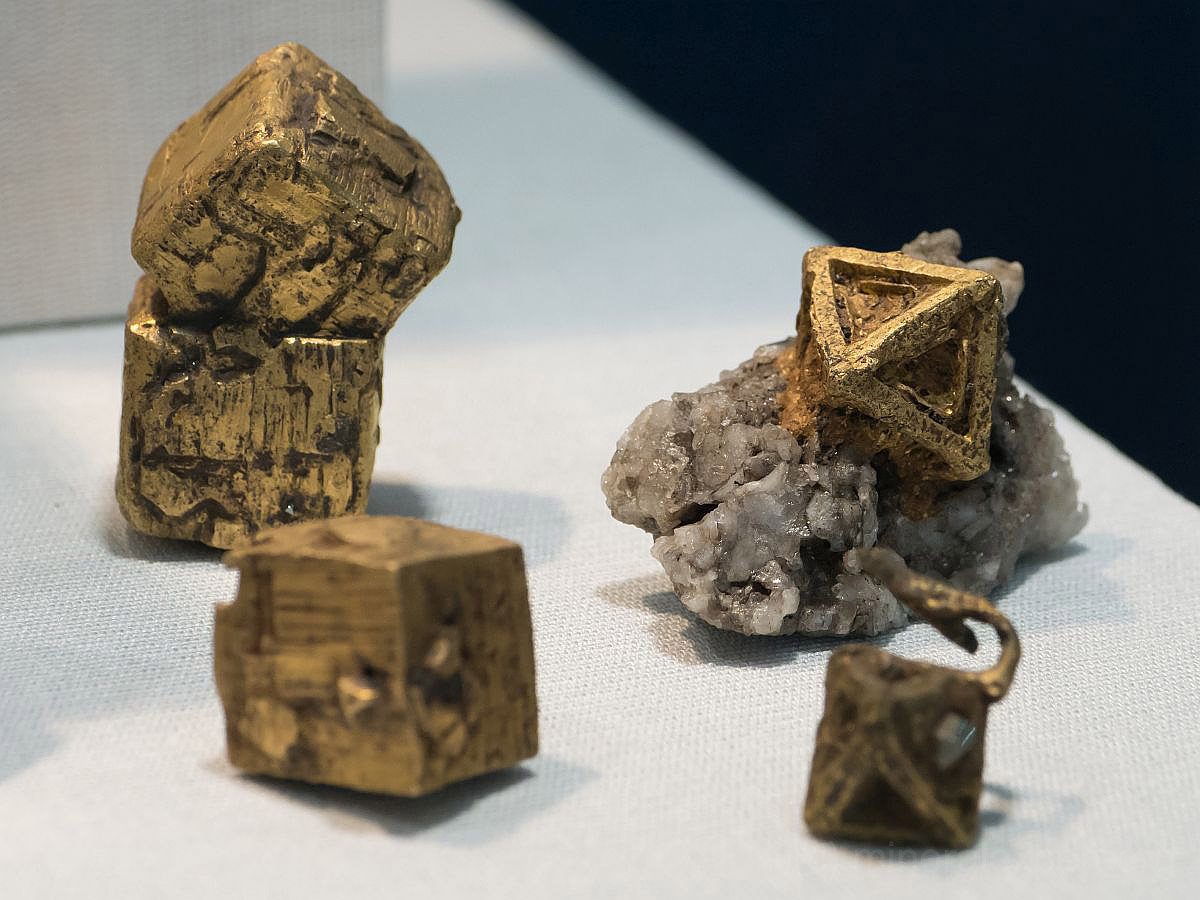 These gold pseudomorphs after pyrite and skeletal gold crystals – from Bodaibo, Lena fields, Russia – produced lot of rumors and questions about their origin. So far, no verified conclusion is available.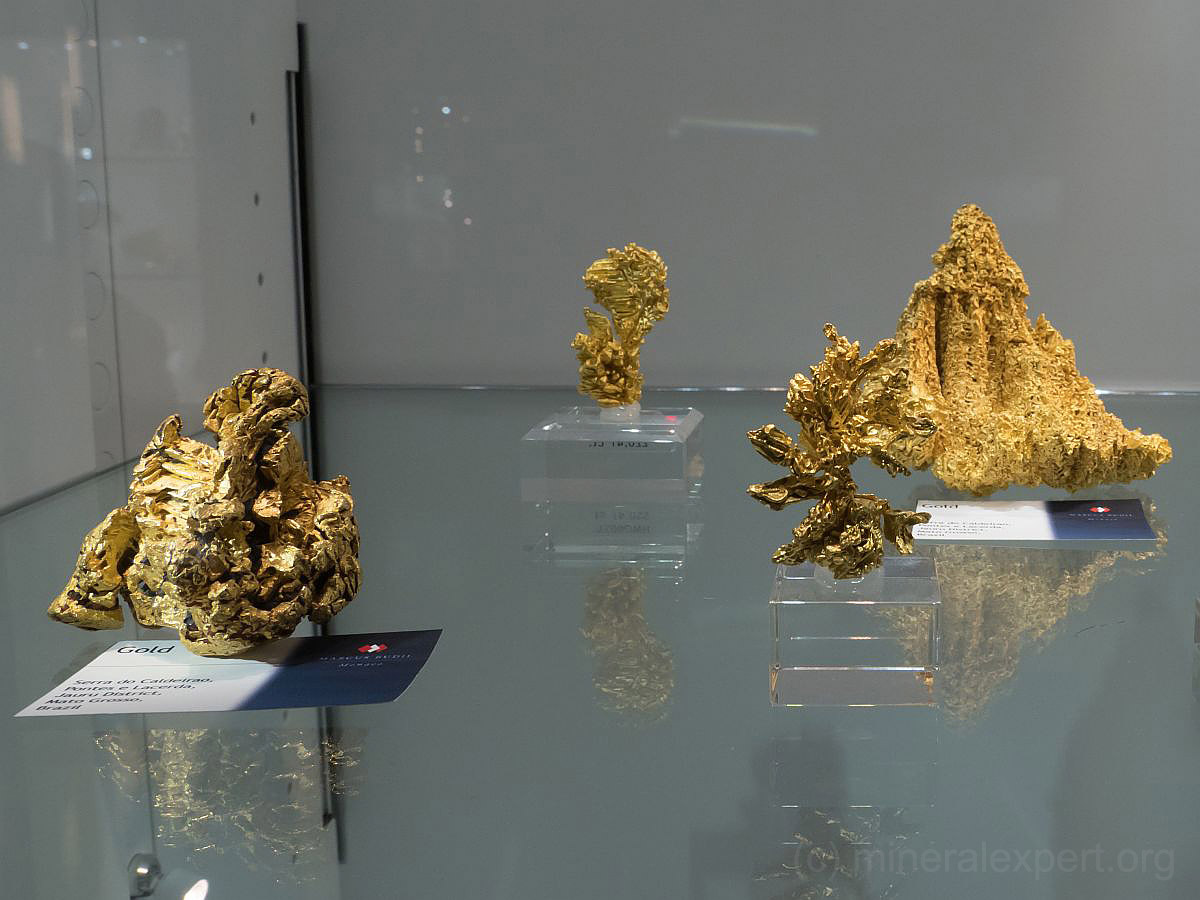 Nice crystallized gold clusters from Brazil.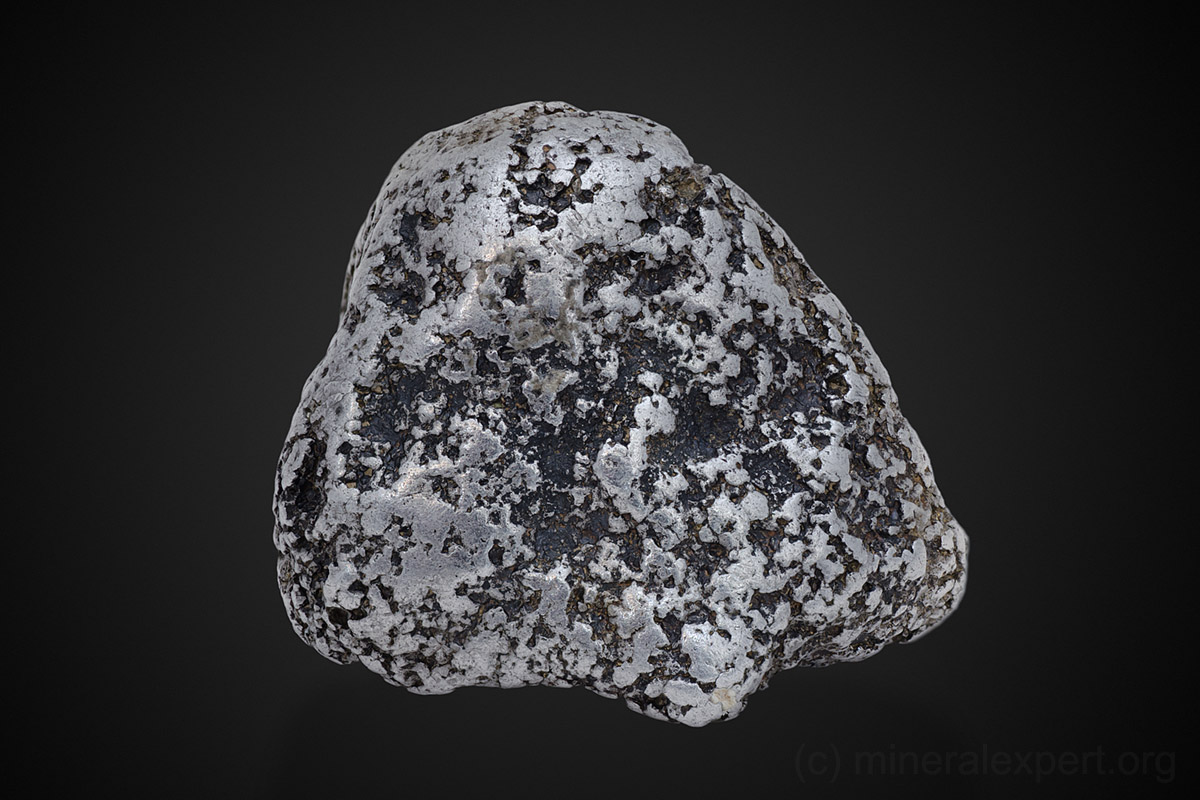 About 4 cm large platinum nugget from Konder, Khabarovsk, Russia.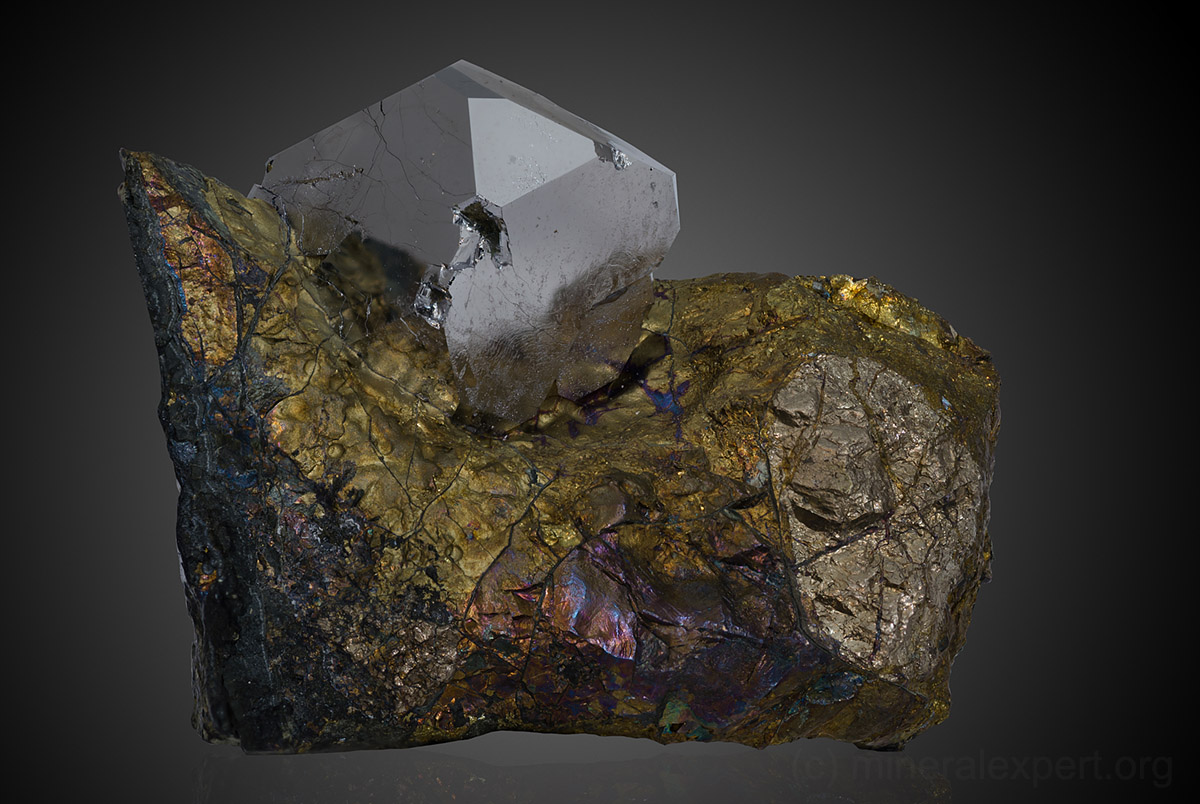 Big crystal of rare sperrylite from Talnakh-Norilsk deposit, Russia.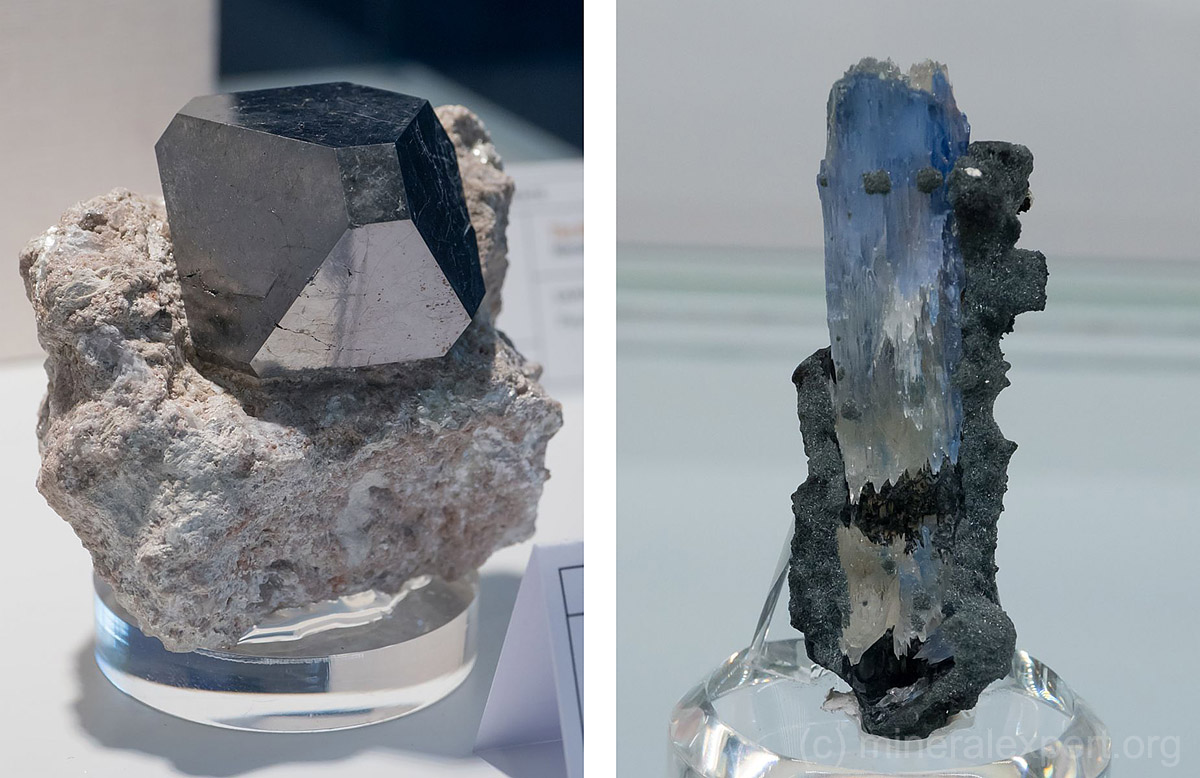 Left: Perfect crystal of carrolite on matrix from Camoya Mine, Congo.Right: Very rare and unusual tourmaline – jeremejevite on foitite – from Erongo Mts. Namibia.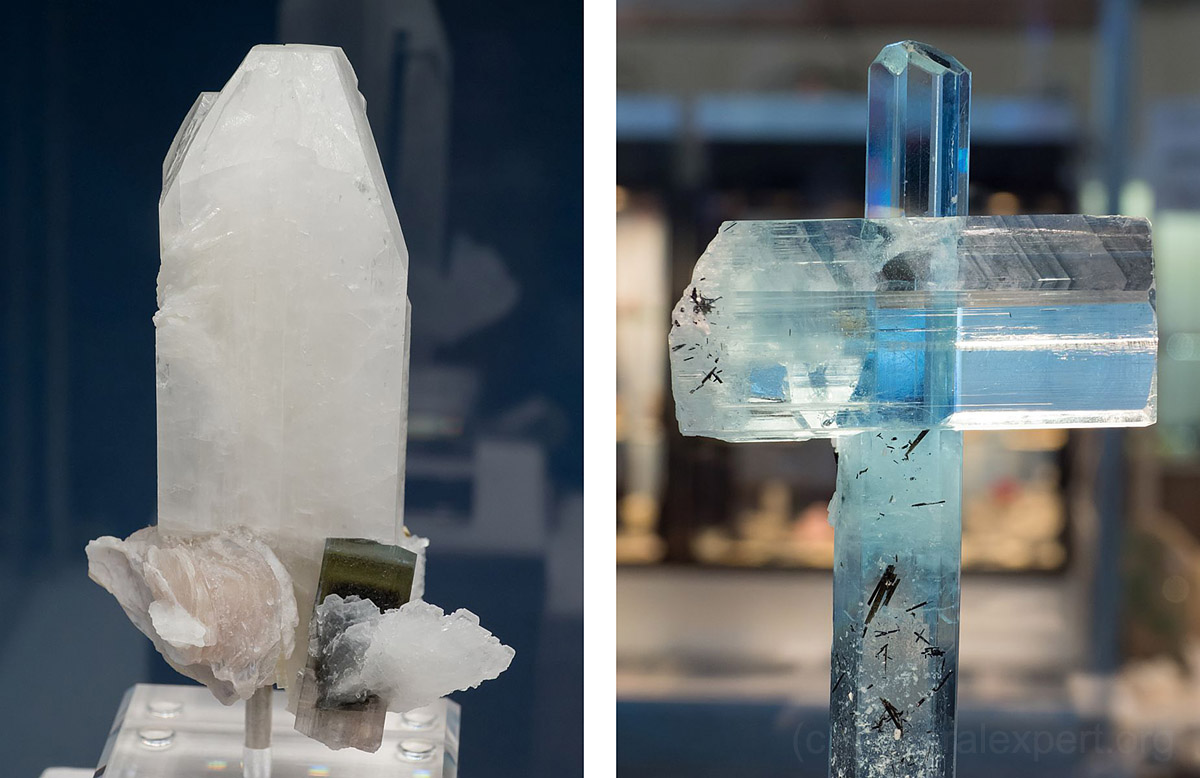 Left: Big crystal of herderite with elbaite from Stak Nala, Skardu, Pakistan.Right: Great aquamarine cross from Pakistan, famous specimen by Arkenstone.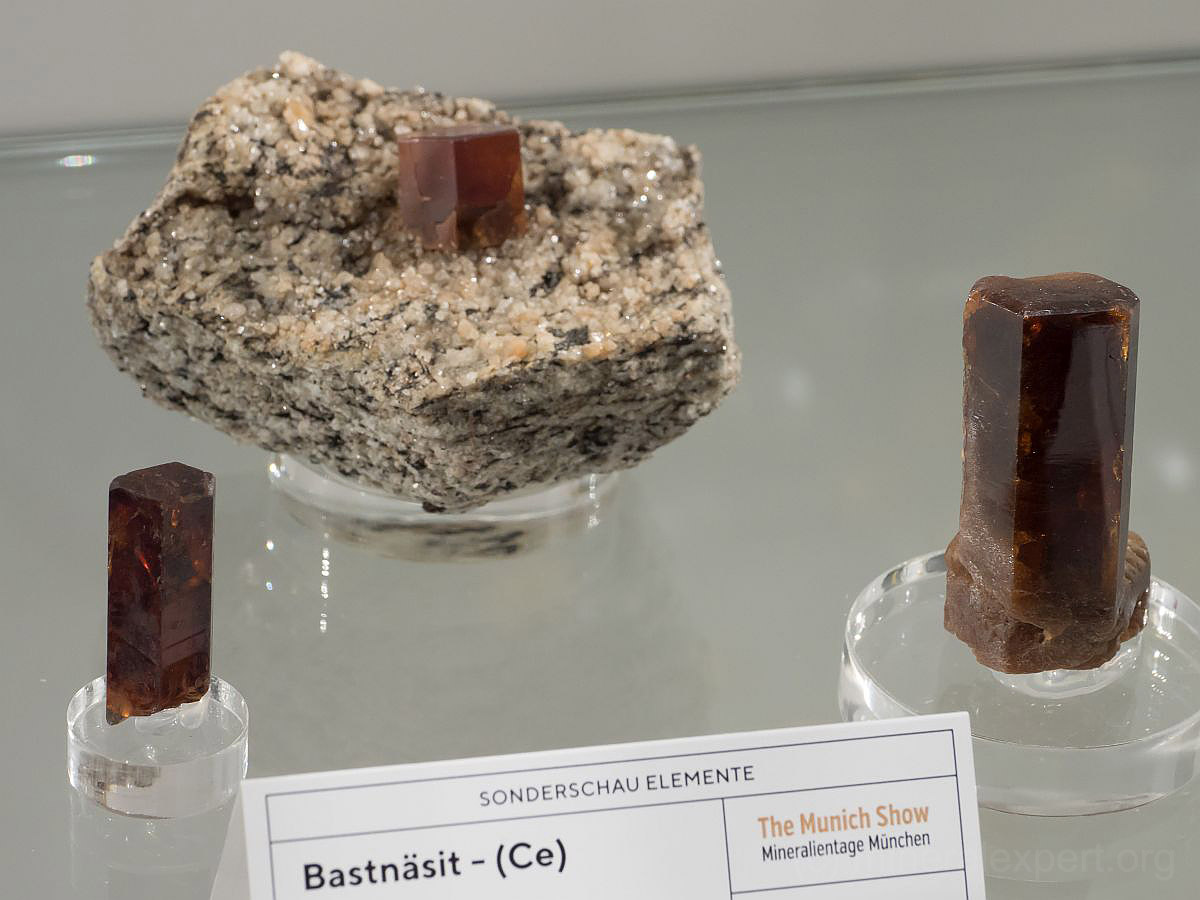 Perfect quality bastnaesite-(Ce) crystals from Zagi Mts., Pakistan.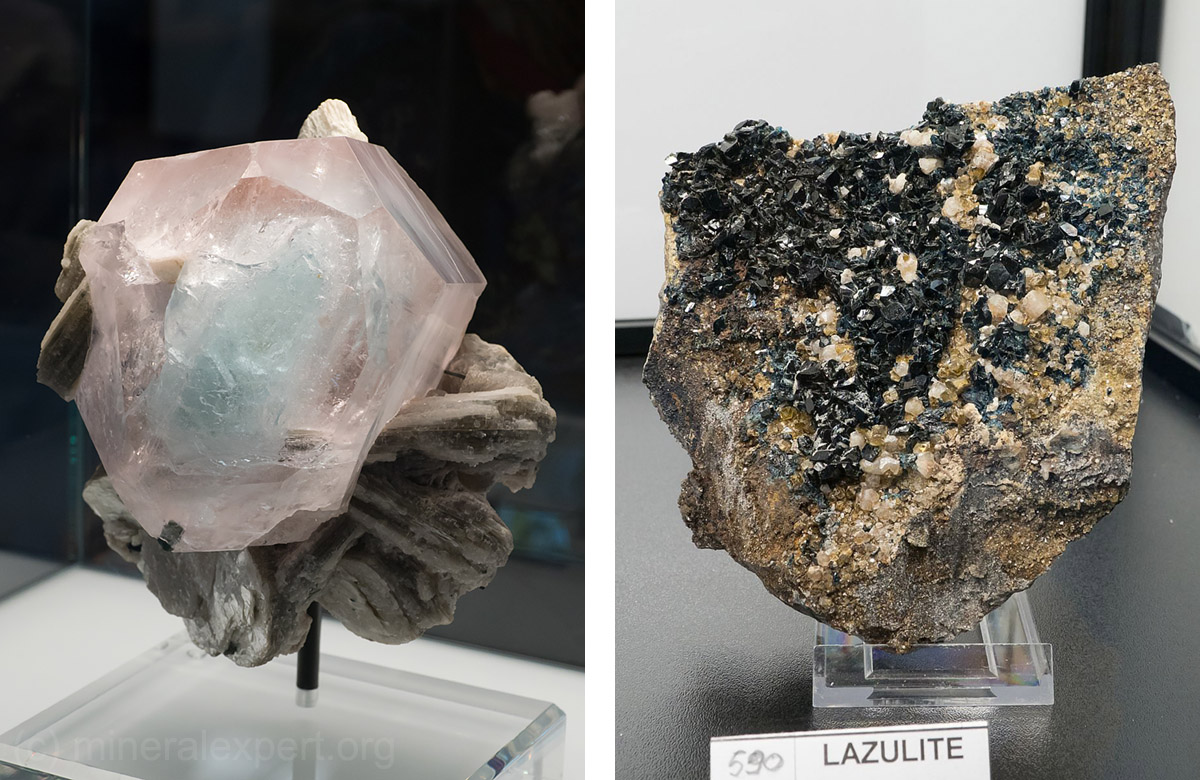 Left: Big morganite crystal with aquamarine core from Virgem da Lapa, Minas Geraís, Brazil. Right: Nice cluster with lazulite from classic phosphate locality at Rapid Creek, Yukon, Canada.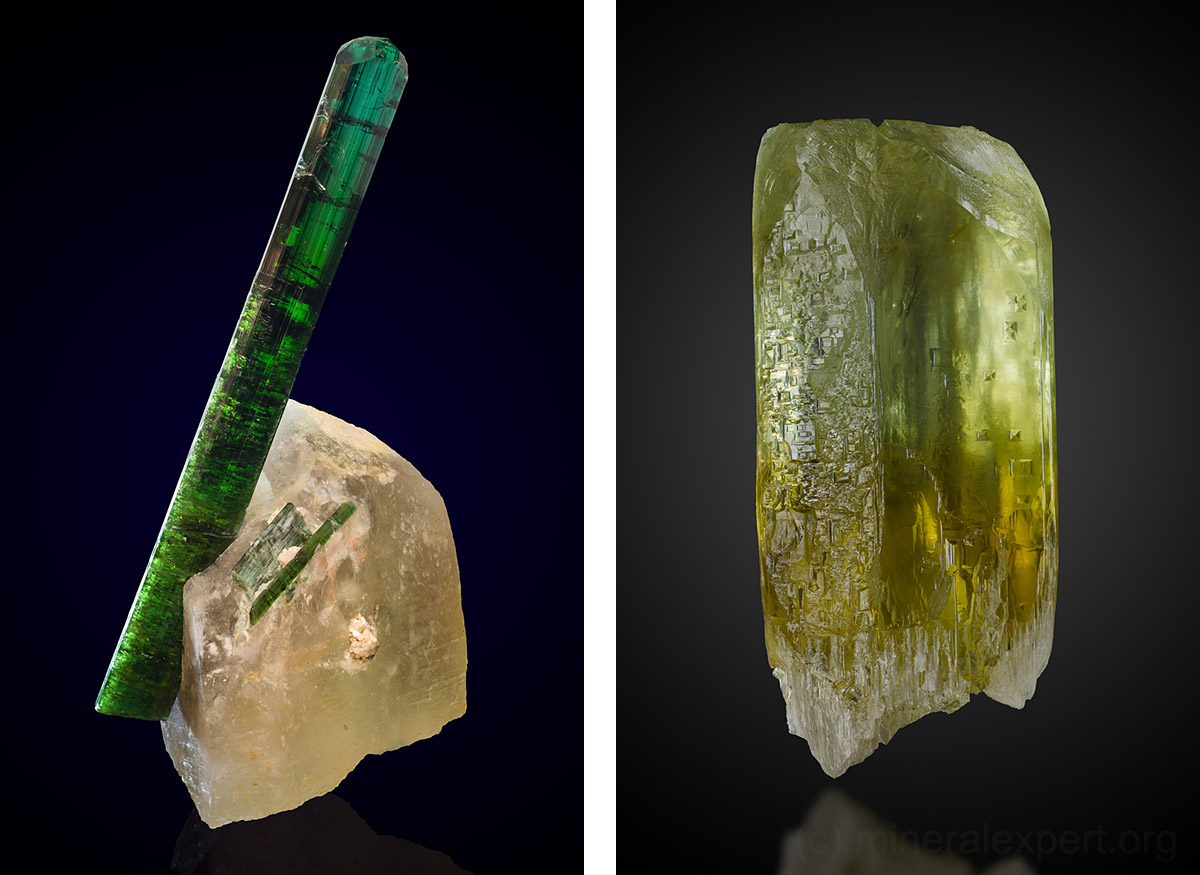 Left: Rare and quite big elbaite on quartz from Namibia.Right: Great and quite big bi-color heliodor from Volodarsk-Volynskyi, Ukraine. Directly offered by the miner – Kvarc Samocveti.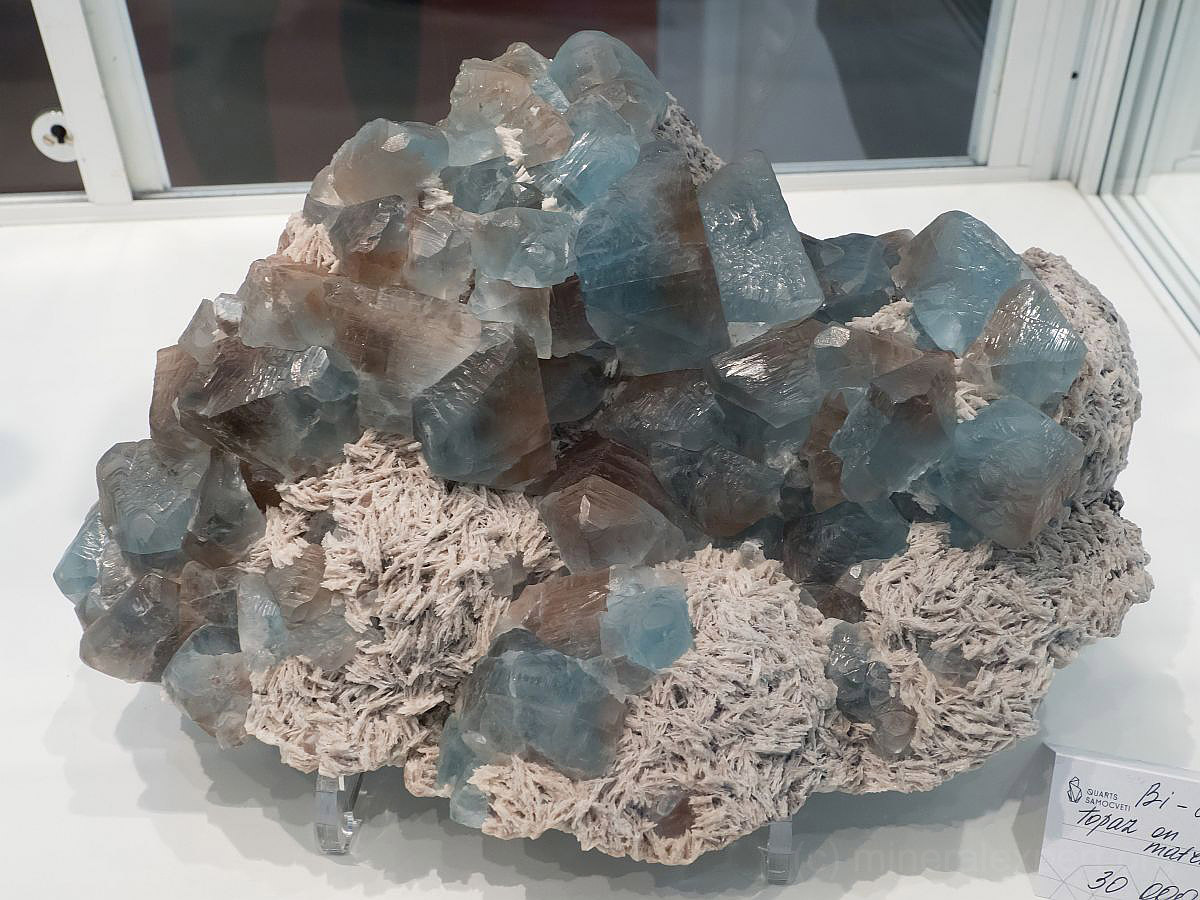 Huge cluster of bi-color topaz crystals on albite from Volodarsk-Volynskyi, Ukraine by Kvarc Samocveti.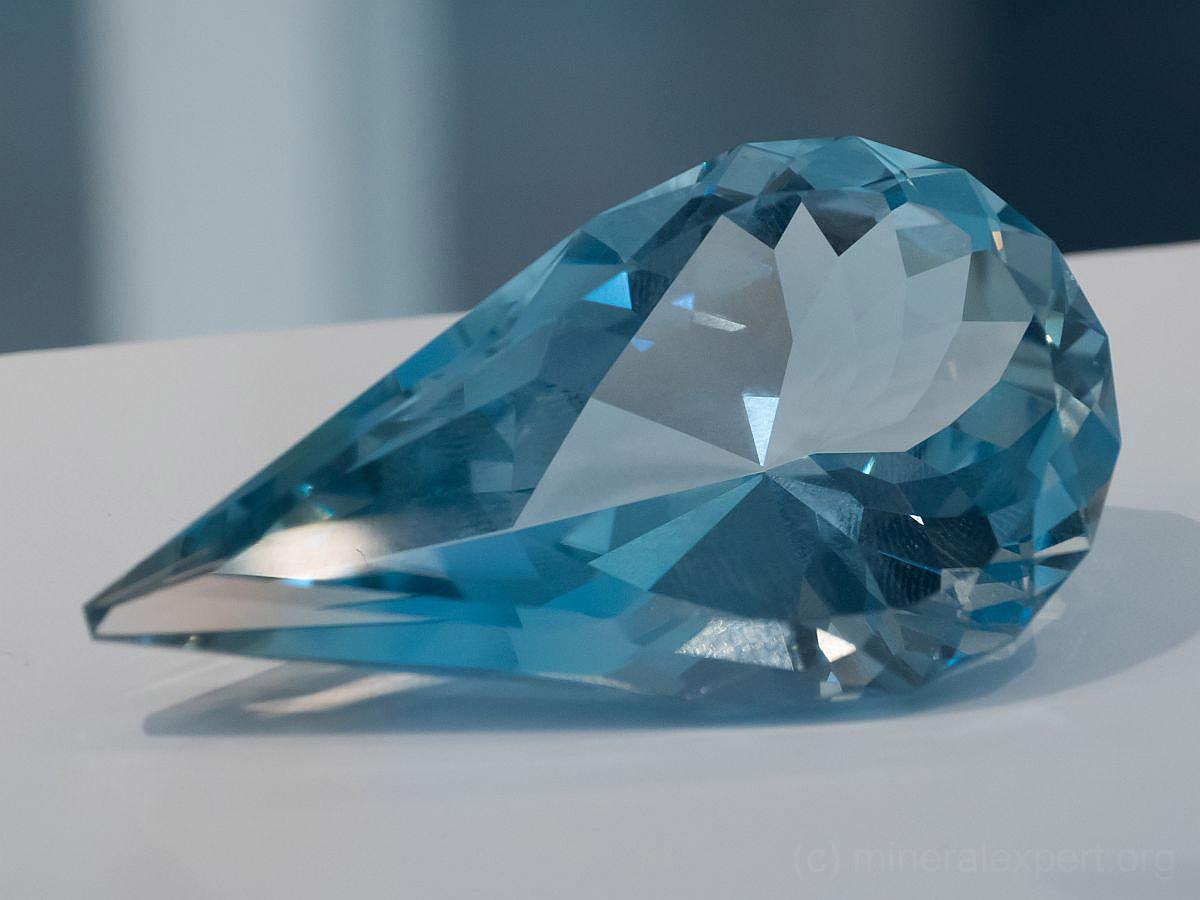 Big faceted topaz from Volodarsk-Volynskyi, Ukraine – again by Kvarc Samocveti.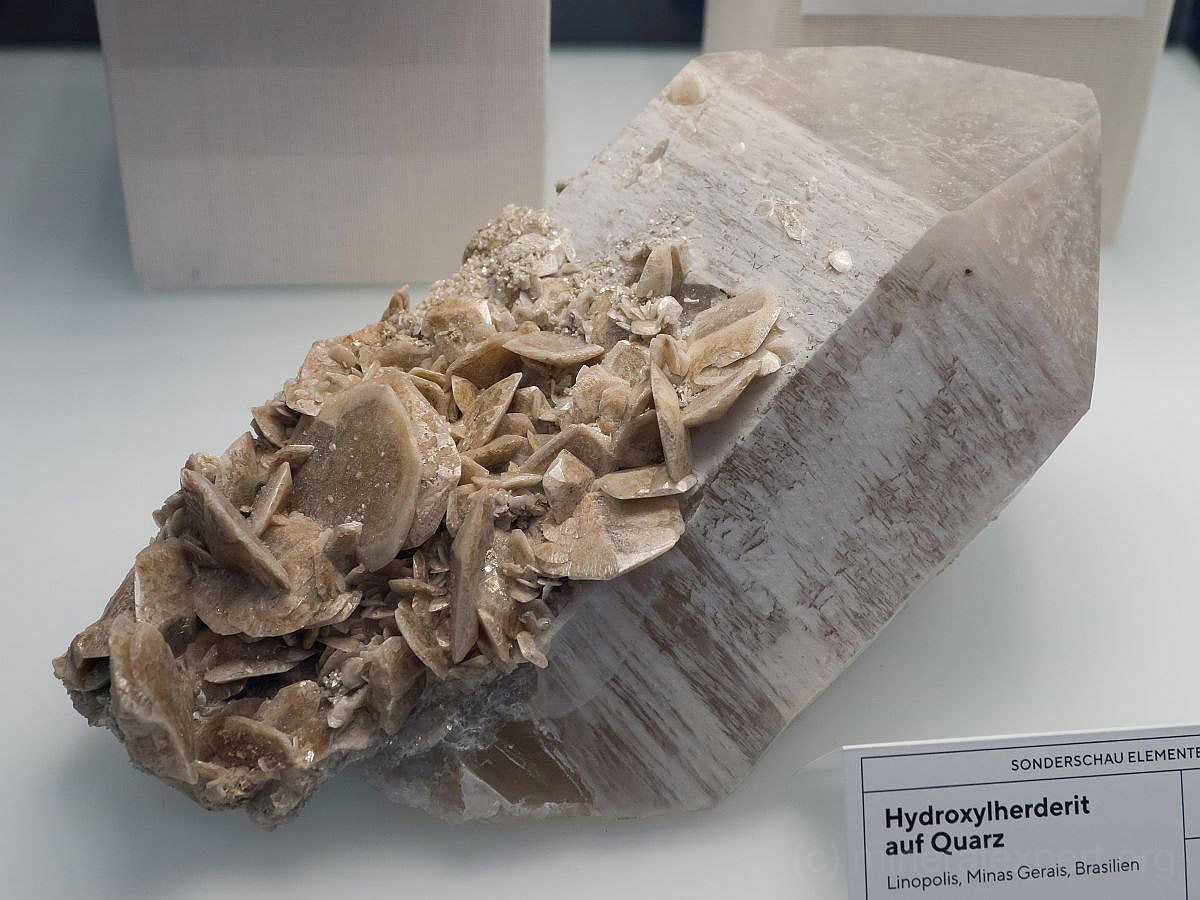 Crystals of rare hydroxylherderite on quartz from Linopolis, Minas Geraís, Brazil.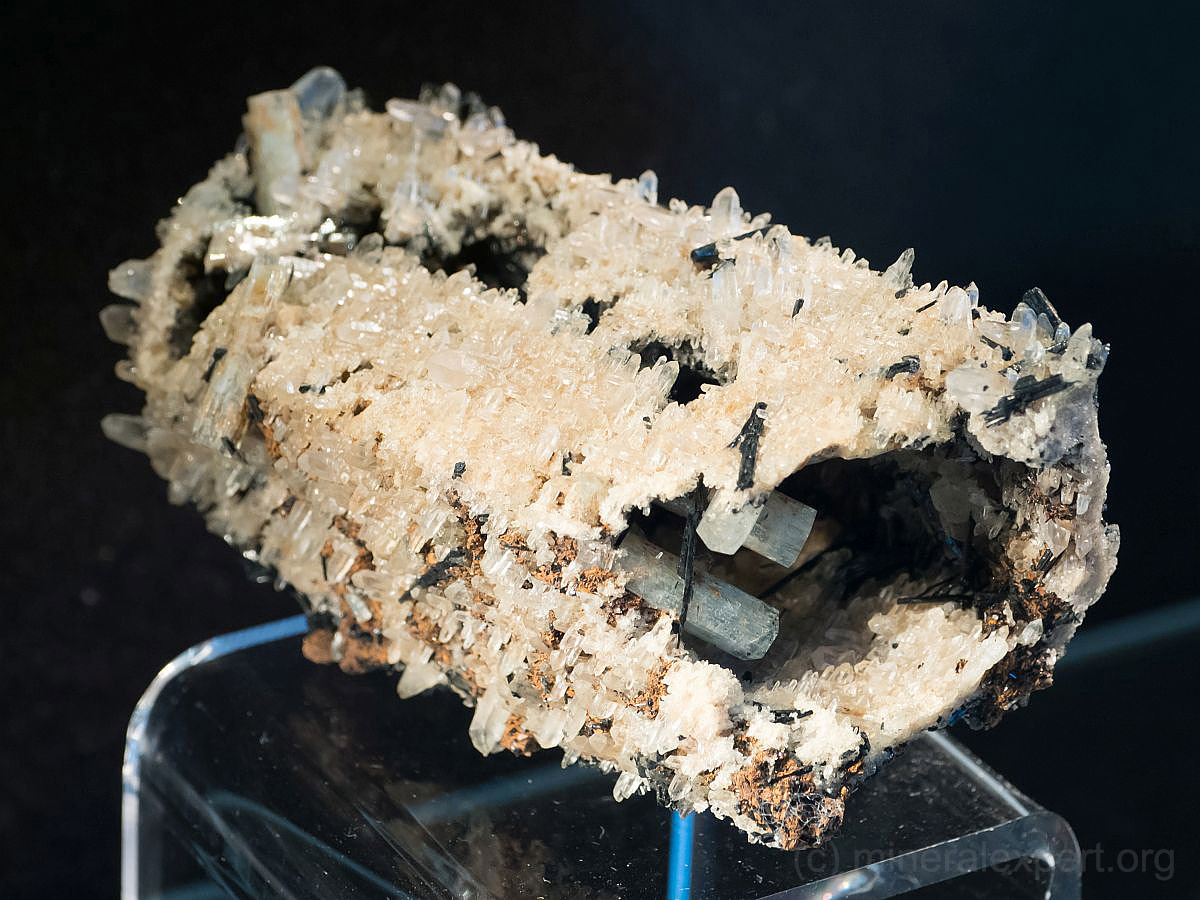 Very interesting pseudomorp of quartz and aquamarine after K-feldspar crystal from Erongo Mts., Namibia.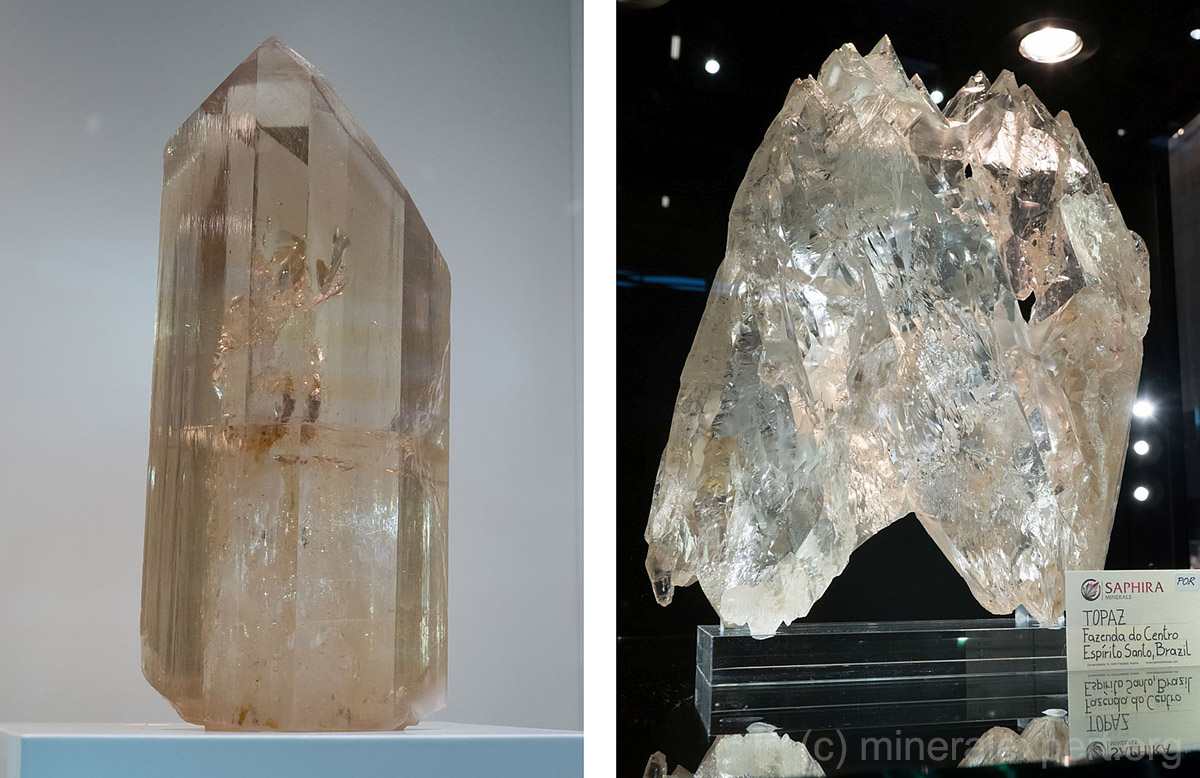 Left: Quite big topaz crystal from Mogok, Myanmar. Right: Awesome huge etched topaz from Fazenda do Centro, Espírito Santo, Brazil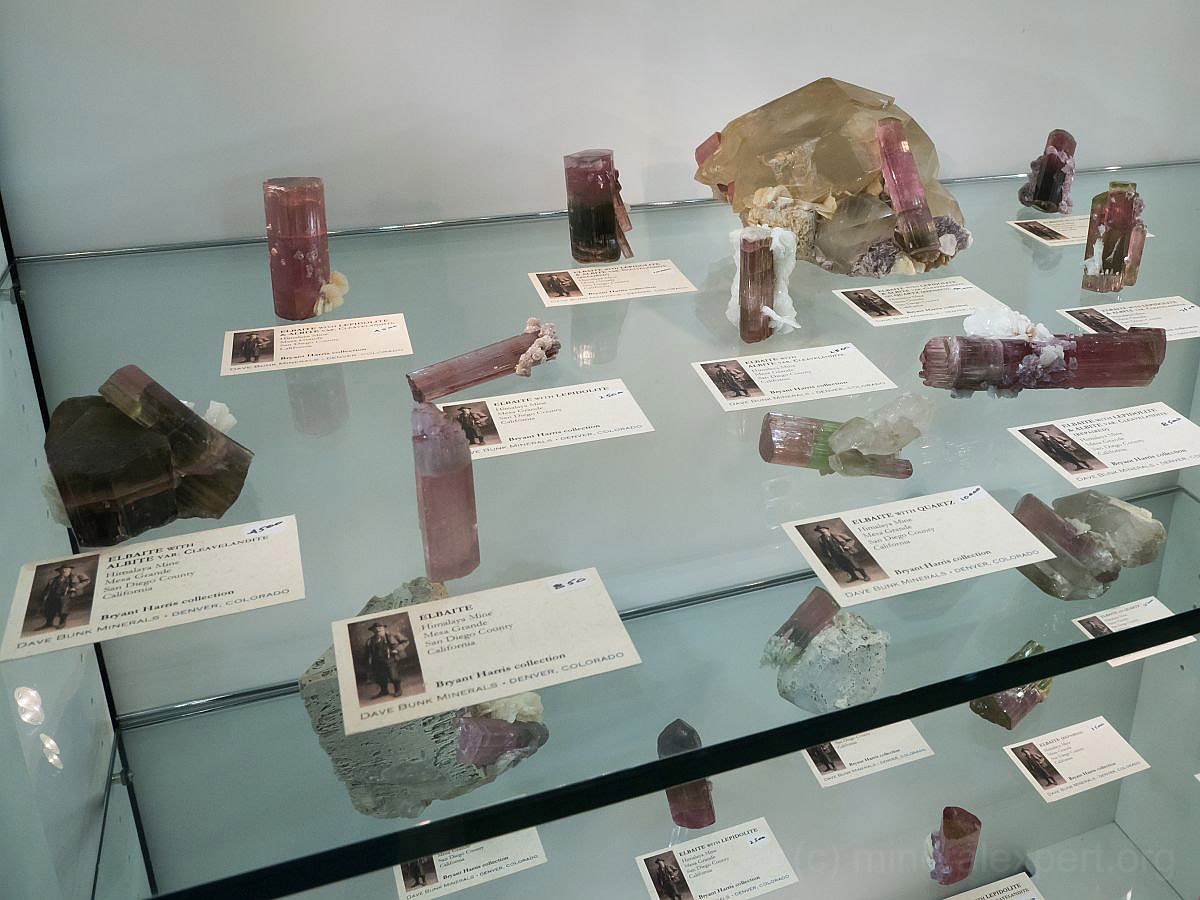 Great collection of pocket pegmatite material with elbaites from classic locality Himalaya Mine, California, USA.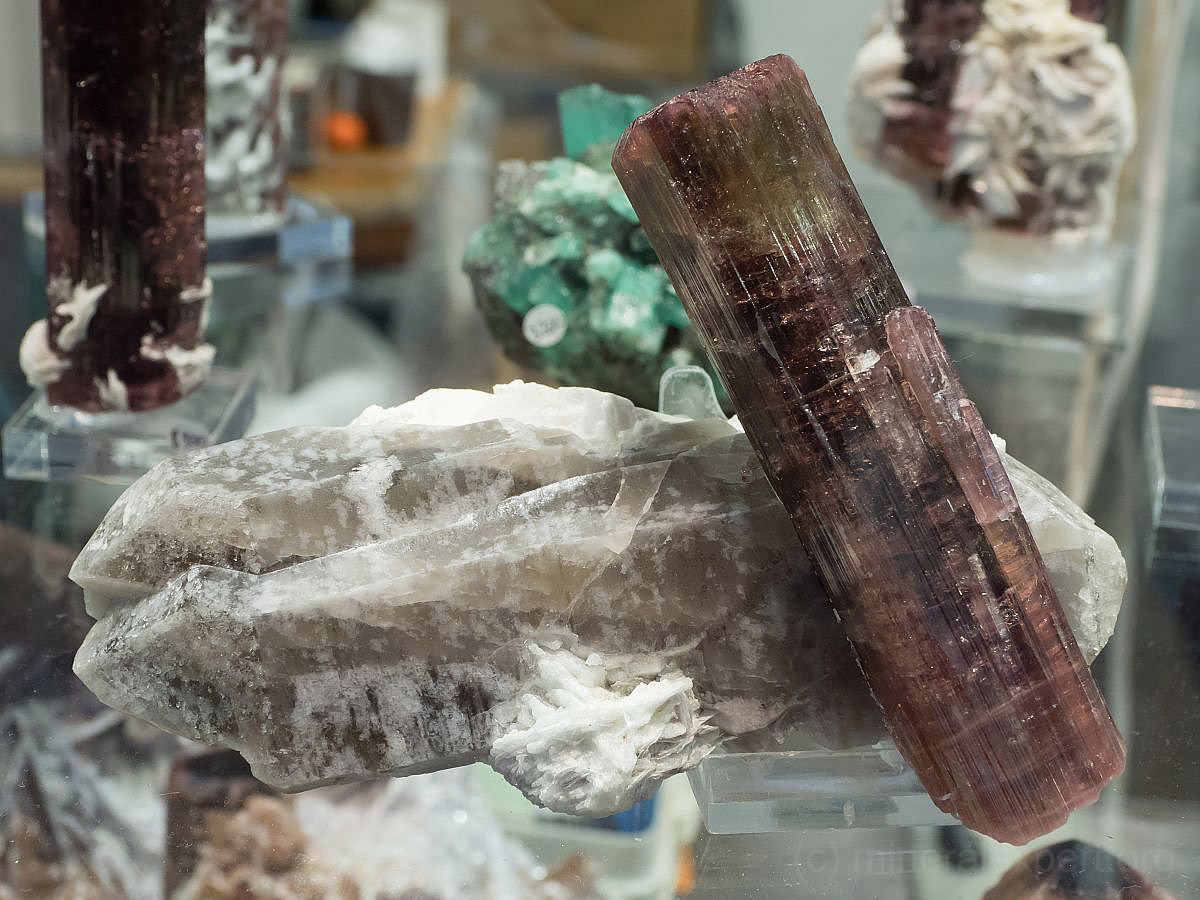 Big elbaite crystal on smoky quartz from Malkhan pegmatites, Russia.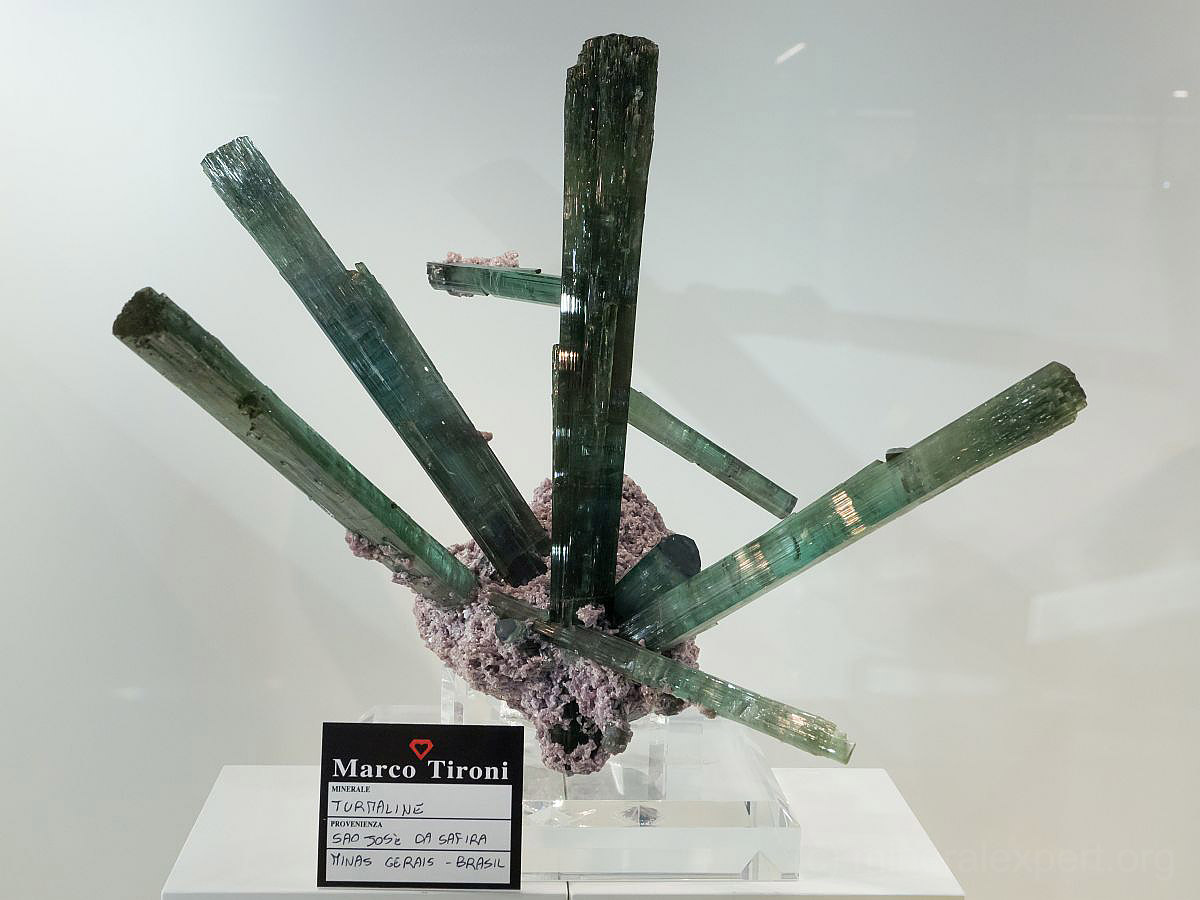 Unbeliavable cluster of elbaite on lepidolite matrix from Sao José da Safira, Minas Geraís, Brazil.
Presentation of the new books
Also three new books were presented at the show: Ice Metamorphosis by Albert Russ, Griechenland (Greece) by Berthold Ottens, and Erzegebirge (Saxony minerals) by Klaus Thalheim, Thomas Witzke and Andreas Massanek.
Albert spent years traveling and photographing details of icicles and ice caves. The unfortunate thing about ice photography is inevitable cold - combined with long time necessary to produce decent macro shots. You can now enjoy Albert's best selection in his latest book. You can enjoy some photos from the Albert's presentation bellow, interview will be available from Blue Cap productions - What's hot in Munich 2018.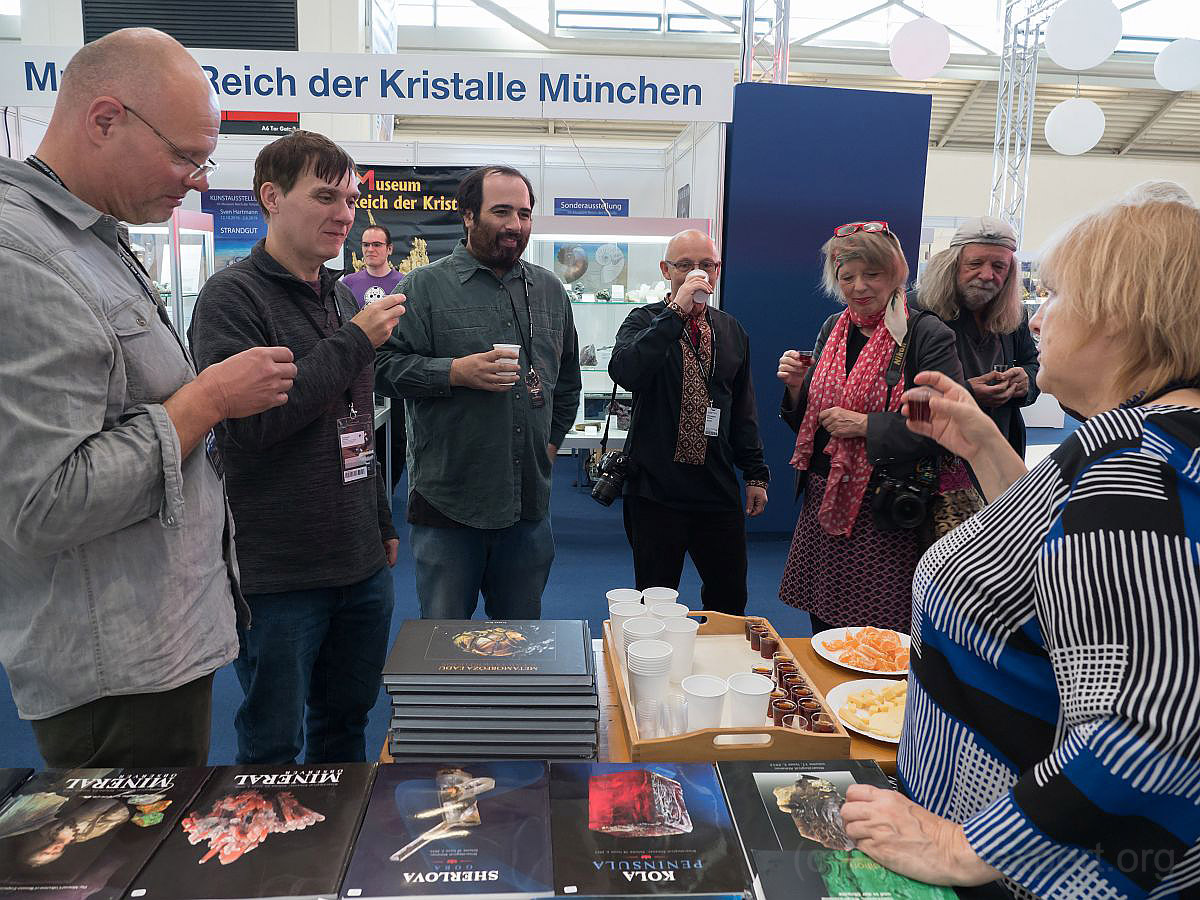 Cheers! New book Ice Metamorphosis by Albert Russ is finally finished!
Jolyon Ralph making photo of Albert Russ with his new book for the Mindat.org live show report.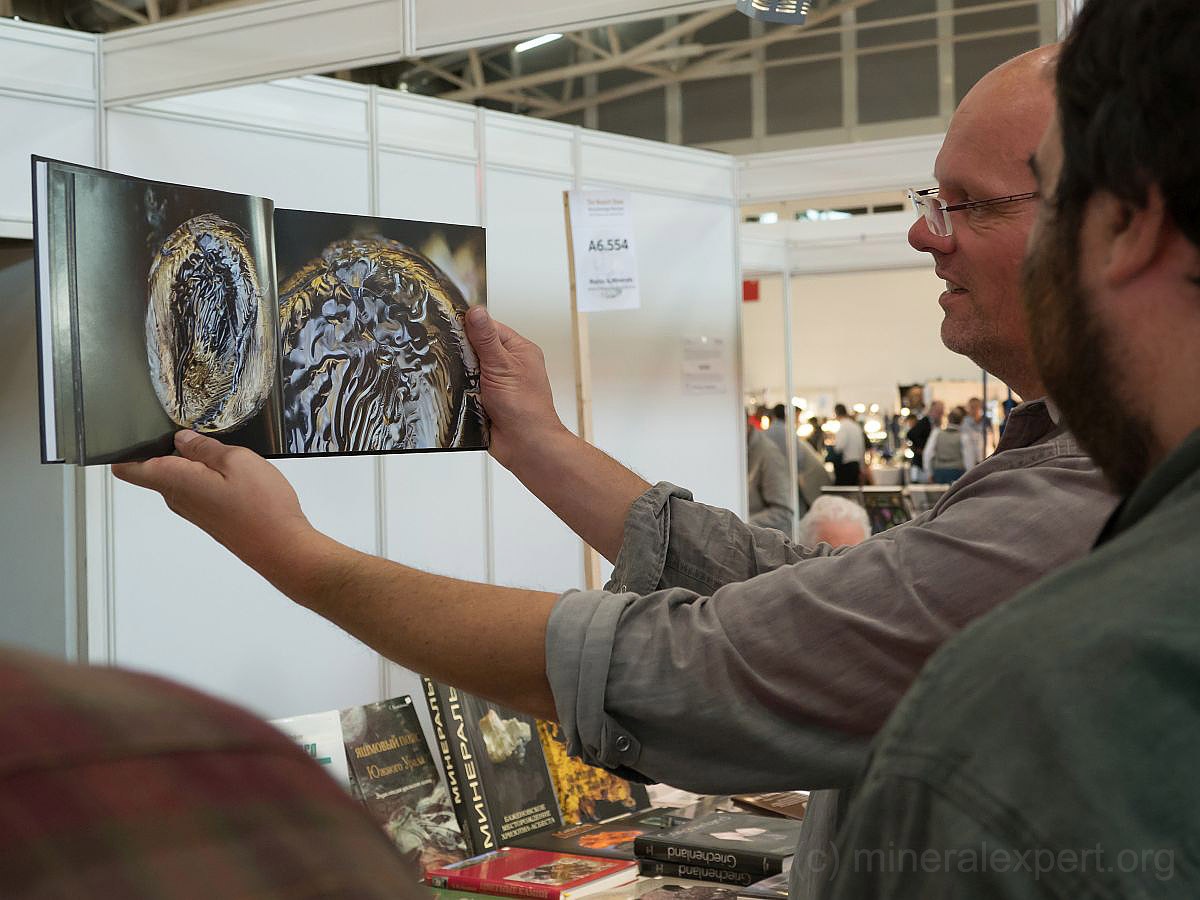 Ronny Boeck dicussing the Ice Metamorphosis book with Albert Russ.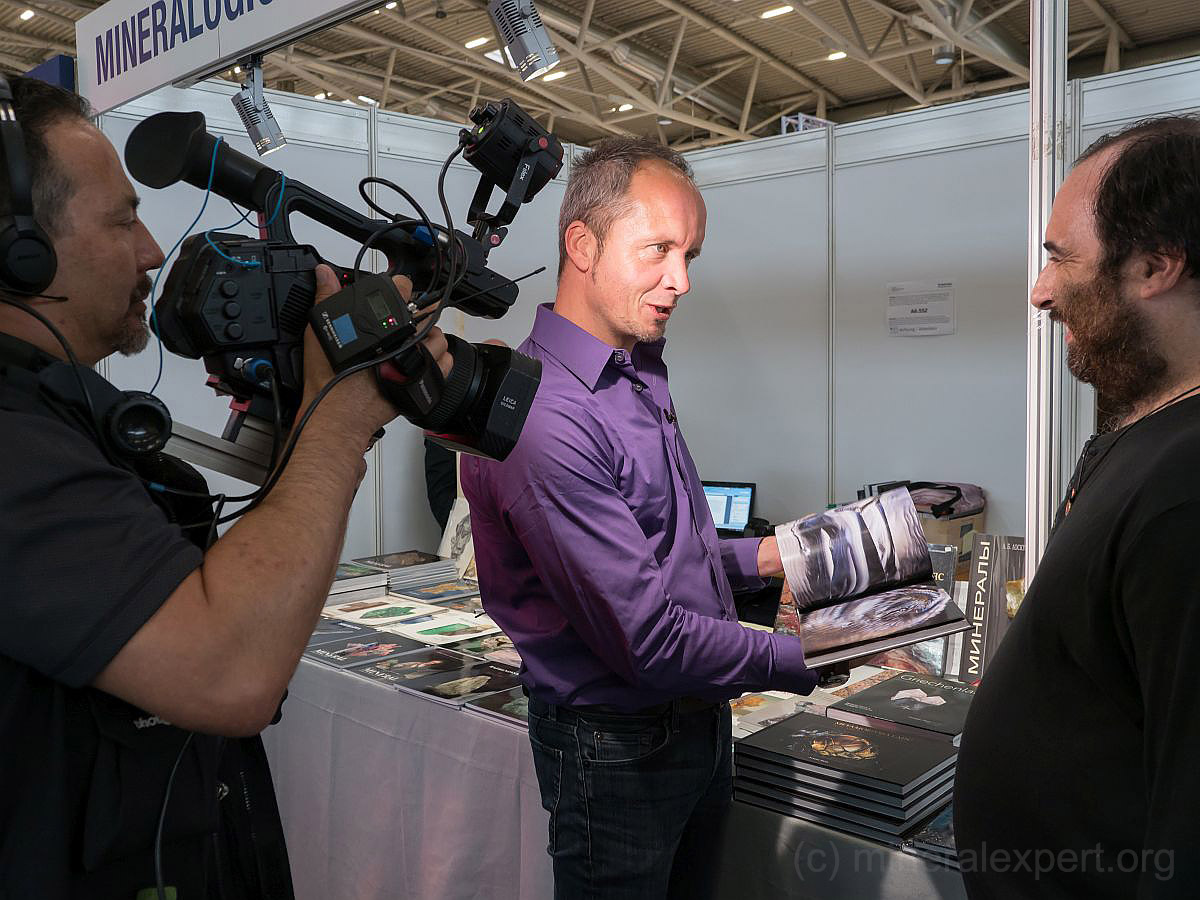 Bryan Swoboda and Alan Hart making interview with Albert Russ about his new book.
Sorry, there is also one fossil...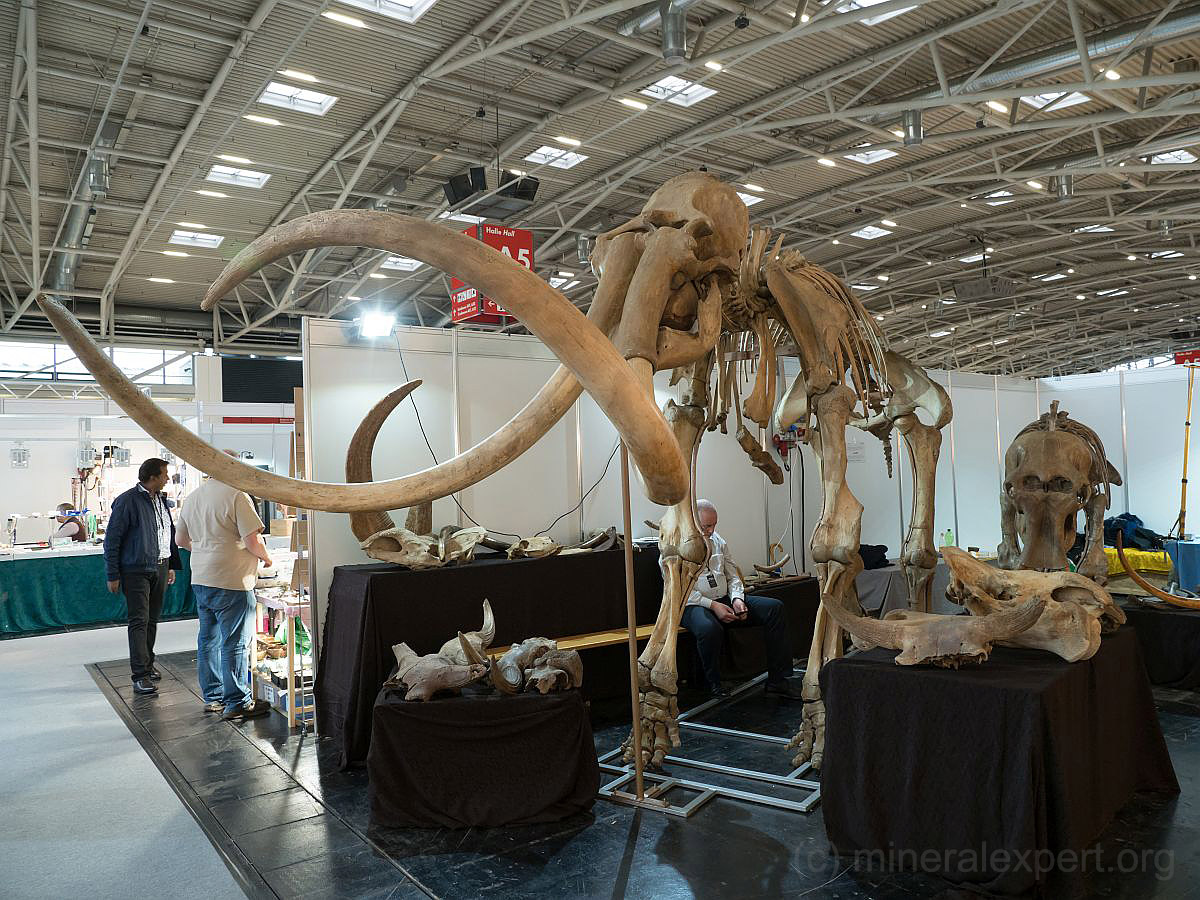 Ok, one fossil exception: Whole mammoth skeleton was also available, if you have too much space in living room.